4.22: Homo sapiens
Last updated
Page ID

6481
\( \newcommand{\vecs}[1]{\overset { \scriptstyle \rightharpoonup} {\mathbf{#1}} } \) \( \newcommand{\vecd}[1]{\overset{-\!-\!\rightharpoonup}{\vphantom{a}\smash {#1}}} \)\(\newcommand{\id}{\mathrm{id}}\) \( \newcommand{\Span}{\mathrm{span}}\) \( \newcommand{\kernel}{\mathrm{null}\,}\) \( \newcommand{\range}{\mathrm{range}\,}\) \( \newcommand{\RealPart}{\mathrm{Re}}\) \( \newcommand{\ImaginaryPart}{\mathrm{Im}}\) \( \newcommand{\Argument}{\mathrm{Arg}}\) \( \newcommand{\norm}[1]{\| #1 \|}\) \( \newcommand{\inner}[2]{\langle #1, #2 \rangle}\) \( \newcommand{\Span}{\mathrm{span}}\) \(\newcommand{\id}{\mathrm{id}}\) \( \newcommand{\Span}{\mathrm{span}}\) \( \newcommand{\kernel}{\mathrm{null}\,}\) \( \newcommand{\range}{\mathrm{range}\,}\) \( \newcommand{\RealPart}{\mathrm{Re}}\) \( \newcommand{\ImaginaryPart}{\mathrm{Im}}\) \( \newcommand{\Argument}{\mathrm{Arg}}\) \( \newcommand{\norm}[1]{\| #1 \|}\) \( \newcommand{\inner}[2]{\langle #1, #2 \rangle}\) \( \newcommand{\Span}{\mathrm{span}}\)\(\newcommand{\AA}{\unicode[.8,0]{x212B}}\)
Africa:
Tanzania: Ngaloba
Kenya: Guomde
Ethiopia: Omo Kibish and Herto
Democratic Republic of Congo: Katanda
South Africa: Border Cave and Klasies River Mouth
Asia (the following are earliest regional sites):
Israel: Skhul and Jebel Qafzeh
Mongolia: Ordos
Europe (the following are famous sites):
France: Cro Magnon (the most famous site in France)
Germany, Italy, Spain
Australia (the following are earliest regional sites):
Mungo Lake and Kow Swamp
New World (the earliest regional site):
Chile: Mesa Verde
PHYLOGENY
DISCOVERY AND GEOGRAPHIC DISTRIBUTION
PHYSICAL CHARACTERISTICS
ENVIRONMENT AND WAY OF LIFE
Europe ~40 kya:

All aspects of Upper Paleolithic culture.
Only early representational art.

South Africa ~75 kya:

Blombos Cave.

Carved and decorated ocher crayons (see Figure 36.9).

Australia ~30 kya:

Rafts.
Cremation.
Art.
Body adornment.
Bone artifacts.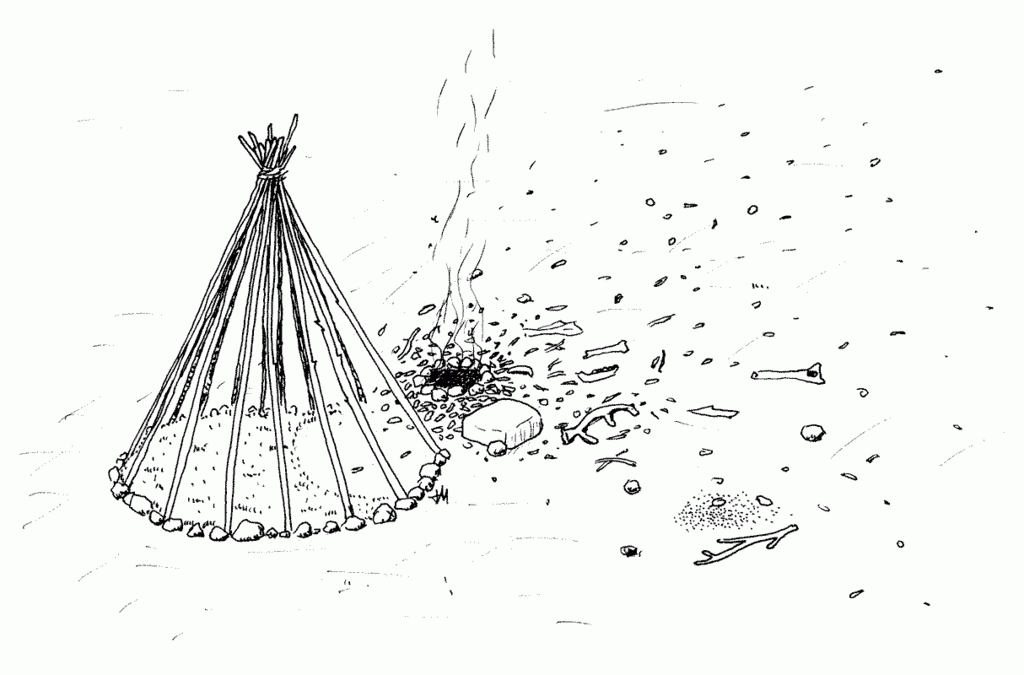 Le Tuc d'Audoubert, France:

Footprints (see Figure 36.32).
Two 1 m clay bisons found propped up in the middle of a small chamber inside the cave.

Grotte de Montespan, France:

Children's footprints.
Clay figures of a bear, a lion, and other animals propped up against the cave's walls.

Czech Republic:

Fired animal figurines (27 kya).
"Oldest human portrait" (26 kya) carved from mammoth ivory and possibly attached to a staff or baton, showing great detail in the eyes, hair, mouth, and expression.

El Juyo, Spain (14 kya):

Stone figure on which one side of the face is a smiling man and the other is a feline predator, discovered in a possible ceremonial sanctuary.
Earliest evidence of modern humans found in Europe, in Southern Italy.
At Ksar Akil in Lebanon, ornaments and skeletal remains of modern humans are dated to this period.
Denisova hominin live in the Altai Mountains, Russia.
Early cultural center in the Swabian Alps.
Earliest figurative art (Venus of Schelklingen, Germany).
Beginning of the Aurignacian.
The first flutes appear in Germany.
Lion-Human created from Hohlenstein-Stadel.
Most of the giant vertebrates and megafauna in Australia became extinct, around the time of the arrival of humans.
Examples of cave art in Spain are dated to around 38,000 BC, making them the oldest examples of art yet discovered in Europe.
Wall painting with horses, rhinoceroses, and aurochs, Chauvet Cave, Vallon-Pont-d'Arc, Ardéche gorge, France, is made.
Zar, Yataghyeri, Damjili and Taghlar caves in Azerbaijan
First evidence of people inhabiting Japan.
Europeans understand how to harden clay figures by firing them in an oven at high temperatures.
First ground stone tools appear in Japan.
Invention of the bow and arrow.
Venus of Dolní Věstonice, Czech Republic. It is the oldest known ceramic in the world.
The "Red Lady of Paviland" lived around 29,000–26,000 years ago. Recent evidence has come to light that he was a tribal chief. (Note: it was a male skeleton dyed with red ocher.)
Venus of Petřkovice (Petřkovická venuše in Czech) from Petřkovice in Ostrava, Czech Republic, was made.
Last Glacial Maximum.
Venus of Brassempouy, Grotte du Pape, Brassempouy, Landes, France, was made.
Venus of Willendorf, Austria, was made.
Last Glacial Maximum. Mean sea levels are believed to be 110 to 120 meters (361 to 394 ft) lower than present, with the direct implication that many coastal and lower riverine valley archaeological sites of interest are today under water.
Spotted Horses, Pech Merle cave, Dordogne, France are painted.
Ibex-headed spear thrower, from Le Mas d'Azil, Ariège, France.
Mammoth-bone village in Mezhirich, Ukraine, is inhabited.
Spotted human hands, Pech Merle cave, Dordogne, France are painted.
Hall of Bulls, Lascaux caves, France is painted.
Bird-Headed man with bison and Rhinoceros, Lascaux caves, is painted.
Lamp with ibex design, from La Mouthe cave, Dordogne, France, is made.
Paintings in Cosquer cave, where the cave mouth is now under water at Cap Margiou, France were made.
Bison, Le Tuc d'Audoubert, Ariège, France.
Paleo-Indians move across North America, then southward through Central America.
"Pregnant woman" from Laugerie-Basse, France was made.
Paleo-Indians searched for big game near what is now the Hovenweep National Monument in Colorado and Utah.
Bison, on the ceiling of a cave at Altamira, Spain, is painted.
Domestication of reindeer.
Beginning of the Holocene extinction.
Earliest evidence of warfare (found in the Americas).
Wooden buildings in South America (Chile), first pottery vessels (Japan).
First evidence of human settlement in Argentina.
The "Arlington Springs Man" dies on the island of Santa Rosa, off the coast of California.
Human remains deposited in caves which are now located off the coast of Yucatán.
Stone Age Creswellian culture settlement on Hengistbury Head, England, dates from around this year.