14.3: Phonological change
Last updated
Page ID

194110
\( \newcommand{\vecs}[1]{\overset { \scriptstyle \rightharpoonup} {\mathbf{#1}} } \) \( \newcommand{\vecd}[1]{\overset{-\!-\!\rightharpoonup}{\vphantom{a}\smash {#1}}} \)\(\newcommand{\id}{\mathrm{id}}\) \( \newcommand{\Span}{\mathrm{span}}\) \( \newcommand{\kernel}{\mathrm{null}\,}\) \( \newcommand{\range}{\mathrm{range}\,}\) \( \newcommand{\RealPart}{\mathrm{Re}}\) \( \newcommand{\ImaginaryPart}{\mathrm{Im}}\) \( \newcommand{\Argument}{\mathrm{Arg}}\) \( \newcommand{\norm}[1]{\| #1 \|}\) \( \newcommand{\inner}[2]{\langle #1, #2 \rangle}\) \( \newcommand{\Span}{\mathrm{span}}\) \(\newcommand{\id}{\mathrm{id}}\) \( \newcommand{\Span}{\mathrm{span}}\) \( \newcommand{\kernel}{\mathrm{null}\,}\) \( \newcommand{\range}{\mathrm{range}\,}\) \( \newcommand{\RealPart}{\mathrm{Re}}\) \( \newcommand{\ImaginaryPart}{\mathrm{Im}}\) \( \newcommand{\Argument}{\mathrm{Arg}}\) \( \newcommand{\norm}[1]{\| #1 \|}\) \( \newcommand{\inner}[2]{\langle #1, #2 \rangle}\) \( \newcommand{\Span}{\mathrm{span}}\)\(\newcommand{\AA}{\unicode[.8,0]{x212B}}\)
Sporadic phonological change
bishop < bisceop
fish < fisc
shine < scīnan
wash < wascan
axle < eaxl
axe < æx
vixen < fyxen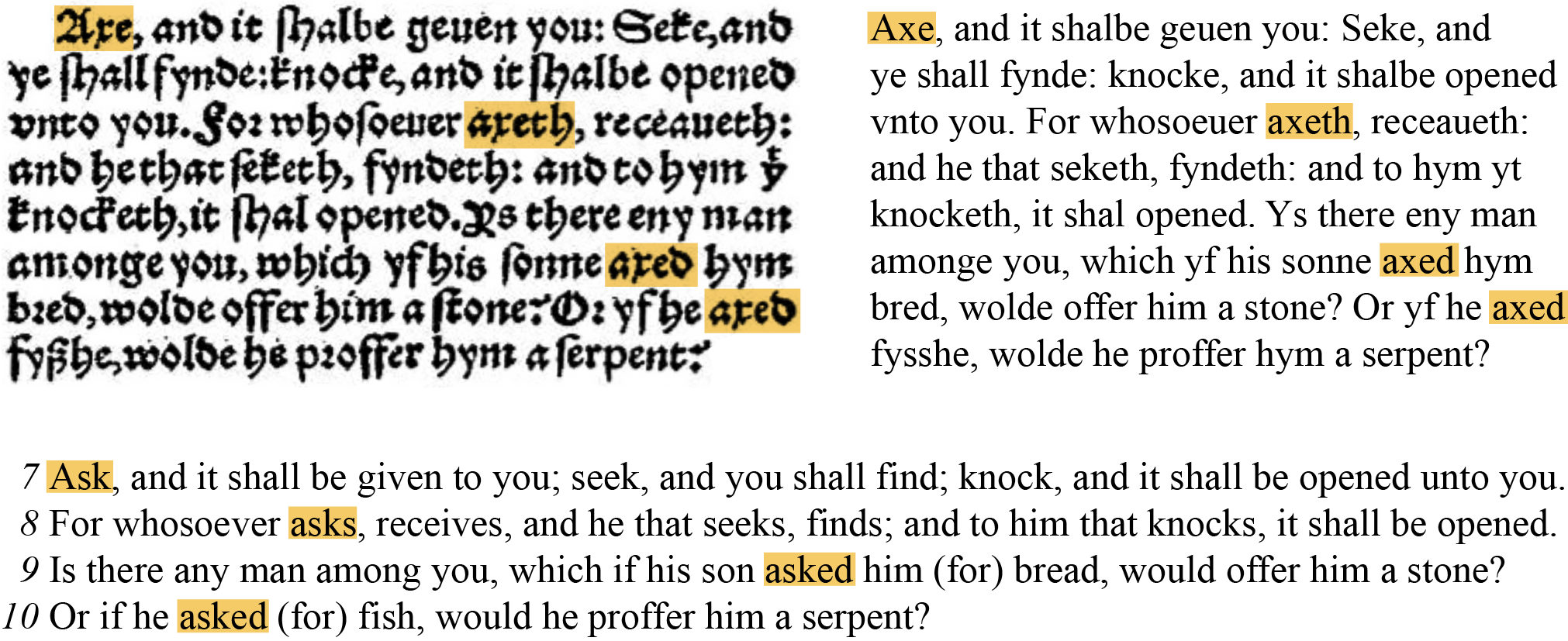 Sporadic sound change
the [l] in falcon (borrowed from Old French faucon, then respelled to match Latin falcōnem)
the [h] in hectic (Old French etique, Latin hecticus)
the [k] in perfect (Old French parfit, Latin perfectus)
The capital of China is called Beijing in English, which is borrowed from Chinese 北京 (Běijīng). The Mandarin pronunciation is [pèɪ.t͡ɕíŋ], which is very similar to a possible English pronunciation [bed͡ʒɪŋ]. However, many English speakers use the hyperforeignism [beʒɪŋ] instead, because [ʒ] is relatively rare in English but does occur in many borrowings (azure, Dijon, genre, etc.), so it reinforces the foreignness of Beijing as a city in another country.
The word lingerie was borrowed from French, where the final vowel is pronounced [i]. However, many French borrowings have a final [e] sound (ballet, chez, fiancé, etc.), so the pronunciation of lingerie was changed in English to match this stereotype by replacing final [i] with hyperforeign [e].
Another stereotype about French is that where English might have a final [s], French does not. We see this in many borrowings from French into English, where the word looks like it should be pronounced with final [s]: chassis, foie gras, rendezvous, etc. However, French does allow final [s], as in the expression coup de grâce [ku də ɡʁɑs], but in the borrowed form in English, we drop the final [s] so that it seems more French-like, resulting in the hyperforeignism [ku də ɡrɑ].
dissimilation: when a phone shifts to avoid being to similar to a nearby phone; for example, despite the spelling, governor is often pronounced [ɡʌvənr̩], so that the first <r> is not pronounced in order to dissimilate from the second, leaving only one [r] in the word (note that the first [r] is still pronounced in the base verb govern)
analogy: when a word shifts to match a pattern found in other words, especially from a rare pattern to a more common pattern; for example, nuclear has a very rare [-klir̩] sequence that many people pronounce by analogy as the more common sequence [-kjəlr̩], as in binocular, circular, molecular, muscular, particular, etc. (see more discussion and examples in Section 14.4)
immediate model: a special type of analogy where a word shifts by analogy to match another word that it is frequently used together with, especially in an established sequence; for example, February is normally pronounced [fɛbjəwɛri] rather than [fɛbruɛri], by immediate model with [d͡ʒænjəwɛri] January, since the two words are often said together in sequence
Regular phonological change
Conditioning of regular sound change
[sw] > [s] / ▁ back vowel
Phonemic effects of regular sound change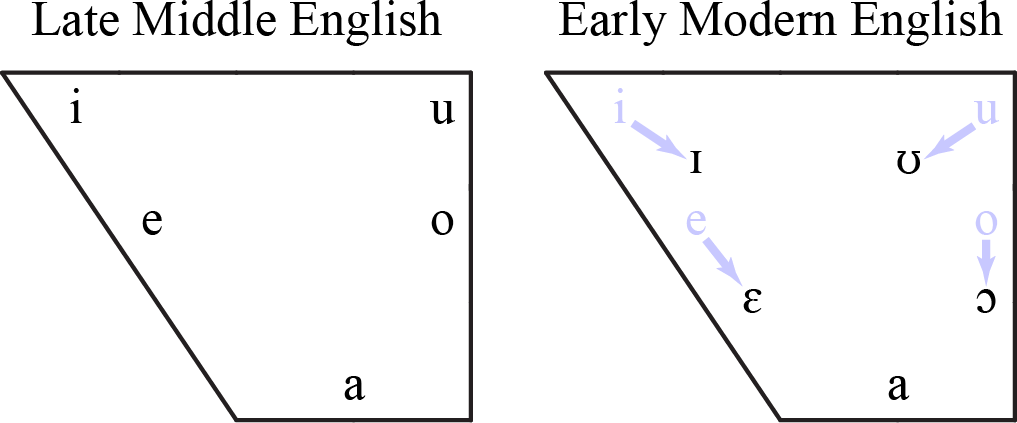 The Great Vowel Shift in English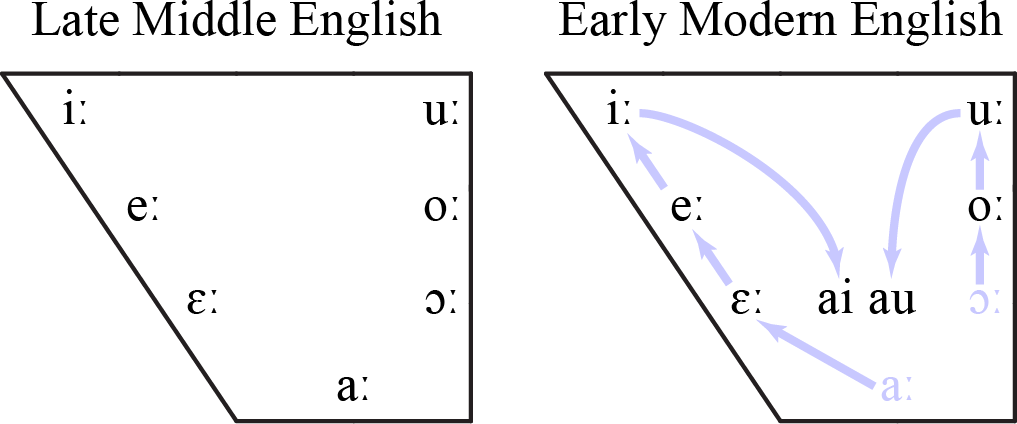 divine–divinity, hide-hid, etc., with [aɪ]-[ɪ] < [iː]-[i]
serene-serenity, thief-theft, etc., with [i]-[ɛ] < [eː]-[e]
graze-grass, sane-sanity, etc., with [e]-[æ] < [aː]-[a]
goose-gosling, school-scholarly, etc. with [u]-[ɒ] < [oː]-[o]
house-husband, pronounce-pronunciation, etc. with [aʊ]-[ʌ] < [uː]-[u]
---
Check your understanding
---
References