2.2: Supply and Profit
Last updated
Page ID

47067
\( \newcommand{\vecs}[1]{\overset { \scriptstyle \rightharpoonup} {\mathbf{#1}} } \) \( \newcommand{\vecd}[1]{\overset{-\!-\!\rightharpoonup}{\vphantom{a}\smash {#1}}} \)\(\newcommand{\id}{\mathrm{id}}\) \( \newcommand{\Span}{\mathrm{span}}\) \( \newcommand{\kernel}{\mathrm{null}\,}\) \( \newcommand{\range}{\mathrm{range}\,}\) \( \newcommand{\RealPart}{\mathrm{Re}}\) \( \newcommand{\ImaginaryPart}{\mathrm{Im}}\) \( \newcommand{\Argument}{\mathrm{Arg}}\) \( \newcommand{\norm}[1]{\| #1 \|}\) \( \newcommand{\inner}[2]{\langle #1, #2 \rangle}\) \( \newcommand{\Span}{\mathrm{span}}\) \(\newcommand{\id}{\mathrm{id}}\) \( \newcommand{\Span}{\mathrm{span}}\) \( \newcommand{\kernel}{\mathrm{null}\,}\) \( \newcommand{\range}{\mathrm{range}\,}\) \( \newcommand{\RealPart}{\mathrm{Re}}\) \( \newcommand{\ImaginaryPart}{\mathrm{Im}}\) \( \newcommand{\Argument}{\mathrm{Arg}}\) \( \newcommand{\norm}[1]{\| #1 \|}\) \( \newcommand{\inner}[2]{\langle #1, #2 \rangle}\) \( \newcommand{\Span}{\mathrm{span}}\)
LEARNING OBJECTIVES
What is supply?
What are gains made by sellers called?
What assumptions are commonly made about supply?
What causes supply to rise or fall?
What are goods produced together called?
How do the prices of one good influence supply for other goods?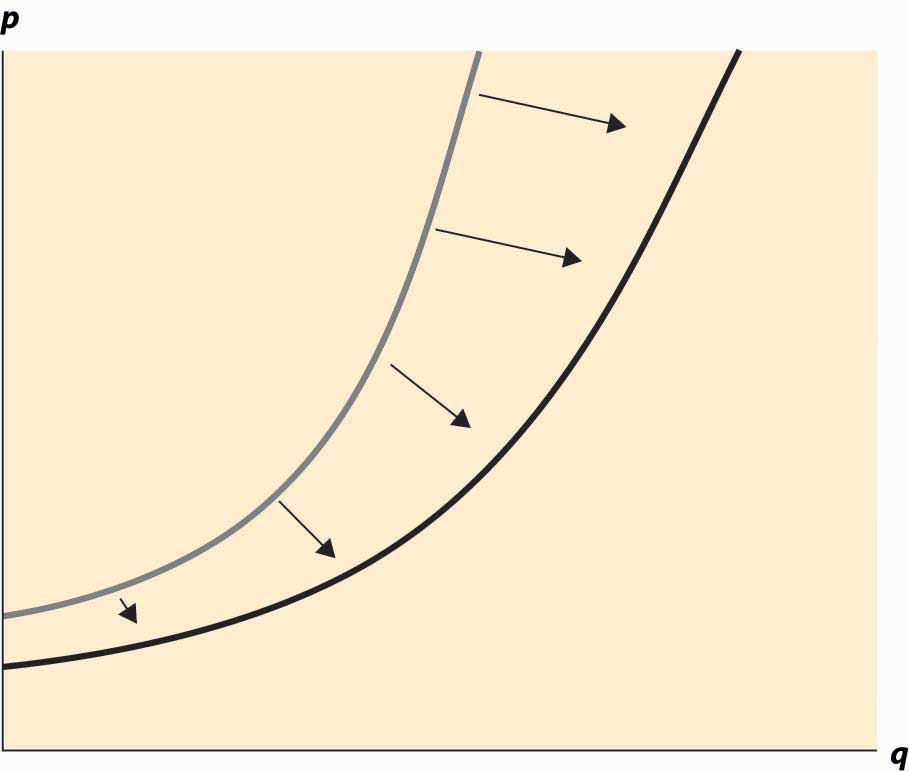 Key Takeaways
The supply curve gives the number of units as a function of the price that will be supplied for sale to the market.
Price equals marginal cost is an implication of profit maximization; the supplier sells all the units whose cost is less than price and doesn't sell the units whose cost exceeds price.
The supply curve is the inverse function of marginal cost. Graphed with the quantity supplied on the horizontal axis and price on the vertical axis, the supply curve is the marginal cost curve, with marginal cost on the vertical axis.
Profit is given by the difference of the price and marginal cost.
Supply is negative demand.
An increase in supply refers to either more units available at a given price or a lower price for the supply of the same number of units. Thus, an increase in supply is graphically represented by a curve that is lower or to the right, or both—that is, to the southeast. A decrease in supply is the reverse case, a shift to the northwest.
Anything that increases costs of production will tend to increase marginal cost and thus reduce the supply.
A complement in supply to a good x is a good y such that an increase in the price of y increases the supply of x.
The opposite of a complement in supply is a substitute in supply.
EXERCISES
A typist charges $30 per hour and types 15 pages per hour. Graph the supply of typed pages.
An owner of an oil well has two technologies for extracting oil. With one technology, the oil can be pumped out and transported for $5,000 per day, and 1,000 barrels per day are produced. With the other technology, which involves injecting natural gas into the well, the owner spends $10,000 per day and $5 per barrel produced, but 2,000 barrels per day are produced. What is the supply? Graph it.
An entrepreneur has a factory that produces Lα widgets, where α < 1, when L hours of labor are used. The cost of labor (wage and benefits) is w per hour. If the entrepreneur maximizes profit, what is the supply curve for widgets?
In the above exercise, suppose now that more than 40 hours entails a higher cost of labor (overtime pay). Let w be $20/hr for under 40 hours, and $30/hr for each hour over 40 hours, and α = ½. Find the supply curve.
In the previous exercise, for what range of prices does employment equal 40 hours? Graph the labor demanded by the entrepreneur.
Suppose marginal cost, as a function of the quantity q produced, is mq. Find the producer's profit as a function of the price p.