12.6: Income Effects
Last updated
Page ID

43820
\( \newcommand{\vecs}[1]{\overset { \scriptstyle \rightharpoonup} {\mathbf{#1}} } \) \( \newcommand{\vecd}[1]{\overset{-\!-\!\rightharpoonup}{\vphantom{a}\smash {#1}}} \)\(\newcommand{\id}{\mathrm{id}}\) \( \newcommand{\Span}{\mathrm{span}}\) \( \newcommand{\kernel}{\mathrm{null}\,}\) \( \newcommand{\range}{\mathrm{range}\,}\) \( \newcommand{\RealPart}{\mathrm{Re}}\) \( \newcommand{\ImaginaryPart}{\mathrm{Im}}\) \( \newcommand{\Argument}{\mathrm{Arg}}\) \( \newcommand{\norm}[1]{\| #1 \|}\) \( \newcommand{\inner}[2]{\langle #1, #2 \rangle}\) \( \newcommand{\Span}{\mathrm{span}}\) \(\newcommand{\id}{\mathrm{id}}\) \( \newcommand{\Span}{\mathrm{span}}\) \( \newcommand{\kernel}{\mathrm{null}\,}\) \( \newcommand{\range}{\mathrm{range}\,}\) \( \newcommand{\RealPart}{\mathrm{Re}}\) \( \newcommand{\ImaginaryPart}{\mathrm{Im}}\) \( \newcommand{\Argument}{\mathrm{Arg}}\) \( \newcommand{\norm}[1]{\| #1 \|}\) \( \newcommand{\inner}[2]{\langle #1, #2 \rangle}\) \( \newcommand{\Span}{\mathrm{span}}\)
LEARNING OBJECTIVE
How do consumers change their purchases when their income rises or falls?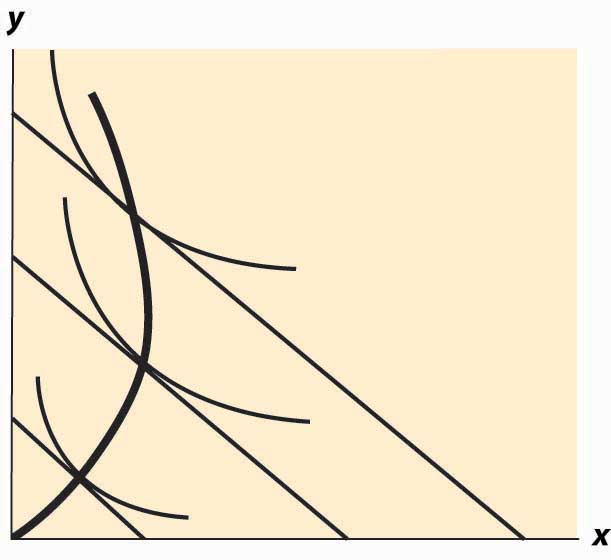 Key Takeaways
When an increase in income causes a consumer to buy more of a good, that good is called a normal good for that consumer. When the consumer buys less, the good is called an inferior good. At a sufficiently high income, most goods become inferior.
The curve that shows the path of consumption as income rises is known as an Engel curve.
For the Cobb-Douglas utility, Engel curves are straight lines through the origin.
Not all goods can be inferior.
The effect of a price increase decomposes into two effects: a decrease in real income and a substitution effect from the change in the price ratio. For normal goods, a price increase decreases quantity. For inferior goods, a price increase decreases quantity only if the substitution effect is larger than the income effect.
EXERCISES
Show that, in the case of perfect complements, the Engel curve does not depend on prices.
Compute the substitution effect and income effect associated with a multiplicative price increase Δ in \(\begin{equation}p_{Y}\end{equation}\) that is, multiplying pY by Δ > 1 for the case of the Cobb-Douglas utility \(\begin{equation}u(x, y)=x \text { a } y 1-a\end{equation}\)