13.1: Labor Supply
Last updated
Page ID

43822
\( \newcommand{\vecs}[1]{\overset { \scriptstyle \rightharpoonup} {\mathbf{#1}} } \) \( \newcommand{\vecd}[1]{\overset{-\!-\!\rightharpoonup}{\vphantom{a}\smash {#1}}} \)\(\newcommand{\id}{\mathrm{id}}\) \( \newcommand{\Span}{\mathrm{span}}\) \( \newcommand{\kernel}{\mathrm{null}\,}\) \( \newcommand{\range}{\mathrm{range}\,}\) \( \newcommand{\RealPart}{\mathrm{Re}}\) \( \newcommand{\ImaginaryPart}{\mathrm{Im}}\) \( \newcommand{\Argument}{\mathrm{Arg}}\) \( \newcommand{\norm}[1]{\| #1 \|}\) \( \newcommand{\inner}[2]{\langle #1, #2 \rangle}\) \( \newcommand{\Span}{\mathrm{span}}\) \(\newcommand{\id}{\mathrm{id}}\) \( \newcommand{\Span}{\mathrm{span}}\) \( \newcommand{\kernel}{\mathrm{null}\,}\) \( \newcommand{\range}{\mathrm{range}\,}\) \( \newcommand{\RealPart}{\mathrm{Re}}\) \( \newcommand{\ImaginaryPart}{\mathrm{Im}}\) \( \newcommand{\Argument}{\mathrm{Arg}}\) \( \newcommand{\norm}[1]{\| #1 \|}\) \( \newcommand{\inner}[2]{\langle #1, #2 \rangle}\) \( \newcommand{\Span}{\mathrm{span}}\)
LEARNING OBJECTIVE
If we want people to work more, should we pay them more or will that cause them to work less?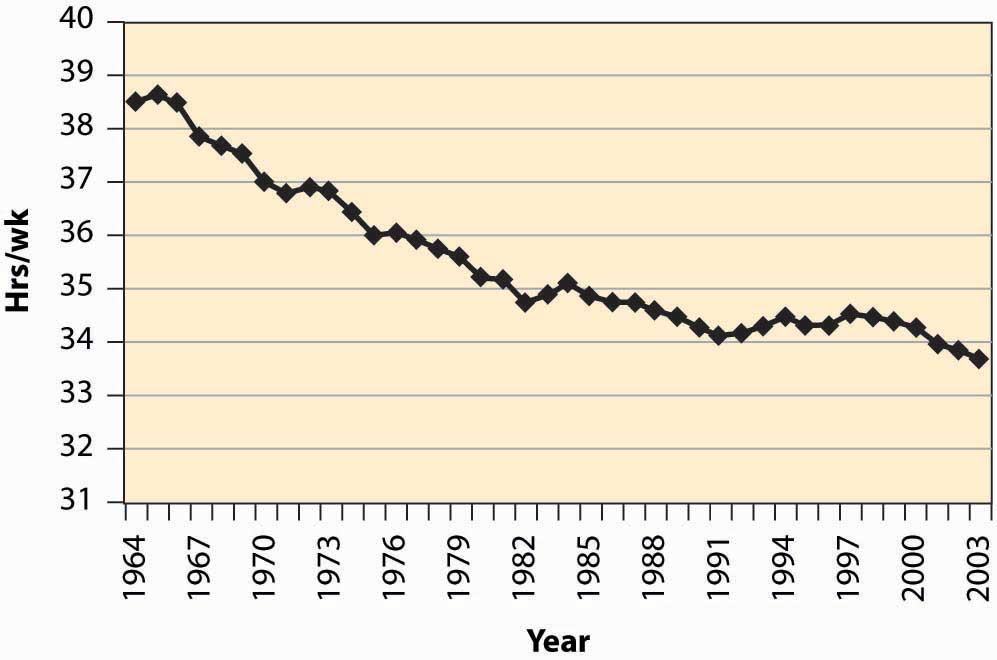 Key Takeaways
Leisure—time spent not working—is a good like other goods, and the utility cost of working is less leisure.
Labor supply is different from other goods because the wage enters the budget constraint twice—first as the price of leisure, and second as income from working.
If goods and leisure are substitutes, so that an increase in L decreases the marginal value of goods, then an increase in wages must decrease leisure, and labor supply increases in wages.
With strong complements between goods and leisure, an increase in wages induces fewer hours worked.
Complementarity between goods and leisure is reasonable because it takes time to consume goods.
For most developed nations, increases in wages are associated with fewer hours worked.
A compensating differential is income or costs that equalize different choices.
Jobs that are dangerous or unpleasant must pay more than jobs requiring similar skills but without the bad attributes.
The premium—or differential pay—must be such that the marginal worker is indifferent between the two choices: The extra pay compensates the worker for the adverse working conditions.
City choice is also subject to compensating differentials, and significant differentials include air quality, crime rates, tax rates, and housing prices.
EXERCISES
A thought question: Does a bequest motive—the desire to give money to others—change the likelihood that goods and leisure are complements?
Show that an increase in the wage increases the consumption of goods; that is, x increases when the wage increases.