16.3: Mixed Strategies
Last updated
Page ID

43845
\( \newcommand{\vecs}[1]{\overset { \scriptstyle \rightharpoonup} {\mathbf{#1}} } \) \( \newcommand{\vecd}[1]{\overset{-\!-\!\rightharpoonup}{\vphantom{a}\smash {#1}}} \)\(\newcommand{\id}{\mathrm{id}}\) \( \newcommand{\Span}{\mathrm{span}}\) \( \newcommand{\kernel}{\mathrm{null}\,}\) \( \newcommand{\range}{\mathrm{range}\,}\) \( \newcommand{\RealPart}{\mathrm{Re}}\) \( \newcommand{\ImaginaryPart}{\mathrm{Im}}\) \( \newcommand{\Argument}{\mathrm{Arg}}\) \( \newcommand{\norm}[1]{\| #1 \|}\) \( \newcommand{\inner}[2]{\langle #1, #2 \rangle}\) \( \newcommand{\Span}{\mathrm{span}}\) \(\newcommand{\id}{\mathrm{id}}\) \( \newcommand{\Span}{\mathrm{span}}\) \( \newcommand{\kernel}{\mathrm{null}\,}\) \( \newcommand{\range}{\mathrm{range}\,}\) \( \newcommand{\RealPart}{\mathrm{Re}}\) \( \newcommand{\ImaginaryPart}{\mathrm{Im}}\) \( \newcommand{\Argument}{\mathrm{Arg}}\) \( \newcommand{\norm}[1]{\| #1 \|}\) \( \newcommand{\inner}[2]{\langle #1, #2 \rangle}\) \( \newcommand{\Span}{\mathrm{span}}\)
LEARNING OBJECTIVE
What games require or admit randomization as part of their solution?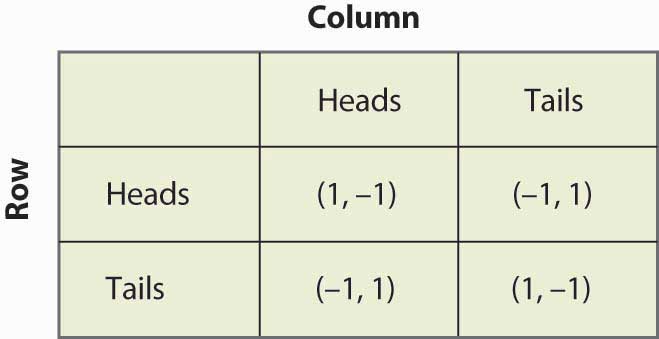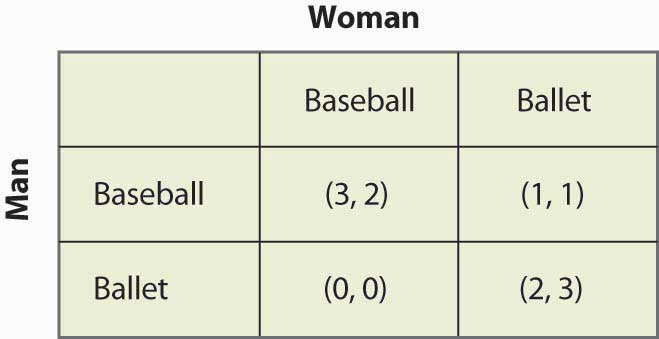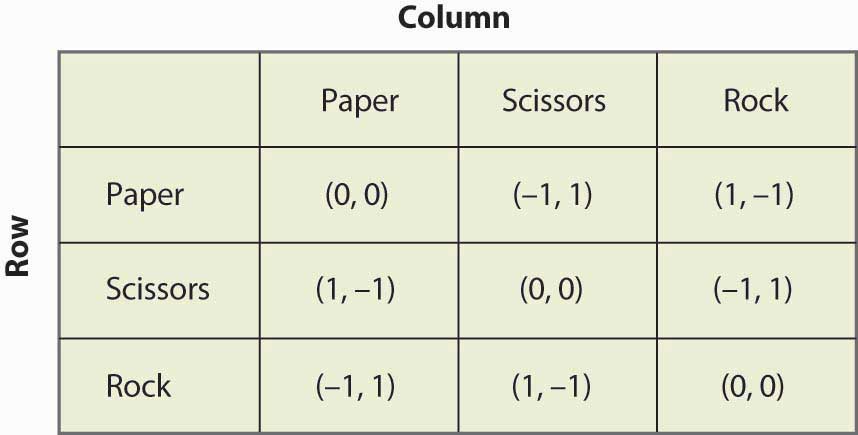 Key Takeaways
A mixed strategy Nash equilibrium involves at least one player playing a randomized strategy and no player being able to increase his or her expected payoff by playing an alternate strategy.
A Nash equilibrium without randomization is called a pure strategy Nash equilibrium.
If a player is supposed to randomize over two strategies, then both must produce the same expected payoff.
The matching pennies game has a mixed strategy and no pure strategy.
The battle of the sexes game has a mixed strategy and two pure strategies.
The game of chicken is similar to the battle of the sexes and, like it, has two pure strategies and one mixed strategy.
EXERCISES
Let q be the probability that Row plays Heads. Show that Column is willing to randomize, if and only if q = ½. (Hint: First compute Column's expected payoff when Column plays Heads, and then compute Column's expected payoff when Column plays Tails. These must be equal for Column to randomize.)
Show that in the rock, paper, scissors game there are no pure strategy equilibria. Show that playing all three actions with equal likelihood is a mixed strategy equilibrium.
Find all equilibria of the following games:
If you multiply a player's payoff by a positive constant, the equilibria of the game do not change. Is this true or false, and why?