16.4: Examples
Last updated
Page ID

43846
\( \newcommand{\vecs}[1]{\overset { \scriptstyle \rightharpoonup} {\mathbf{#1}} } \) \( \newcommand{\vecd}[1]{\overset{-\!-\!\rightharpoonup}{\vphantom{a}\smash {#1}}} \)\(\newcommand{\id}{\mathrm{id}}\) \( \newcommand{\Span}{\mathrm{span}}\) \( \newcommand{\kernel}{\mathrm{null}\,}\) \( \newcommand{\range}{\mathrm{range}\,}\) \( \newcommand{\RealPart}{\mathrm{Re}}\) \( \newcommand{\ImaginaryPart}{\mathrm{Im}}\) \( \newcommand{\Argument}{\mathrm{Arg}}\) \( \newcommand{\norm}[1]{\| #1 \|}\) \( \newcommand{\inner}[2]{\langle #1, #2 \rangle}\) \( \newcommand{\Span}{\mathrm{span}}\) \(\newcommand{\id}{\mathrm{id}}\) \( \newcommand{\Span}{\mathrm{span}}\) \( \newcommand{\kernel}{\mathrm{null}\,}\) \( \newcommand{\range}{\mathrm{range}\,}\) \( \newcommand{\RealPart}{\mathrm{Re}}\) \( \newcommand{\ImaginaryPart}{\mathrm{Im}}\) \( \newcommand{\Argument}{\mathrm{Arg}}\) \( \newcommand{\norm}[1]{\| #1 \|}\) \( \newcommand{\inner}[2]{\langle #1, #2 \rangle}\) \( \newcommand{\Span}{\mathrm{span}}\)
LEARNING OBJECTIVE
How can game theory be applied to the economic settings?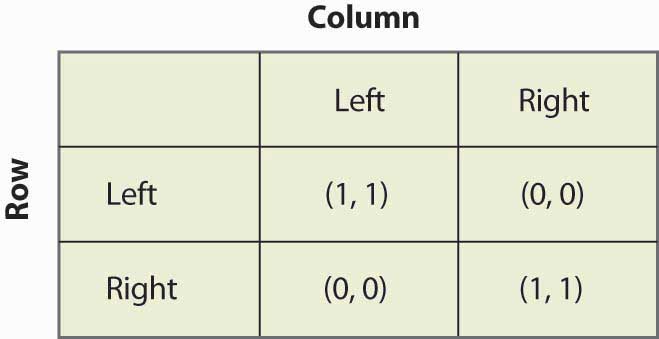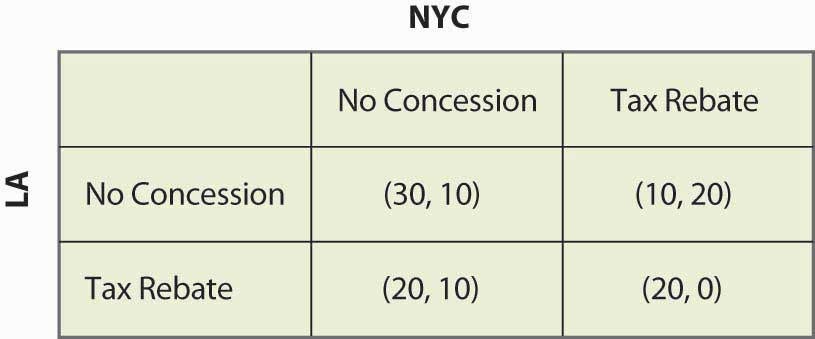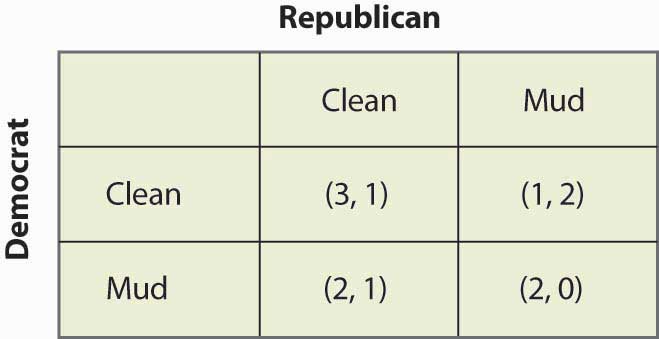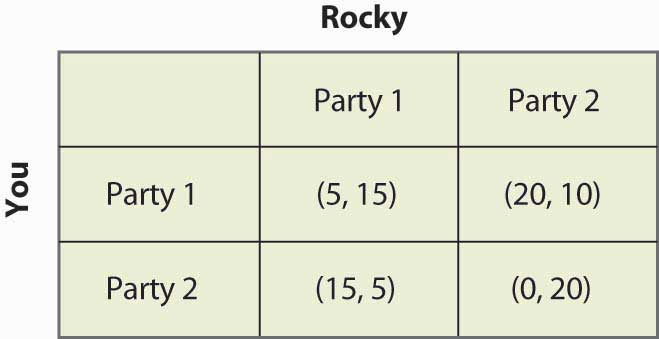 Key Takeaways
The free-rider problem of public goods with two players can be formulated as a game.
Whether to drive on the right or the left is a game similar to battle of the sexes.
Many everyday situations are reasonably formulated as games.
EXERCISES
Verify that the bank location game has no pure strategy equilibria and that there is a mixed strategy equilibrium where each city offers a rebate with probability ½.
Show that the only Nash equilibrium of the political mudslinging game is a mixed strategy with equal probabilities of throwing mud and not throwing mud.
Suppose that voters partially forgive a candidate for throwing mud in the political mudslinging game when the rival throws mud, so that the (Mud, Mud) outcome has payoff (2.5, 0.5). How does the equilibrium change?

Show that there are no pure strategy Nash equilibria in the avoiding Rocky game.
Find the mixed strategy Nash equilibria.
Show that the probability that you encounter Rocky is 7 12 .

Show that the firms in the price-cutting game have a dominant strategy to price low, so that the only Nash equilibrium is (Low, Low).