7.8: Categories and Concepts
Last updated
Page ID

11400
\( \newcommand{\vecs}[1]{\overset { \scriptstyle \rightharpoonup} {\mathbf{#1}} } \) \( \newcommand{\vecd}[1]{\overset{-\!-\!\rightharpoonup}{\vphantom{a}\smash {#1}}} \)\(\newcommand{\id}{\mathrm{id}}\) \( \newcommand{\Span}{\mathrm{span}}\) \( \newcommand{\kernel}{\mathrm{null}\,}\) \( \newcommand{\range}{\mathrm{range}\,}\) \( \newcommand{\RealPart}{\mathrm{Re}}\) \( \newcommand{\ImaginaryPart}{\mathrm{Im}}\) \( \newcommand{\Argument}{\mathrm{Arg}}\) \( \newcommand{\norm}[1]{\| #1 \|}\) \( \newcommand{\inner}[2]{\langle #1, #2 \rangle}\) \( \newcommand{\Span}{\mathrm{span}}\) \(\newcommand{\id}{\mathrm{id}}\) \( \newcommand{\Span}{\mathrm{span}}\) \( \newcommand{\kernel}{\mathrm{null}\,}\) \( \newcommand{\range}{\mathrm{range}\,}\) \( \newcommand{\RealPart}{\mathrm{Re}}\) \( \newcommand{\ImaginaryPart}{\mathrm{Im}}\) \( \newcommand{\Argument}{\mathrm{Arg}}\) \( \newcommand{\norm}[1]{\| #1 \|}\) \( \newcommand{\inner}[2]{\langle #1, #2 \rangle}\) \( \newcommand{\Span}{\mathrm{span}}\)\(\newcommand{\AA}{\unicode[.8,0]{x212B}}\)
By Gregory Murphy
Understand the problems with attempting to define categories.
Understand typicality and fuzzy category boundaries.
Learn about theories of the mental representation of concepts.
Learn how knowledge may influence concept learning.
Introduction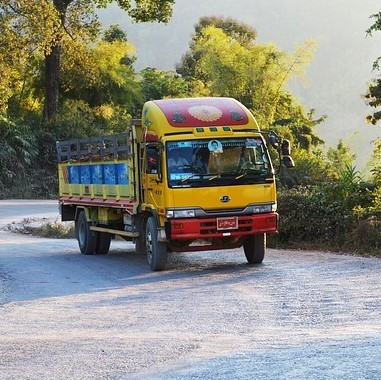 Nature of Categories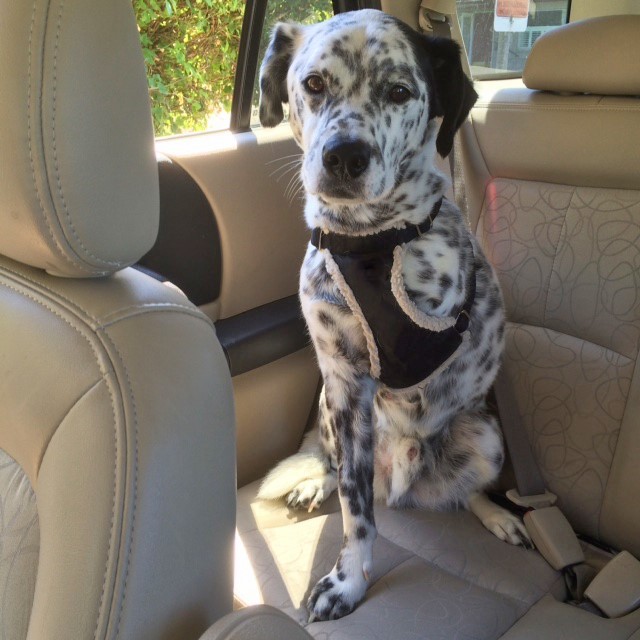 Fuzzy Categories
Borderline Items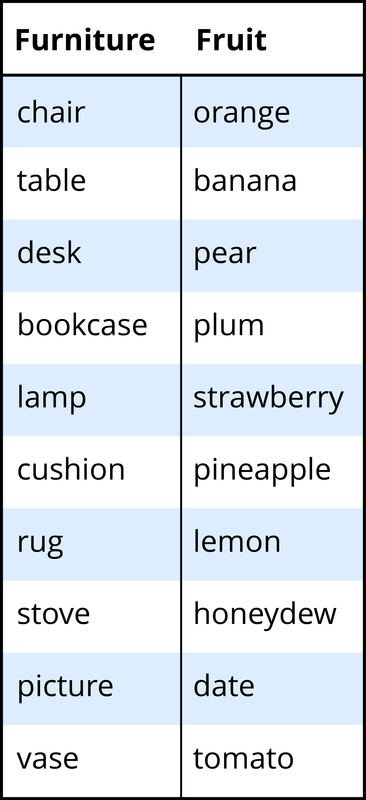 Typicality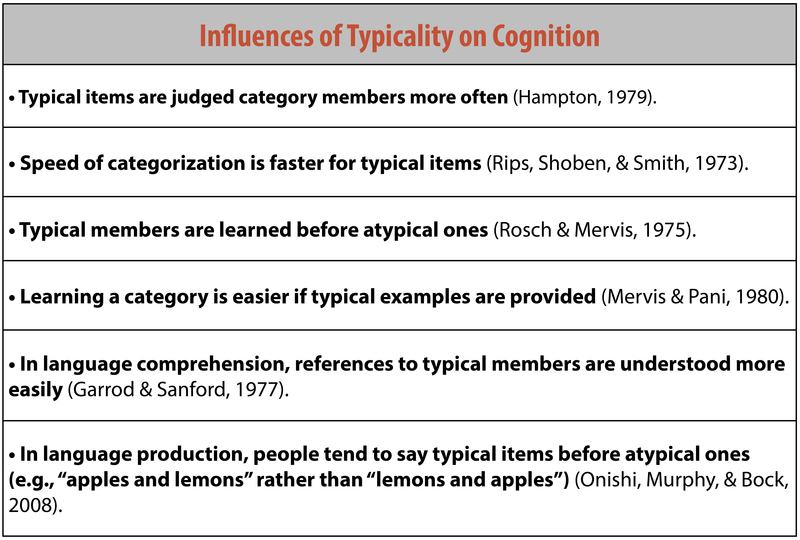 Source of Typicality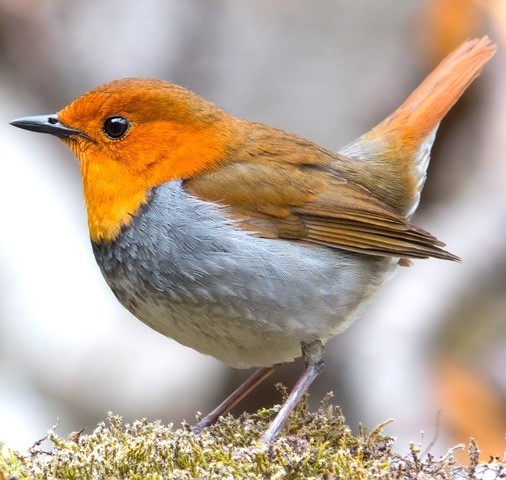 Category Hierarchies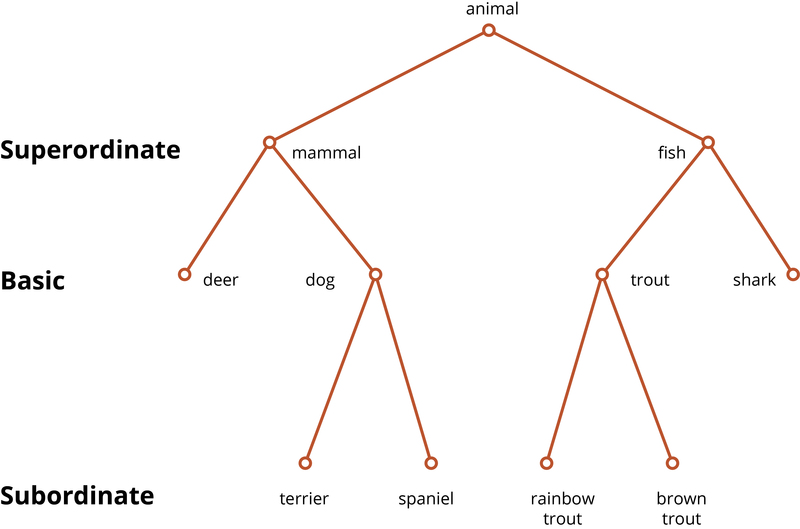 [1] This is a controversial claim, as some say that infants learn superordinates before anything else (Mandler, 2004). However, if true, then it is very puzzling that older children have great difficulty learning the correct meaning of words for superordinates, as well as in learning artificial superordinate categories (Horton & Markman, 1980; Mervis, 1987). However, it seems fair to say that the answer to this question is not yet fully known.
Theories of Concept Representation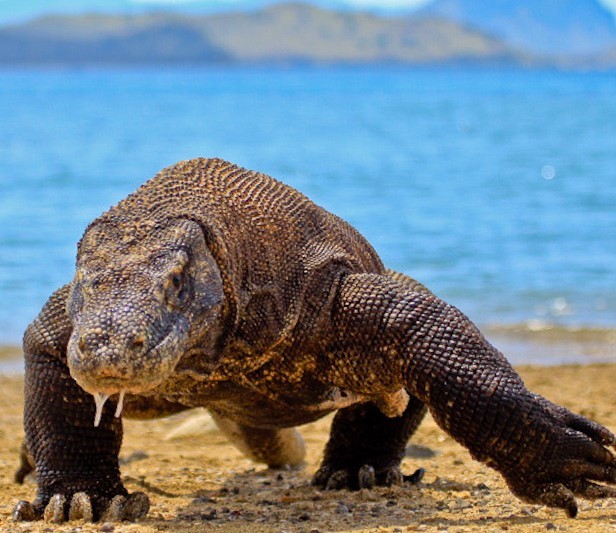 [2] Actually, the decision of which category is chosen is more complex than this, but the details are beyond this discussion.
Knowledge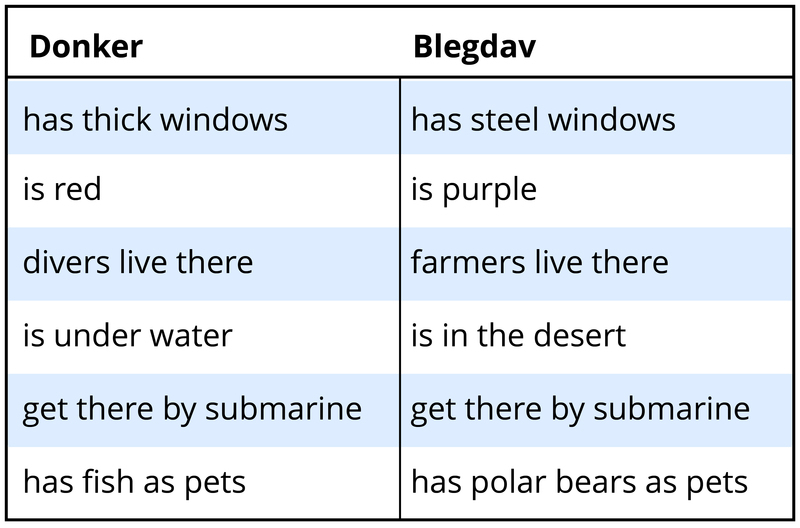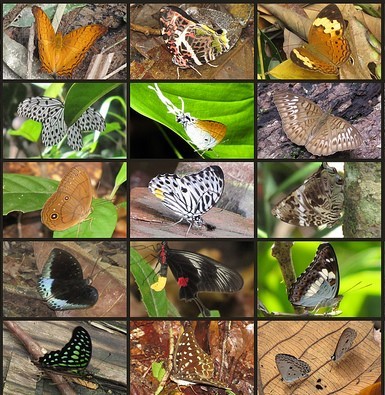 Conclusion
Outside Resources
Debate: The debate about Pluto and the definition of planet is an interesting one, as it illustrates the difficulty of arriving at definitions even in science. The Planetary Science Institute's website has a series of press releases about the Pluto debate, including reactions from astronomers, while it happened.

www.psi.edu

Image Search: It can be interesting to get a pictorial summary of how much diversity there is among category members. If you do an image search for familiar categories such as houses, dogs, weddings, telephones, fruit, or whatever, you can get a visual display on a single page of the category structure. Of course, the results are probably biased, as people do not just randomly upload pictures of dogs or fruit, but it nonetheless will likely reveal the typicality structure, as most of the pictures will be of typical exemplars, and the atypical ones will stand out. (This activity will also demonstrate the phenomenon of ambiguity in language, as a search for "house" will yield some pictures of the TV character House, M.D. However, that is a lesson for a different module.)

Self-test: If you would like to run your own category-learning experiment, you can do so by following the link below. It works either in-browser or by download. When downloaded, users can put in their own stimuli to categorize.

Software: Self-test Categorization Applet - This software allows you to conduct your own categorization experiment.

Web: A Compendium of Category and Concept Activities and Worksheets - This website contains all types of printable worksheets and activities on how to categorize concepts. It includes word searches, picture sorts, and more.

Web: An interesting article at Space.com argues (I believe correctly) that the term planet will not and should not be defined.

Web: Most familiar categories have simple labels such as planet or dog. However, more complex categories can be made up for a particular purpose. Barsalou (1983) studied categories such as things to carry out of a burning house or ways to avoid being killed by the Mob. Interestingly, someone has published a book consisting of people's photographs of things they would carry out of a burning house, and there is also a website showing such collections. Try to analyze what is common to the category members. What is the category's prototype?
Discussion Questions
Pick a couple of familiar categories and try to come up with definitions for them. When you evaluate each proposal (a) is it in fact accurate as a definition, and (b) is it a definition that people might actually use in identifying category members?
For the same categories, can you identify members that seem to be "better" and "worse" members? What about these items makes them typical and atypical?
Going around the room, point to some common objects (including things people are wearing or brought with them) and identify what the basic-level category is for that item. What are superordinate and subordinate categories for the same items?
List some features of a common category such as tables. The knowledge view suggests that you know reasons for why these particular features occur together. Can you articulate some of those reasons? Do the same thing for an animal category.
Choose three common categories: a natural kind, a human artifact, and a social event. Discuss with class members from other countries or cultures whether the corresponding categories in their cultures differ. Can you make a hypothesis about when such categories are likely to differ and when they are not?
Vocabulary
Basic-level category

The neutral, preferred category for a given object, at an intermediate level of specificity.

Category

A set of entities that are equivalent in some way. Usually the items are similar to one another.

Concept

The mental representation of a category.

Exemplar

An example in memory that is labeled as being in a particular category.

Psychological essentialism

The belief that members of a category have an unseen property that causes them to be in the category and to have the properties associated with it.

Typicality

The difference in "goodness" of category members, ranging from the most typical (the prototype) to borderline members.
References
Allen, S. W., & Brooks, L. R. (1991). Specializing the operation of an explicit rule.Journal of Experimental Psychology: General, 120, 3–19.
Anglin, J. M. (1977). Word, object, and conceptual development. New York, NY: W. W. Norton.
Berlin, B. (1992). Ethnobiological classification: Principles of categorization of plants and animals in traditional societies. Princeton, NJ: Princeton University Press.
Brown, R. (1958). How shall a thing be called? Psychological Review, 65, 14–21.
Gelman, S. A. (2003). The essential child: Origins of essentialism in everyday thought. Oxford, UK: Oxford University Press.
Hampton, J. A. (1979). Polymorphous concepts in semantic memory. Journal of Verbal Learning and Verbal Behavior, 18, 441–461.
Hirschfeld, L. A. (1996). Race in the making: Cognition, culture, and the child's construction of human kinds. Cambridge, MA: MIT Press.
Horton, M. S., & Markman, E. M. (1980). Developmental differences in the acquisition of basic and superordinate categories. Child Development, 51, 708–719.
Keil, F. C. (1989). Concepts, kinds, and cognitive development. Cambridge, MA: MIT Press.
Maddox, W. T., & Ashby, F. G. (2004). Dissociating explicit and procedural-based systems of perceptual category learning. Behavioural Processes, 66, 309–332.
Mandler, J. M. (2004). The foundations of mind: Origins of conceptual thought. Oxford, UK: Oxford University Press.
Mareschal, D., Quinn, P. C., & Lea, S. E. G. (Eds.) (2010). The making of human concepts. Oxford, UK: Oxford University Press.
McCloskey, M. E., & Glucksberg, S. (1978). Natural categories: Well defined or fuzzy sets? Memory & Cognition, 6, 462–472.
Medin, D. L., & Ortony, A. (1989). Psychological essentialism. In S. Vosniadou & A. Ortony (Eds.), Similarity and analogical reasoning (pp. 179–195). Cambridge, UK: Cambridge University Press.
Medin, D. L., & Schaffer, M. M. (1978). Context theory of classification learning. Psychological Review, 85, 207–238.
Mervis, C. B. (1987). Child-basic object categories and early lexical development. In U. Neisser (Ed.), Concepts and conceptual development: Ecological and intellectual factors in categorization (pp. 201–233). Cambridge, UK: Cambridge University Press.
Murphy, G. L., & Allopenna, P. D. (1994). The locus of knowledge effects in concept learning. Journal of Experimental Psychology: Learning, Memory, and Cognition, 20, 904–919.
Murphy, G. L., & Brownell, H. H. (1985). Category differentiation in object recognition: Typicality constraints on the basic category advantage. Journal of Experimental Psychology: Learning, Memory, and Cognition, 11, 70–84.
Norenzayan, A., Smith, E. E., Kim, B. J., & Nisbett, R. E. (2002). Cultural preferences for formal versus intuitive reasoning. Cognitive Science, 26, 653–684.
Rosch, E., & Mervis, C. B. (1975). Family resemblance: Studies in the internal structure of categories. Cognitive Psychology, 7, 573–605.
Rosch, E., Mervis, C. B., Gray, W., Johnson, D., & Boyes-Braem, P. (1976). Basic objects in natural categories. Cognitive Psychology, 8, 382–439.
Rosch, E., Simpson, C., & Miller, R. S. (1976). Structural bases of typicality effects. Journal of Experimental Psychology: Human Perception and Performance, 2, 491–502.
Rosch, E. H. (1973). On the internal structure of perceptual and semantic categories. In T. E. Moore (Ed.), Cognitive development and the acquisition of language (pp. 111–144). New York, NY: Academic Press.
Smith, E. E., & Medin, D. L. (1981). Categories and concepts. Cambridge, MA: Harvard University Press.
Smith, J. D., & Minda, J. P. (1998). Prototypes in the mist: The early epochs of category learning. Journal of Experimental Psychology: Learning, Memory, and Cognition, 24, 1411–1436.
Tanaka, J. W., & Taylor, M. E. (1991). Object categories and expertise: Is the basic level in the eye of the beholder? Cognitive Psychology, 15, 121–149.
Wisniewski, E. J., & Murphy, G. L. (1989). Superordinate and basic category names in discourse: A textual analysis. Discourse Processes, 12, 245–261.