9.5: Social Anxiety
Last updated
Page ID

10652
\( \newcommand{\vecs}[1]{\overset { \scriptstyle \rightharpoonup} {\mathbf{#1}} } \) \( \newcommand{\vecd}[1]{\overset{-\!-\!\rightharpoonup}{\vphantom{a}\smash {#1}}} \)\(\newcommand{\id}{\mathrm{id}}\) \( \newcommand{\Span}{\mathrm{span}}\) \( \newcommand{\kernel}{\mathrm{null}\,}\) \( \newcommand{\range}{\mathrm{range}\,}\) \( \newcommand{\RealPart}{\mathrm{Re}}\) \( \newcommand{\ImaginaryPart}{\mathrm{Im}}\) \( \newcommand{\Argument}{\mathrm{Arg}}\) \( \newcommand{\norm}[1]{\| #1 \|}\) \( \newcommand{\inner}[2]{\langle #1, #2 \rangle}\) \( \newcommand{\Span}{\mathrm{span}}\) \(\newcommand{\id}{\mathrm{id}}\) \( \newcommand{\Span}{\mathrm{span}}\) \( \newcommand{\kernel}{\mathrm{null}\,}\) \( \newcommand{\range}{\mathrm{range}\,}\) \( \newcommand{\RealPart}{\mathrm{Re}}\) \( \newcommand{\ImaginaryPart}{\mathrm{Im}}\) \( \newcommand{\Argument}{\mathrm{Arg}}\) \( \newcommand{\norm}[1]{\| #1 \|}\) \( \newcommand{\inner}[2]{\langle #1, #2 \rangle}\) \( \newcommand{\Span}{\mathrm{span}}\)\(\newcommand{\AA}{\unicode[.8,0]{x212B}}\)
By Todd Kashdan
Distinguish social anxiety from social anxiety disorder.
Identify commonly feared social situations.
Know the prevalence and treatment rates of social anxiety disorder.
Understand how social anxiety influences thoughts, feelings, and behaviors.
Identify effective treatments for social anxiety disorder.
Introduction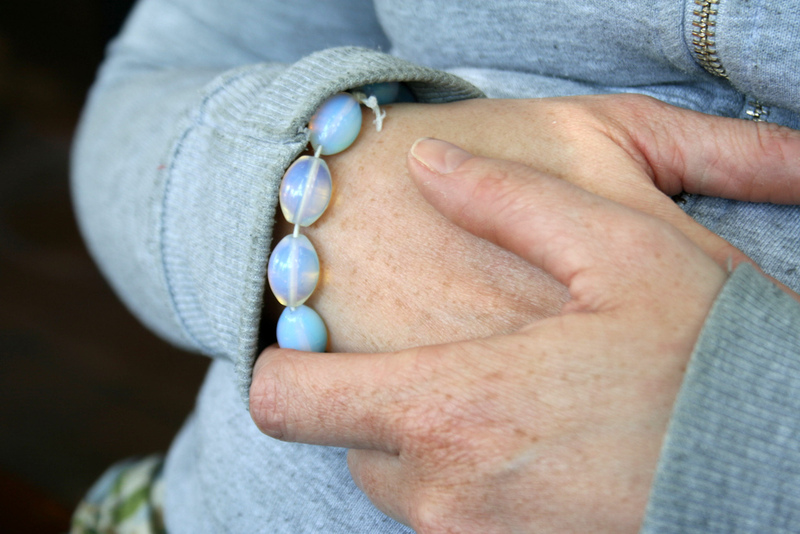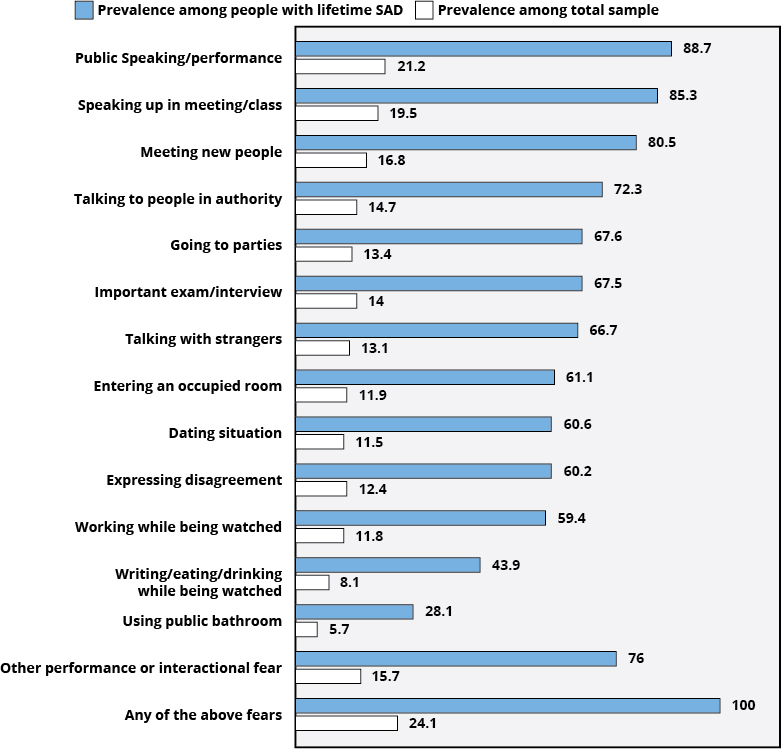 Social Anxiety Disorder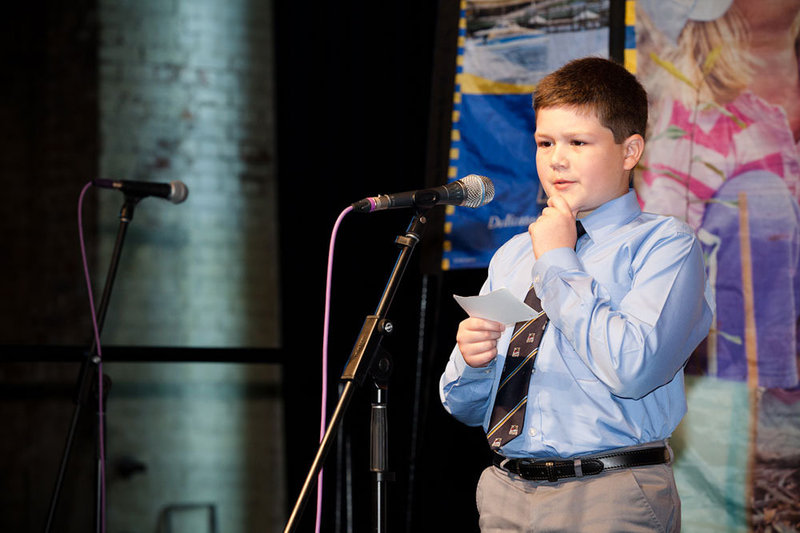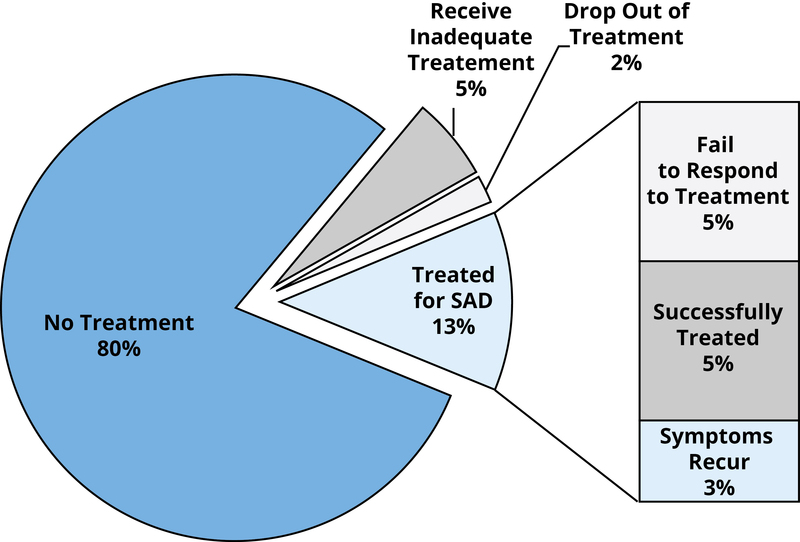 Fear of Evaluation
Biased Attention and Interpretation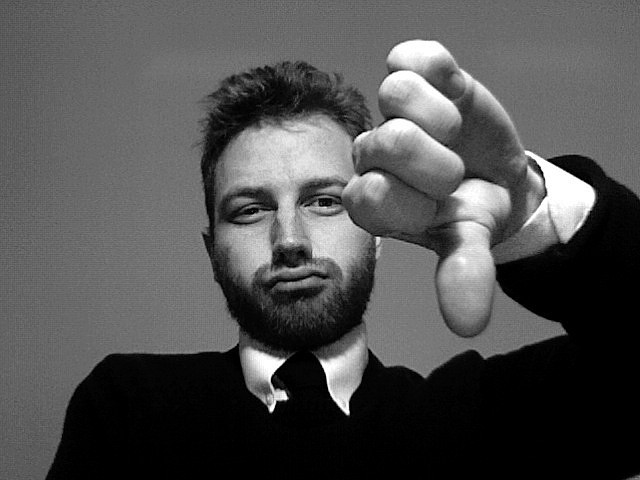 Deficient Positive Experiences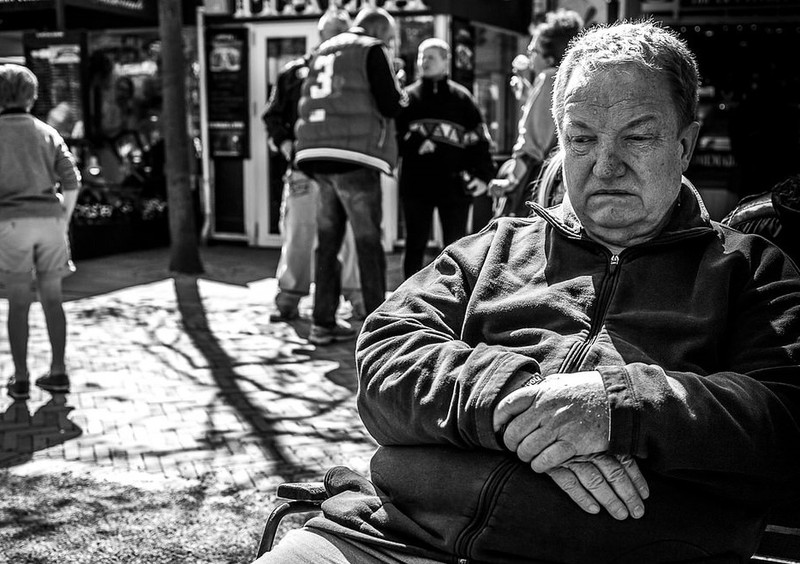 Problematic Emotion Regulation
Treatments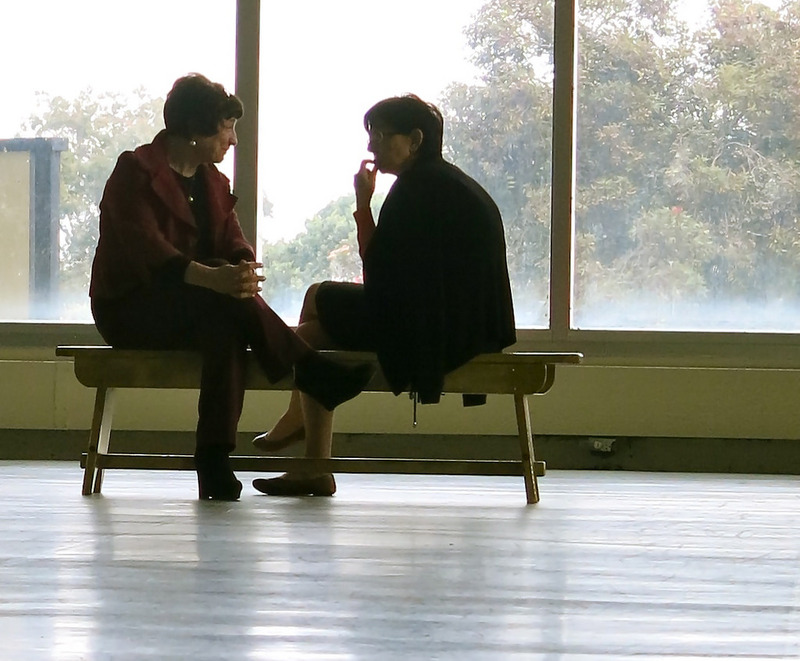 Conclusions
Outside Resources
Institution: Andrew Kukes Foundation for Social Anxiety

Institution: Anxiety and Depression Association of America

Video: Social Anxiety Documentary - Afraid of People

Web: CalmClinic

Web: Which Celebrities Suffer with Social Anxiety?
Discussion Questions
What differentiates people who are shy from those with social anxiety disorder?
Because the most effective treatment for social anxiety disorder is exposure to feared situations, what kinds of exposures would you devise for someone who fears talking in front of an audience? Engaging in small talk? Writing or eating in front of others? Speaking up in a small group? Talking to strangers?
Why might social anxiety disorder typically begin in late childhood/early adolescence?
How does culture influence fears of negative and positive evaluation? After all, social groups differ in their adherence to a vertical social hierarchy.
What may be some reasons people with severe social anxiety might not seek or receive treatment? How would you remove these obstacles?
Vocabulary
Amygdala

A brain structure in the limbic system involved in fear reactivity and implicated in the biological basis for social anxiety disorder.

Anxiety

A state of worry or apprehension about future events or possible danger that usually involves negative thoughts, unpleasant physical sensations, and/or a desire to avoid harm.

Cognitive behavioral therapy (CBT)

Psychotherapy approach that incorporates cognitive techniques (targeting unhelpful thoughts) and behavioral techniques (changing behaviors) to improve psychological symptoms.

Ego depletion

The idea that people have a limited pool of mental resources for self-control (e.g., regulating emotions, willpower), and this pool can be used up (depleted).

Emotion regulation

The ability to recognize emotional experiences and respond to situations by engaging in strategies to manage emotions as necessary.

Exposure treatment

A technique used in behavior therapy that involves a patient repeatedly confronting a feared situation, without danger, to reduce anxiety.

Fear of negative evaluation

The preoccupation with and dread of the possibility of being judged negatively by others.

Fear of positive evaluation

The dread associated with favorable public evaluation or acknowledgment of success, particularly when it involves social comparison.

Pharmacotherapy

A treatment approach that involves using medications to alter a person's neural functioning to reduce psychological symptoms.

Safety behaviors

Actions people take to reduce likelihood of embarrassment or minimizing anxiety in a situation (e.g., not making eye contact, planning what to say).

Selective serotonin re-uptake inhibitors (SSRIs)

A class of antidepressant medications often used to treat SAD that increase the concentration of the neurotransmitter serotonin in the brain.

Serotonin norepinephrine reuptake inhibitors (SNRIs)

A class of antidepressant medications often used to treat SAD that increase the concentration of serotonin and norepinephrine in the brain.

Social anxiety

Excessive anticipation and distress about social situations in which one may be evaluated negatively, rejected, or scrutinized.

Social anxiety disorder (SAD)

An anxiety disorder marked by severe and persistent social anxiety and avoidance that interferes with a person's ability to fulfill their roles in important life domains.
References
American Psychiatric Association. (2013). Diagnostic and statistical manual of mental disorders (5th ed.). Arlington, VA: American Psychiatric Publishing.
Amir, N., Beard, C., & Bower, E. (2005). Interpretation bias and social anxiety. Cognitive Therapy and Research, 29(4), 433–443. doi:10.1007/s10608-005-2834-5
Bandelow, B., Sher, L., Bunevicius, R., Hollander, E., Kasper, S., Zohar, J., … WFSBP Task Force on Anxiety Disorders, OCD and PTSD. (2012). Guidelines for the pharmacological treatment of anxiety disorders, obsessive–compulsive disorder and posttraumatic stress disorder in primary care. International Journal of Psychiatry in Clinical Practice, 16(2), 77–84. doi:10.3109/13651501.2012.667114
Berscheid, E., & Reis, H. T. (1998). Attraction and close relationships. In D. T. Gilbert, S. T. Fiske, & G. Lindzey (Eds.), The handbook of social psychology (4th ed., Vols. 1 and 2, pp. 193–281). New York, NY: McGraw-Hill.
Blanco, C., Bragdon, L. B., Schneier, F. R., & Liebowitz, M. R. (2013). The evidence-based pharmacotherapy of social anxiety disorder. The International Journal of Neuropsychopharmacology, 16(01), 235–249. doi:10.1017/S1461145712000119
Blanco, C., Heimberg, R. G., Schneier, F. R., Fresco, D. M., Chen, H., Turk, C. L., … Liebowitz, M. R. (2010). A placebo-controlled trial of phenelzine, cognitive behavioral group therapy, and their combination for social anxiety disorder. Archives of General Psychiatry, 67(3), 286–295. doi:10.1001/archgenpsychiatry.2010.11
Brown, L. H., Silvia, P. J., Myin-Germeys, I., & Kwapil, T. R. (2007). When the need to belong goes wrong: the expression of social anhedonia and social anxiety in daily life. Psychological Science, 18, 778–782. doi:10.1111/j.1467-9280.2007.01978.x
Bögels, S. M., & Mansell, W. (2004). Attention processes in the maintenance and treatment of social phobia: hypervigilance, avoidance and self-focused attention. Clinical Psychology Review, 24(7), 827–856. doi:10.1016/j.cpr.2004.06.005
Clark, D. M., & Wells, A. (1995). A cognitive model of social phobia. In Social phobia: Diagnosis, assessment, and treatment (pp. 69–93). New York: Guilford Press.
Dalrymple, K. L., & Herbert, J. D. (2007). Acceptance and commitment therapy for generalized social anxiety disorder: A pilot study. Behavior Modification, 31, 543–568. doi:10.1177/0145445507302037
Eisner, L. R., Johnson, S. L., & Carver, C. S. (2009). Positive affect regulation in anxiety disorders. Journal of Anxiety Disorders, 23(5), 645–649. doi:10.1016/j.janxdis.2009.02.001
Farmer, A. S., & Kashdan, T. B. (2012). Social anxiety and emotion regulation in daily life: Spillover effects on positive and negative social events. Cognitive Behaviour Therapy, 41, 152–162. doi:10.1080/16506073.2012.666561
Fedoroff, I. C., & Taylor, S. (2001). Psychological and pharmacological treatments of social phobia: A meta-analysis. Journal of Clinical Psychopharmacology, 21(3), 311–324. doi:10.1097/00004714-200106000-00011
Fergus, T. A., Valentiner, D. P., McGrath, P. B., Stephenson, K., Gier, S., & Jencius, S. (2009). The Fear of Positive Evaluation Scale: Psychometric properties in a clinical sample. Journal of Anxiety Disorders, 23(8), 1177–1183. doi:10.1016/j.janxdis.2009.07.024
Feske, U., & Chambless, D. L. (1995). Cognitive behavioral versus exposure only treatment for social phobia: A meta-analysis. Behavior Therapy, 26(4), 695–720. doi:10.1016/S0005-7894(05)80040-1
Frijda, N. H. (1996). Passions: Emotion and socially consequential behavior. In Emotion: Interdisciplinary perspectives (pp. 1–27). Hillsdale, NJ: Lawrence Erlbaum Associates, Inc.
Gilbert, P. (2001). Evolution and social anxiety: The role of attraction, social competition, and social hierarchies. Psychiatric Clinics of North America, 24(4), 723–751. doi:10.1016/S0193-953X(05)70260-4
Goldin, P. R., & Gross, J. J. (2010). Effects of mindfulness-based stress reduction (MBSR) on emotion regulation in social anxiety disorder. Emotion, 10(1), 83–91. doi:10.1037/a0018441
Gould, R. A., Buckminster, S., Pollack, M. H., & Otto, M. W. (1997). Cognitive-behavioral and pharmacological treatment for social phobia: A meta-analysis. Clinical Psychology: Science and Practice, 4(4), 291–306. doi:10.1111/j.1468-2850.1997.tb00123.x
Gross, J. J. (1998). The emerging field of emotion regulation: An integrative review. Review of General Psychology, 2(3), 271–299. doi:10.1037/1089-2680.2.3.271
Hayes, S. C., Luoma, J. B., Bond, F. W., Masuda, A., & Lillis, J. (2006). Acceptance and commitment therapy: Model, processes and outcomes. Behaviour Research and Therapy, 44(1), 1–25. doi:10.1016/j.brat.2005.06.006
Heimberg, R. G., & Becker, R. E. (2002). Treatment of social fears and phobias. New York, NY: Guilford Press
Juretic, J., & Zivcic-Becirevic, I. (2013). Social anxiety, beliefs about expressing emotions and experiencing positive emotions. In F. Durbano (Ed.), New insights into anxiety disorders. Rijeka, Croatia: InTech.
Kashdan, T. B., & Collins, R. L. (2010). Social anxiety and the experience of positive emotion and anger in everyday life: An ecological momentary assessment approach. Anxiety, Stress & Coping, 23(3), 259–272. doi:10.1080/10615800802641950
Kashdan, T. B., Adams, L., Savostyanova, A., Ferssizidis, P., McKnight, P. E., & Nezlek, J. B. (2011). Effects of social anxiety and depressive symptoms on the frequency and quality of sexual activity: A daily process approach. Behaviour Research and Therapy, 49, 352–360. doi:10.1016/j.brat.2011.03.004
Kashdan, T. B., Christopher Frueh, B., Knapp, R. G., Hebert, R., & Magruder, K. M. (2006). Social anxiety disorder in veterans affairs primary care clinics. Behaviour Research and Therapy, 44(2), 233–247. doi:10.1016/j.brat.2005.02.002
Kashdan, T. B., Farmer, A. S., Adams, L. M., Ferssizidis, P., McKnight, P. E., & Nezlek, J. B. (2013). Distinguishing healthy adults from people with social anxiety disorder: Evidence for the value of experiential avoidance and positive emotions in everyday social interactions. Journal of Abnormal Psychology, 122(3), 645–655. doi:10.1037/a0032733
Kashdan, T. B., Morina, N., & Priebe, S. (2009). Post-traumatic stress disorder, social anxiety disorder, and depression in survivors of the Kosovo War: Experiential avoidance as a contributor to distress and quality of life. Journal of Anxiety Disorders, 23, 185–196. doi:10.1016/j.janxdis.2008.06.006
Kashdan, T. B., Weeks, J. W., & Savostyanova, A. A. (2011). Whether, how, and when social anxiety shapes positive experiences and events: A self-regulatory framework and treatment implications. Clinical Psychology Review, 31, 786–799. doi:10.1016/j.cpr.2011.03.012
Kessler, R. C., Berglund, P., Demler, O., Jin, R., Merikangas, K. R., & Walters, E. E. (2005). Lifetime prevalence and age-of-onset distributions of DSM-IV disorders in the National Comorbidity Survey Replication. Archives of General Psychiatry, 62(6), 593–602. doi:10.1001/archpsyc.62.6.593
Leary, M. R., & Kowalski, R. M. (1995). Social anxiety (Vol. xii). New York, NY: Guilford Press.
Moscovitch, D. A. (2009). What is the core fear in social phobia? A new model to facilitate individualized case conceptualization and treatment. Cognitive and Behavioral Practice, 16, 123–134. doi:10.1016/j.cbpra.2008.04.002
Muraven, M., & Baumeister, R. F. (2000). Self-regulation and depletion of limited resources: Does self-control resemble a muscle? Psychological Bulletin, 126(2), 247–259. doi:10.1037/0033-2909.126.2.247
Richards, J. M., & Gross, J. J. (1999). Composure at any cost? The cognitive consequences of emotion suppression. Personality and Social Psychology Bulletin, 25(8), 1033–1044. doi:10.1177/01461672992511010
Ruscio, A. M., Brown, T. A., Chiu, W. T., Sareen, J., Stein, M. B., & Kessler, R. C. (2008). Social fears and social phobia in the USA: Results from the National Comorbidity Survey Replication. Psychological Medicine, 38(1), 15–28. doi:10.1017/S0033291707001699
Schneier, F. R., Johnson, J., Hornig, C. D., Liebowitz, M. R., & Weissman, M. M. (1992). Social phobia: Comorbidity and morbidity in an epidemiologic sample. Archives of General Psychiatry, 49(4), 282–288. doi:10.1001/archpsyc.1992.01820040034004
Spokas, M., Luterek, J. A., & Heimberg, R. G. (2009). Social anxiety and emotional suppression: The mediating role of beliefs. Journal of Behavior Therapy and Experimental Psychiatry, 40, 283–291. doi:10.1016/j.jbtep.2008.12.004
Taylor, C. T., Bomyea, J., & Amir, N. (2010). Attentional bias away from positive social information mediates the link between social anxiety and anxiety vulnerability to a social stressor. Journal of Anxiety Disorders, 24(4), 403–408. doi:10.1016/j.janxdis.2010.02.004
Taylor, S. (1996). Meta-analysis of cognitive-behavioral treatments for social phobia. Journal of Behavior Therapy and Experimental Psychiatry, 27(1), 1–9.
Turk, C. L., Heimberg, R. G., Luterek, J. A., Mennin, D. S., & Fresco, D. M. (2005). Emotion dysregulation in generalized anxiety disorder: A comparison with social anxiety disorder. Cognitive Therapy and Research, 29(1), 89–106. doi:10.1007/s10608-005-1651-1
Vittengl, J. R., & Holt, C. S. (1998). A time-series diary study of mood and social interaction. Motivation and Emotion, 22(3), 255–275.
Vohs, K. D., Baumeister, R. F., & Ciarocco, N. J. (2005). Self-regulation and self-presentation: Regulatory resource depletion impairs impression management and effortful self-presentation depletes regulatory resources. Journal of Personality and Social Psychology, 88, 632–657. doi:10.1037/0022-3514.88.4.632
Watson, D., & Friend, R. (1969). Measurement of social-evaluative anxiety. Journal of Consulting and Clinical Psychology, 33, 448–457. doi:10.1037/h0027806
Weeks, J. W., Heimberg, R. G., & Rodebaugh, T. L. (2008). The Fear of Positive Evaluation Scale: Assessing a proposed cognitive component of social anxiety. Journal of Anxiety Disorders, 22(1), 44–55. doi:10.1016/j.janxdis.2007.08.002
Weeks, J. W., Heimberg, R. G., Rodebaugh, T. L., & Norton, P. J. (2008). Exploring the relationship between fear of positive evaluation and social anxiety. Journal of Anxiety Disorders, 22, 386–400. doi:10.1016/j.janxdis.2007.04.009
Weeks, J. W., Heimberg, R. G., Rodebaugh, T. L., Goldin, P. R., & Gross, J. J. (2012). Psychometric evaluation of the Fear of Positive Evaluation Scale in patients with social anxiety disorder. Psychological Assessment, 24(2), 301–312. doi:10.1037/a0025723
Werner, K., Goldin, P., Ball, T., Heimberg, R., & Gross, J. (2011). Assessing emotion regulation in social anxiety disorder: The emotion regulation interview. Journal of Psychopathology and Behavioral Assessment, 33(3), 346–354. doi:10.1007/s10862-011-9225-x
Wittchen, H. U., Fuetsch, M., Sonntag, H., Müller, N., & Liebowitz, M. (2000). Disability and quality of life in pure and comorbid social phobia. Findings from a controlled study. European Psychiatry, 15(1), 46–58. doi:10.1016/S0924-9338(00)00211-X
ilboa-Schechtman, E., Foa, E. B., & Amir, N. (1999). Attentional biases for facial expressions in social phobia: The face-in-the-crowd paradigm. Cognition & Emotion, 13(3), 305–318. doi:10.1080/026999399379294