3.3: Culture
Last updated
Page ID

11940
\( \newcommand{\vecs}[1]{\overset { \scriptstyle \rightharpoonup} {\mathbf{#1}} } \) \( \newcommand{\vecd}[1]{\overset{-\!-\!\rightharpoonup}{\vphantom{a}\smash {#1}}} \)\(\newcommand{\id}{\mathrm{id}}\) \( \newcommand{\Span}{\mathrm{span}}\) \( \newcommand{\kernel}{\mathrm{null}\,}\) \( \newcommand{\range}{\mathrm{range}\,}\) \( \newcommand{\RealPart}{\mathrm{Re}}\) \( \newcommand{\ImaginaryPart}{\mathrm{Im}}\) \( \newcommand{\Argument}{\mathrm{Arg}}\) \( \newcommand{\norm}[1]{\| #1 \|}\) \( \newcommand{\inner}[2]{\langle #1, #2 \rangle}\) \( \newcommand{\Span}{\mathrm{span}}\) \(\newcommand{\id}{\mathrm{id}}\) \( \newcommand{\Span}{\mathrm{span}}\) \( \newcommand{\kernel}{\mathrm{null}\,}\) \( \newcommand{\range}{\mathrm{range}\,}\) \( \newcommand{\RealPart}{\mathrm{Re}}\) \( \newcommand{\ImaginaryPart}{\mathrm{Im}}\) \( \newcommand{\Argument}{\mathrm{Arg}}\) \( \newcommand{\norm}[1]{\| #1 \|}\) \( \newcommand{\inner}[2]{\langle #1, #2 \rangle}\) \( \newcommand{\Span}{\mathrm{span}}\)\(\newcommand{\AA}{\unicode[.8,0]{x212B}}\)
By Robert Biswas-Diener and Neil Thin
Appreciate culture as an evolutionary adaptation common to all humans.
Understand cultural processes as variable patterns rather than as fixed scripts.
Understand the difference between cultural and cross-cultural research methods.
Appreciate cultural awareness as a source of personal well-being, social responsibility, and social harmony.
Explain the difference between individualism and collectivism.
Define "self-construal" and provide a real life example.
Introduction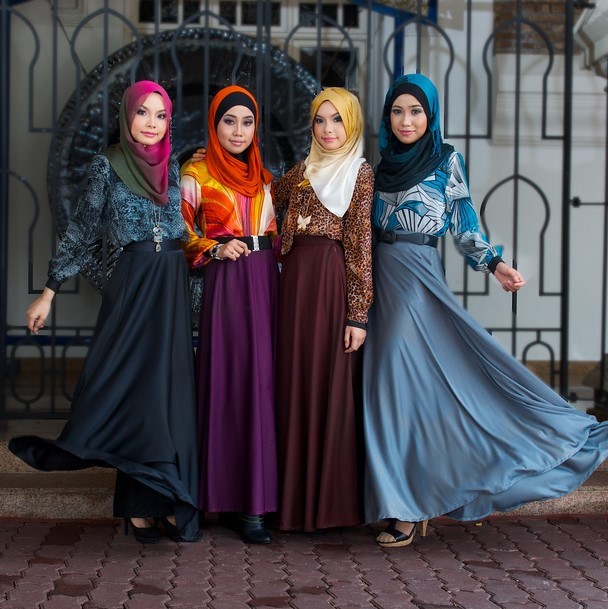 Social Psychology Research Methods

What is Culture?
Defining Culture
Versatility: Culture can change and adapt. Someone from the state of Orissa, in India, for example, may have multiple identities. She might see herself as Oriya when at home and speaking her native language. At other times, such as during the national cricket match against Pakistan, she might consider herself Indian. This is known as situational identity.
Sharing: Culture is the product of people sharing with one another. Humans cooperate and share knowledge and skills with other members of their networks. The ways they share, and the content of what they share, helps make up culture. Older adults, for instance, remember a time when long-distance friendships were maintained through letters that arrived in the mail every few months. Contemporary youth culture accomplishes the same goal through the use of instant text messages on smart phones.
Accumulation: Cultural knowledge is cumulative. That is, information is "stored." This means that a culture's collective learning grows across generations. We understand more about the world today than we did 200 years ago, but that doesn't mean the culture from long ago has been erased by the new. For instance, members of the Haida culture—a First Nations people in British Columbia, Canada—profit from both ancient and modern experiences. They might employ traditional fishing practices and wisdom stories while also using modern technologies and services.
Patterns: There are systematic and predictable ways of behavior or thinking across members of a culture. Patterns emerge from adapting, sharing, and storing cultural information. Patterns can be both similar and different across cultures. For example, in both Canada and India it is considered polite to bring a small gift to a host's home. In Canada, it is more common to bring a bottle of wine and for the gift to be opened right away. In India, by contrast, it is more common to bring sweets, and often the gift is set aside to be opened later.
Thinking about Culture
Progressive cultivation: This refers to a relatively small subset of activities that are intentional and aimed at "being refined." Examples include learning to play a musical instrument, appreciating visual art, and attending theater performances, as well as other instances of so-called "high art." This was the predominant use of the word culture through the mid-19th century. This notion of culture formed the basis, in part, of a superior mindset on the behalf of people from the upper economic classes. For instance, many tribal groups were seen as lacking cultural sophistication under this definition. In the late 19th century, as global travel began to rise, this understanding of culture was largely replaced with an understanding of it as a way of life.
Ways of Life: This refers to distinct patterns of beliefs and behaviors widely shared among members of a culture. The "ways of life" understanding of culture shifts the emphasis to patterns of belief and behavior that persist over many generations. Although cultures can be small—such as "school culture"—they usually describe larger populations, such as nations. People occasionally confuse national identity with culture. There are similarities in culture between Japan, China, and Korea, for example, even though politically they are very different. Indeed, each of these nations also contains a great deal of cultural variation within themselves.
Shared Learning: In the 20th century, anthropologists and social psychologists developed the concept of enculturation to refer to the ways people learn about and shared cultural knowledge. Where "ways of life" is treated as a noun "enculturation" is a verb. That is, enculturation is a fluid and dynamic process. That is, it emphasizes that culture is a process that can be learned. As children are raised in a society, they are taught how to behave according to regional cultural norms. As immigrants settle in a new country, they learn a new set of rules for behaving and interacting. In this way, it is possible for a person to have multiple cultural scripts.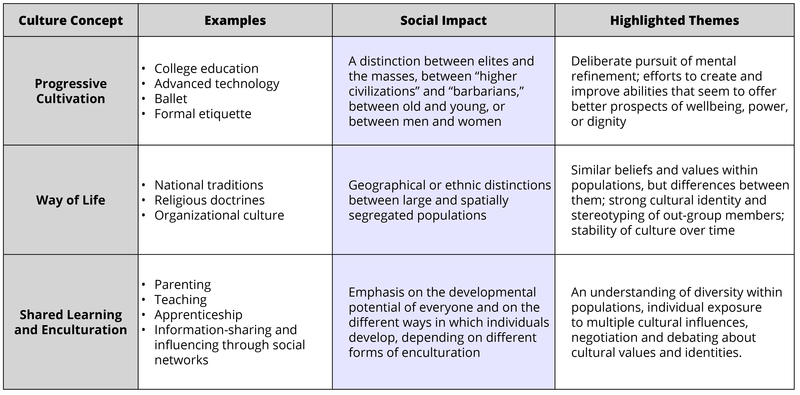 The Self and Culture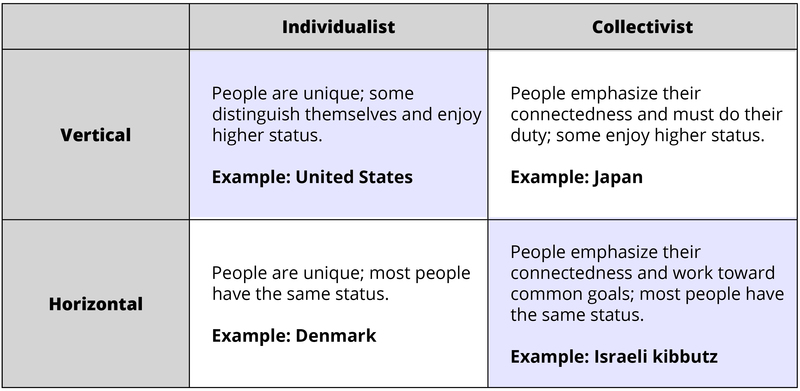 Culture is Learned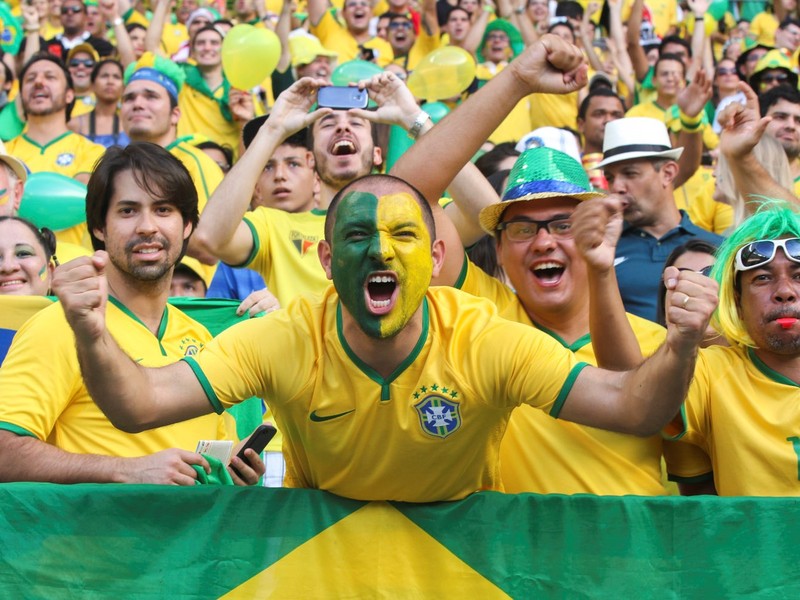 Cultural Relativism
Conclusion
Outside Resources
Articles: International Association of Cross-Cultural Psychology (IACCP) [Wolfgang Friedlmeier, ed] Online Readings in Psychology and Culture (ORPC)

Database: Human Relations Area Files (HRAF) 'World Cultures' database

Organization: Plous, Scott, et al, Social Psychology Network, Cultural Psychology Links by Subtopic

Study: Hofstede, Geert et al, The Hofstede Center: Strategy, Culture, Change

geert-hofstede.com/national-culture.html
Discussion Questions
How do you think the culture you live in is similar to or different from the culture your parents were raised in?
What are the risks of associating "culture" mainly with differences between large populations such as entire nations?
If you were a social psychologist, what steps would you take to guard against ethnocentricity in your research?
Name one value that is important to you. How did you learn that value?
In your opinion, has the internet increased or reduced global cultural diversity?
Imagine a social psychologist who researches the culture of extremely poor people, such as so-called "rag pickers," who sort through trash for food or for items to sell. What ethical challenges can you identify in this type of study?
Vocabulary
Collectivism

The cultural trend in which the primary unit of measurement is the group. Collectivists are likely to emphasize duty and obligation over personal aspirations.

Cross-cultural psychology (or cross-cultural studies)

An approach to researching culture that emphasizes the use of standard scales as a means of making meaningful comparisons across groups.

Cross-cultural studies (or cross-cultural psychology)

An approach to researching culture that emphasizes the use of standard scales as a means of making meaningful comparisons across groups.

Cultural differences

An approach to understanding culture primarily by paying attention to unique and distinctive features that set them apart from other cultures.

Cultural intelligence

The ability and willingness to apply cultural awareness to practical uses.

Cultural psychology

An approach to researching culture that emphasizes the use of interviews and observation as a means of understanding culture from its own point of view.

Cultural relativism

The principled objection to passing overly culture-bound (i.e., "ethnocentric") judgements on aspects of other cultures.

Cultural script

Learned guides for how to behave appropriately in a given social situation. These reflect cultural norms and widely accepted values.

Cultural similarities

An approach to understanding culture primarily by paying attention to common features that are the same as or similar to those of other cultures

Culture

A pattern of shared meaning and behavior among a group of people that is passed from one generation to the next.

Enculturation

The uniquely human form of learning that is taught by one generation to another.

Ethnocentric bias (or ethnocentrism)

Being unduly guided by the beliefs of the culture you've grown up in, especially when this results in a misunderstanding or disparagement of unfamiliar cultures.

Ethnographic studies

Research that emphasizes field data collection and that examines questions that attempt to understand culture from it's own context and point of view.

Independent self

The tendency to define the self in terms of stable traits that guide behavior.

Individualism

The cultural trend in which the primary unit of measurement is the individual. Individualists are likely to emphasize uniqueness and personal aspirations over social duty.

Interdependent self

The tendency to define the self in terms of social contexts that guide behavior.

Observational learning

Learning by observing the behavior of others.

Open ended questions

Research questions that ask participants to answer in their own words.

Ritual

Rites or actions performed in a systematic or prescribed way often for an intended purpose. Example: The exchange of wedding rings during a marriage ceremony in many cultures.

Self-construal

The extent to which the self is defined as independent or as relating to others.

Situational identity

Being guided by different cultural influences in different situations, such as home versus workplace, or formal versus informal roles.

Standard scale

Research method in which all participants use a common scale—typically a Likert scale—to respond to questions.

Value judgment

An assessment—based on one's own preferences and priorities—about the basic "goodness" or "badness" of a concept or practice.

Value-free research

Research that is not influenced by the researchers' own values, morality, or opinions.
References
Diener, E. & Oishi, S. (2000). Money and happiness: Income and subjective well-being across nations. In E. Diener & E.M. Suh (Eds), Culture and subjective well-being, Cambrdige, MA: MIT Press.
Markus, H. (1977). Self-schemata and processing information about the self. Journal of Personality and Social Psychology, 35, 63-78.
Markus, H. & Kitiyama, S (1994).The cultural construction of self and emotion: Implications for social behavior. In S. Kitiyama & H. Markus (Eds), Emotion and Culture: Empirical studies of mutual influence. Washington, DC: American Psychological Association.
Markus, H. & Kitiyama, S (1991). Culture and the self: Implications for cognition, emotion and motivation. Psychological Review, 98, 224-253.
Markus, H., Ryff, C., Curhan, K. & Palmersheim, K. (2004). In their own words: Well-being at midlife among high school and college educated adults. In O.G. Brim & C. Ryff (Eds), How healthy are we? A national study of well-being at midlife. Chicago: University of Chicago Press.
Matsumoto, D., Yoo, S. H., & Chung, J. (2010). The expression of anger across cultures. In M. Potegal, G. Stemmler, G., and C. Spielberger (Eds.) International handbook of anger (pp.125-137). New York, NY: Springer
Poggi, I. (2002). Towards the alphabet and the lexicon of gesture, gaze and touch. In Virtual Symposium on Multimodality of Human Communication. Retrieved from http://www.semioticon.com/virtuals/m.../geyboui41.pdf
Triandis, H. C. (2008). An autobiography: Why did culture shape my career. R. Levine, A. Rodrigues & L. Zelezny, L. (Eds.). Journeys in social psychology: Looking back to inspire the future. (pp.145-164). New York, NY: Taylor And Francis.
Triandis, H. C. (1995). Individualism and collectivism. Boulder, CO: Westview press.