Instructors' Guide for Explorations
Last updated
Page ID

191826
\( \newcommand{\vecs}[1]{\overset { \scriptstyle \rightharpoonup} {\mathbf{#1}} } \) \( \newcommand{\vecd}[1]{\overset{-\!-\!\rightharpoonup}{\vphantom{a}\smash {#1}}} \)\(\newcommand{\id}{\mathrm{id}}\) \( \newcommand{\Span}{\mathrm{span}}\) \( \newcommand{\kernel}{\mathrm{null}\,}\) \( \newcommand{\range}{\mathrm{range}\,}\) \( \newcommand{\RealPart}{\mathrm{Re}}\) \( \newcommand{\ImaginaryPart}{\mathrm{Im}}\) \( \newcommand{\Argument}{\mathrm{Arg}}\) \( \newcommand{\norm}[1]{\| #1 \|}\) \( \newcommand{\inner}[2]{\langle #1, #2 \rangle}\) \( \newcommand{\Span}{\mathrm{span}}\) \(\newcommand{\id}{\mathrm{id}}\) \( \newcommand{\Span}{\mathrm{span}}\) \( \newcommand{\kernel}{\mathrm{null}\,}\) \( \newcommand{\range}{\mathrm{range}\,}\) \( \newcommand{\RealPart}{\mathrm{Re}}\) \( \newcommand{\ImaginaryPart}{\mathrm{Im}}\) \( \newcommand{\Argument}{\mathrm{Arg}}\) \( \newcommand{\norm}[1]{\| #1 \|}\) \( \newcommand{\inner}[2]{\langle #1, #2 \rangle}\) \( \newcommand{\Span}{\mathrm{span}}\)\(\newcommand{\AA}{\unicode[.8,0]{x212B}}\)
Explorations: An Adaptable Open Educational Resource
Open Educational Resources (OER)
Creative Commons Licenses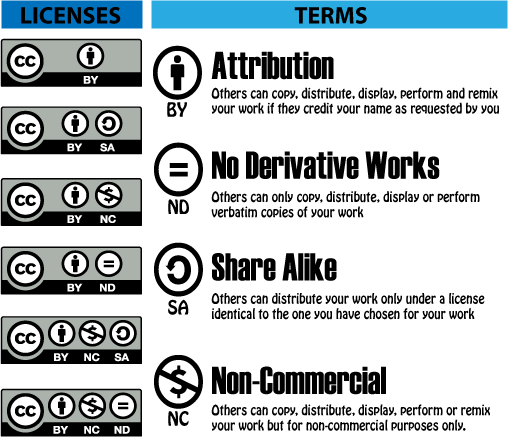 Figure 2: Creative Commons licenses from least restrictive (top) to most restrictive (bottom). Credit: Adapted from Icons by The Noun Project.by Creative Commons and is under a CC BY 4.0 License

License

Terms

CC 0
All Rights Granted/Public Domain:
Licensors waive all rights and place a work in the public domain.
CC BY
Attribution:
Others can copy, distribute, display, perform and remix your work if they credit your name as requested by you. This is the most accommodating of licenses offered. Recommended for maximum dissemination and use of licensed materials.
CC BY-SA
Attribution-ShareAlike:
This license lets others remix, adapt, and build upon your work even for commercial purposes, as long as they credit you and license their new creations under the identical terms. This license is often compared to "copyleft" free and open source software licenses. All new works based on yours will carry the same license, so any derivatives will also allow commercial use. This is the license used by Wikipedia, and is recommended for materials that would benefit from incorporating content from Wikipedia and similarly licensed projects.
CC BY-ND
Attribution-NoDerivs
This license lets others reuse the work for any purpose, including commercially; however, it cannot be shared with others in adapted form, and credit must be provided to you.
CC BY-NC
Attribution-NonComercial:
This license lets others remix, adapt, and build upon your work non-commercially, and although their new works must also acknowledge you and be non-commercial, they don't have to license their derivative works on the same terms.
CC BY-NC-SA
Attribution-NonComercial-ShareAlike:
This license lets others remix, adapt, and build upon your work non-commercially, as long as they credit you and license their new creations under the identical terms.
CC BY-NC-ND
Attribution-NonComercial-NoDerivs:
This license is the most restrictive of our six main licenses, only allowing others to download your works and share them with others as long as they credit you, but they can't change them in any way or use them commercially.

CC Licenses and OER
Retain: make, own, and control a copy of the resource.
Revise: edit, adapt, and modify your copy of the resource.
Remix: combine your original or revised copy of the resource with other existing material to create something new.
Reuse: use your original, revised, or remixed copy of the resource publicly.
Redistribute: share copies of your original, revised, or remixed copy of the resource with others.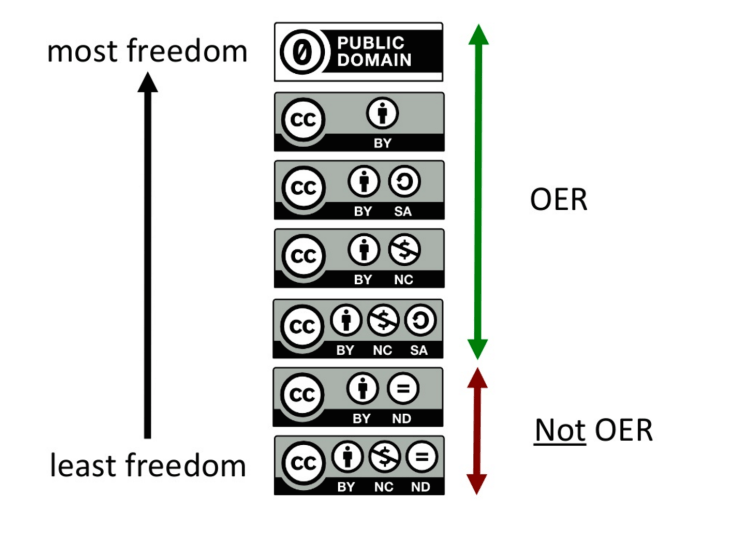 Adapting OER
make word-level edits to make the writing more accessible to your readers;
remove some sections or highlight boxes;
use only a portion of the text;
update with current information;
add media or links to other resources;
add your own (or other openly licensed) case studies;
translate the entire manuscript into another language; or
use open pedagogy, a method that engages students as creators of information.
LibreTexts Remixer
Establish a free account for LibreTexts
Fork the page(s) you wish to edit
Make changes and save
Establish your account.
Edit: Allows you to edit the page you are on.
New: Allows you to create a new book, chapter, unit, or page.
Remixer: Redirects you to the LibreTexts Remixer where you can mix content from across LibreTexts libraries to create new OER.
Downloads: Redirects you to the Download Center for the library you are in. The Download Center contains pre-formatted copies of every text in the LibreTexts libraries for easy printing at sites such as lulu.com or Amazon.
Fork the section you wish to edit.
Editing pages in LibreTexts.
A Word of Caution
Explorations: More Than a Textbook
Accessibility
Pages use structured headings [Heading 1, Heading 2, etc.] and styles accessible to a screen reader.
Text is easily readable in terms of font, color contrast, and spacing.
Lists are created using the bullet or numbered list tool and not formatted manually.
Videos are accurately captioned.
Audio files have a complete and accurate transcript.
All images have appropriate alternative texts that connect the image to the context and content on the page.
Alternative text does not contain "image of," "picture of," or file extensions.
Objects (including tables and charts) have alternative text that connects the resource to the learning in a meaningful manner.
Tables have correct column and row header designation so that screen readers can read table cells in correct order.
Color is not used as the only method to convey meaning.
Hyperlink text is unique and meaningful.
Interactive content [H5P, Slides, etc.] is created in an accessible format.
eBook
PDF
Print (for a cost on Amazon or other publishing platforms).
Ancillary Materials
Slides: Presentation slides for each chapter and appendix can be downloaded from our website.
Test bank: Using this form, faculty may request a copy of the test bank for Explorations. To protect the integrity of this test bank, we request verification information before we release it to faculty (the testbank is never distributed to students). A file is not currently available for adding the test bank to learning management systems (LMS).
Matrix Notes: These notes are based on a guided reading system that is backed by research and developed by Inver Hills Community College Reading Instructor Kathryn Klopfleish. Available for download as chapter-specific Google Docs, the note-taking form is tailored to help college students develop strong reading and comprehension skills.
Lab and activities manual: Our manual includes labs or activities for each chapter and appendix. Each lab or activity is under a CC BY-NC 4.0 License and includes: learning objectives, a list of required supplies, instructions for faculty, estimated duration, and student worksheets. The labs and activities can be individually printed by faculty for in-class use or packaged into course lab books for the term. Many labs are designed to be easily adapted for online learning courses.
References