5.4: Price Floors and Ceilings
Last updated
Page ID

43769
\( \newcommand{\vecs}[1]{\overset { \scriptstyle \rightharpoonup} {\mathbf{#1}} } \) \( \newcommand{\vecd}[1]{\overset{-\!-\!\rightharpoonup}{\vphantom{a}\smash {#1}}} \)\(\newcommand{\id}{\mathrm{id}}\) \( \newcommand{\Span}{\mathrm{span}}\) \( \newcommand{\kernel}{\mathrm{null}\,}\) \( \newcommand{\range}{\mathrm{range}\,}\) \( \newcommand{\RealPart}{\mathrm{Re}}\) \( \newcommand{\ImaginaryPart}{\mathrm{Im}}\) \( \newcommand{\Argument}{\mathrm{Arg}}\) \( \newcommand{\norm}[1]{\| #1 \|}\) \( \newcommand{\inner}[2]{\langle #1, #2 \rangle}\) \( \newcommand{\Span}{\mathrm{span}}\) \(\newcommand{\id}{\mathrm{id}}\) \( \newcommand{\Span}{\mathrm{span}}\) \( \newcommand{\kernel}{\mathrm{null}\,}\) \( \newcommand{\range}{\mathrm{range}\,}\) \( \newcommand{\RealPart}{\mathrm{Re}}\) \( \newcommand{\ImaginaryPart}{\mathrm{Im}}\) \( \newcommand{\Argument}{\mathrm{Arg}}\) \( \newcommand{\norm}[1]{\| #1 \|}\) \( \newcommand{\inner}[2]{\langle #1, #2 \rangle}\) \( \newcommand{\Span}{\mathrm{span}}\)
LEARNING OBJECTIVE
What happens when the government, not a market, sets the price?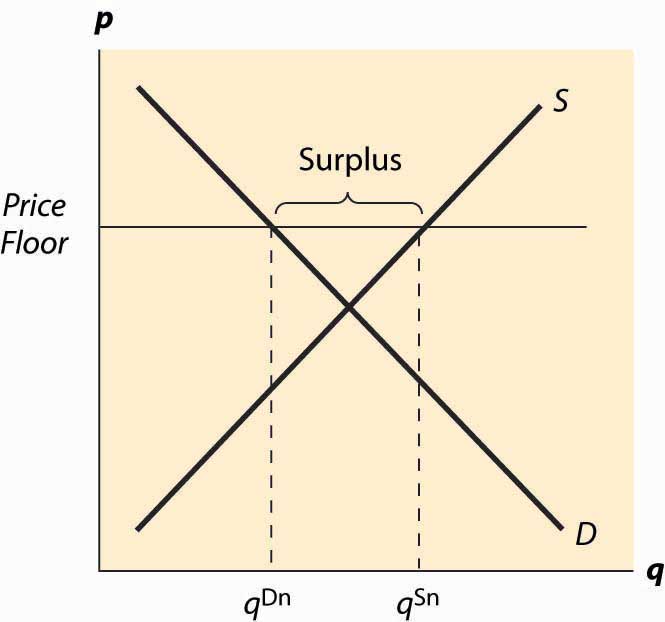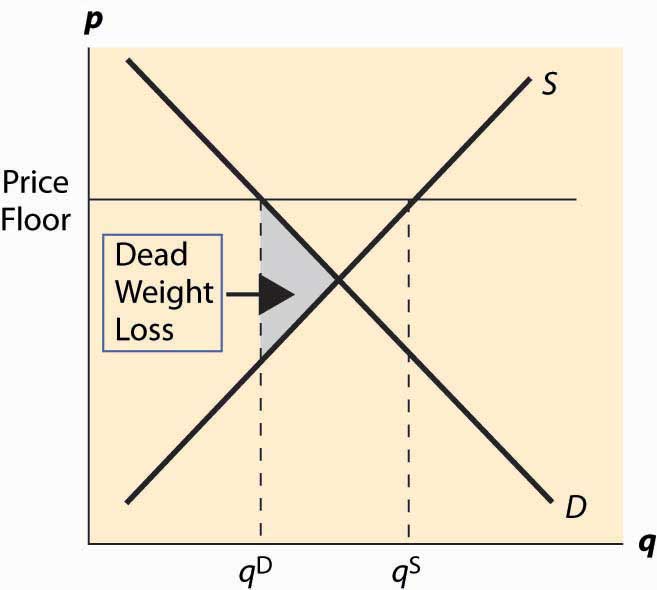 Key Takeaways
A price floor is a minimum price at which a product or service is permitted to sell. Many agricultural goods have price floors imposed by the government. The most important example of a price floor is the minimum wage.
A price ceiling is a maximum price that can be charged for a product or service. Rent control imposes a maximum price on apartments in many U.S. cities. A price ceiling that is larger than the equilibrium price has no effect.
If a price floor is low enough—below the equilibrium price—there are no effects. If the price floor is higher than the equilibrium price, there will be a surplus.
The deadweight loss of a price floor is the difference between the value of the units not traded—and value is given by the demand curve—and the cost of producing these units. This is the minimum loss to society associated with a price floor.
The effects of a price floor include lost gains from trade because too few units are traded (inefficient exchange), units produced that are never consumed (wasted production), and more costly units produced than necessary (inefficient production).
When a price ceiling is below the equilibrium price, the price is forced below the equilibrium price and a shortage results.
In addition to underproduction, a price ceiling may also lead to inefficient allocation. Price ceilings tend to encourage illegal trade and discrimination.
EXERCISES
In Example, show that the quantity produced is less than the equilibrium quantity, which is ½. Compute the gains from trade, given the overproduction of suppliers. What is the deadweight loss of the price floor?
Suppose that units aren't produced until after a buyer has agreed to purchase, as typically occurs with services. What is the deadweight loss in this case? (Hint: What potential sellers will offer their services? What is the average cost of supply of this set of potential sellers?)
Adapt the price floor example above to the case of a price ceiling, with p < ½, and compute the lost gains from trade if buyers willing to purchase are all able to purchase with probability qS/qD. (Hint: Compute the value of qD units; the value realized by buyers collectively will be that amount times the probability of trade.)