18.4: Search and Price Dispersion
Last updated
Page ID

43860
\( \newcommand{\vecs}[1]{\overset { \scriptstyle \rightharpoonup} {\mathbf{#1}} } \) \( \newcommand{\vecd}[1]{\overset{-\!-\!\rightharpoonup}{\vphantom{a}\smash {#1}}} \)\(\newcommand{\id}{\mathrm{id}}\) \( \newcommand{\Span}{\mathrm{span}}\) \( \newcommand{\kernel}{\mathrm{null}\,}\) \( \newcommand{\range}{\mathrm{range}\,}\) \( \newcommand{\RealPart}{\mathrm{Re}}\) \( \newcommand{\ImaginaryPart}{\mathrm{Im}}\) \( \newcommand{\Argument}{\mathrm{Arg}}\) \( \newcommand{\norm}[1]{\| #1 \|}\) \( \newcommand{\inner}[2]{\langle #1, #2 \rangle}\) \( \newcommand{\Span}{\mathrm{span}}\) \(\newcommand{\id}{\mathrm{id}}\) \( \newcommand{\Span}{\mathrm{span}}\) \( \newcommand{\kernel}{\mathrm{null}\,}\) \( \newcommand{\range}{\mathrm{range}\,}\) \( \newcommand{\RealPart}{\mathrm{Re}}\) \( \newcommand{\ImaginaryPart}{\mathrm{Im}}\) \( \newcommand{\Argument}{\mathrm{Arg}}\) \( \newcommand{\norm}[1]{\| #1 \|}\) \( \newcommand{\inner}[2]{\langle #1, #2 \rangle}\) \( \newcommand{\Span}{\mathrm{span}}\)\(\newcommand{\AA}{\unicode[.8,0]{x212B}}\)
LEARNING OBJECTIVES
Why do we see such random prices at the grocery store?
Why are prices unpredictable?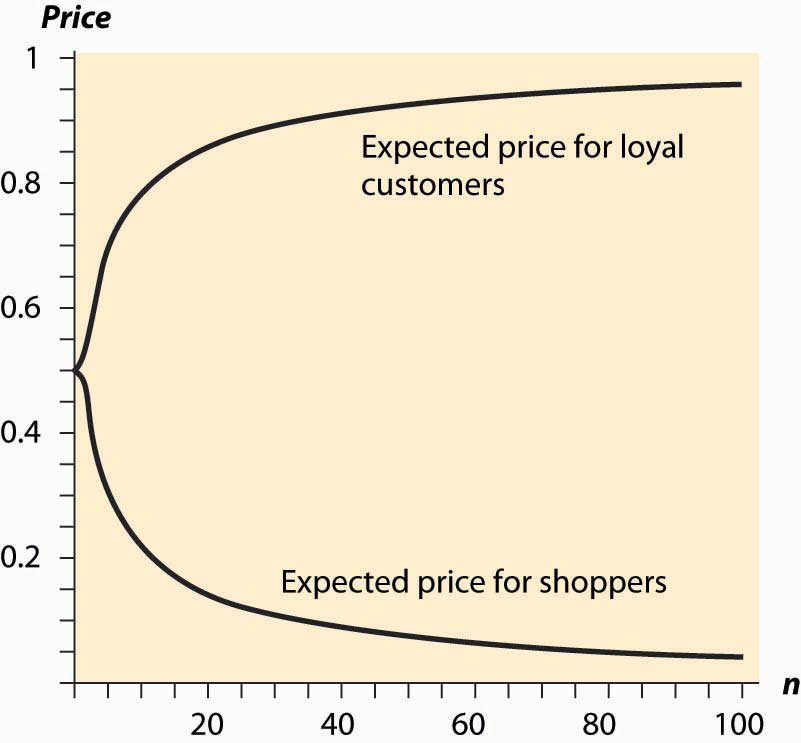 Key Takeaways
The law of one price, which states that identical goods sell at the same price, is unfortunately empirically false.
There are many markets where prices appear unpredictable to consumers. Price variation over time or across stores is known as price dispersion.
The basic price-dispersion model involves firms setting prices simultaneously and selling to two types of customers: one loyal to a particular store, the other ("shoppers") buying from the cheapest store.
There is no pure strategy equilibrium because firms either want to be just barely the cheapest or at the monopoly price. The only candidate for an equilibrium is a mixed strategy.
There is a mixed strategy involving randomizing over an interval of prices.
Industry profits in price dispersion arise from the number of loyal customers and are independent of the number of firms.
An increase in the number of firms is good for shoppers and bad for loyal customers. In the limit as the number of firms goes to infinity, the shoppers pay marginal cost and loyal customers pay the monopoly price.
Shoppers convey a positive externality on other buyers by encouraging price competition.