5.1: Sensation and Perception
Last updated
Page ID

11982
\( \newcommand{\vecs}[1]{\overset { \scriptstyle \rightharpoonup} {\mathbf{#1}} } \) \( \newcommand{\vecd}[1]{\overset{-\!-\!\rightharpoonup}{\vphantom{a}\smash {#1}}} \)\(\newcommand{\id}{\mathrm{id}}\) \( \newcommand{\Span}{\mathrm{span}}\) \( \newcommand{\kernel}{\mathrm{null}\,}\) \( \newcommand{\range}{\mathrm{range}\,}\) \( \newcommand{\RealPart}{\mathrm{Re}}\) \( \newcommand{\ImaginaryPart}{\mathrm{Im}}\) \( \newcommand{\Argument}{\mathrm{Arg}}\) \( \newcommand{\norm}[1]{\| #1 \|}\) \( \newcommand{\inner}[2]{\langle #1, #2 \rangle}\) \( \newcommand{\Span}{\mathrm{span}}\) \(\newcommand{\id}{\mathrm{id}}\) \( \newcommand{\Span}{\mathrm{span}}\) \( \newcommand{\kernel}{\mathrm{null}\,}\) \( \newcommand{\range}{\mathrm{range}\,}\) \( \newcommand{\RealPart}{\mathrm{Re}}\) \( \newcommand{\ImaginaryPart}{\mathrm{Im}}\) \( \newcommand{\Argument}{\mathrm{Arg}}\) \( \newcommand{\norm}[1]{\| #1 \|}\) \( \newcommand{\inner}[2]{\langle #1, #2 \rangle}\) \( \newcommand{\Span}{\mathrm{span}}\)\(\newcommand{\AA}{\unicode[.8,0]{x212B}}\)
By Adam John Privitera
Differentiate the processes of sensation and perception.
Explain the basic principles of sensation and perception.
Describe the function of each of our senses.
Outline the anatomy of the sense organs and their projections to the nervous system.
Apply knowledge of sensation and perception to real world examples.
Explain the consequences of multimodal perception.
Introduction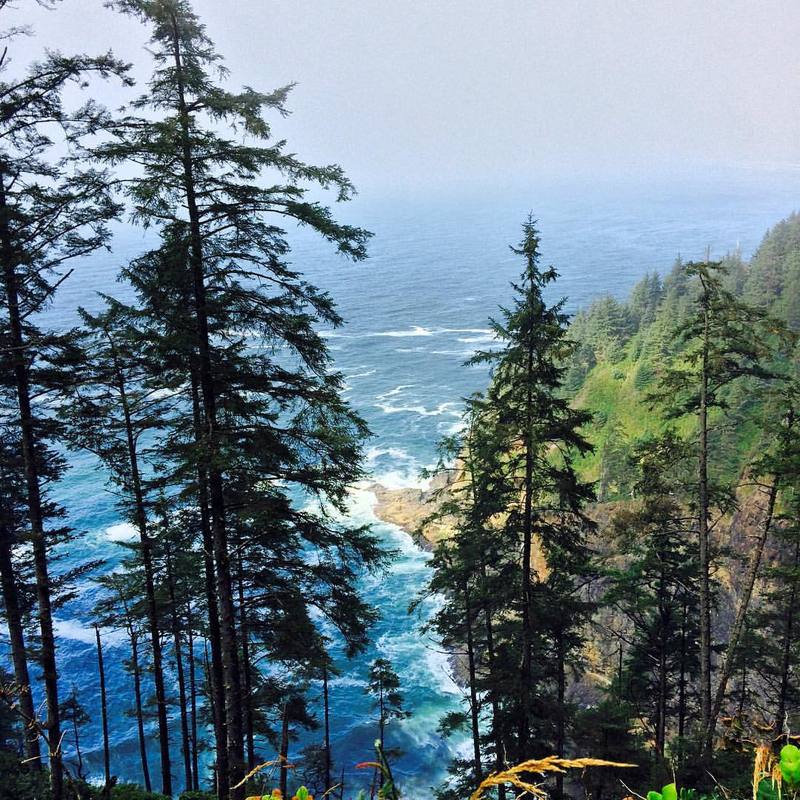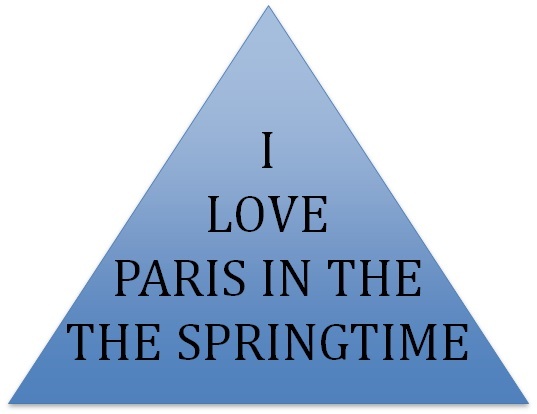 Vision
How vision works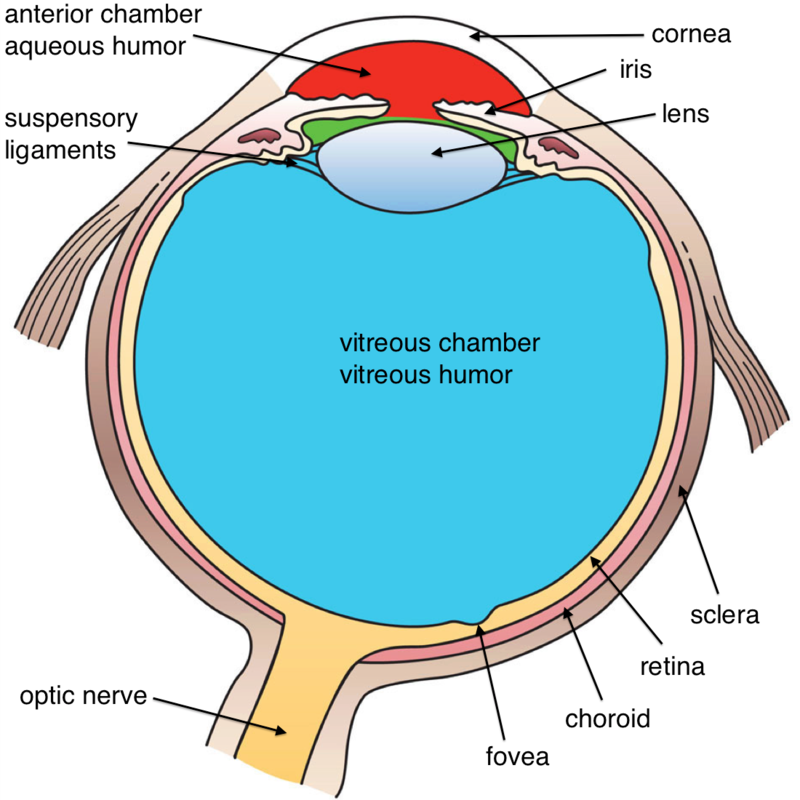 Dark and light adaptation
Color vision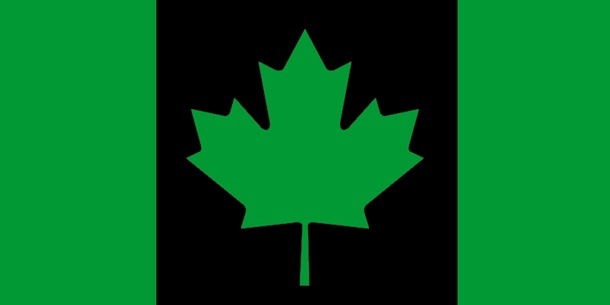 Hearing (Audition)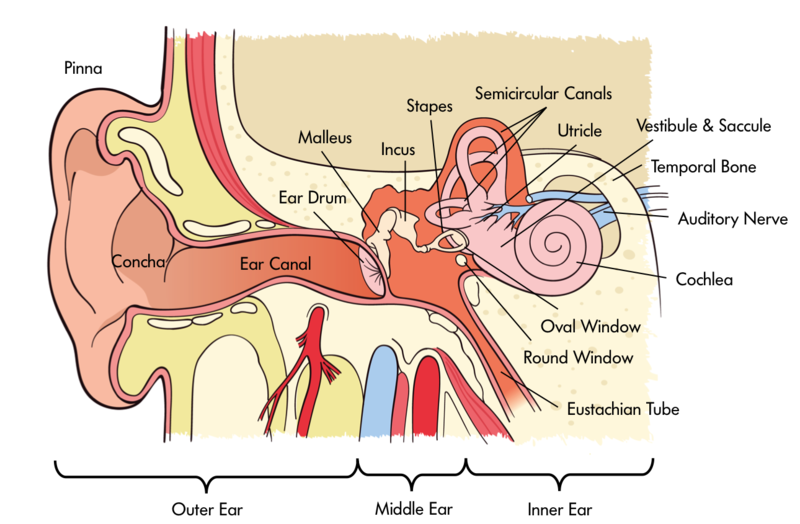 Balance and the vestibular system
Touch
Tactile sensation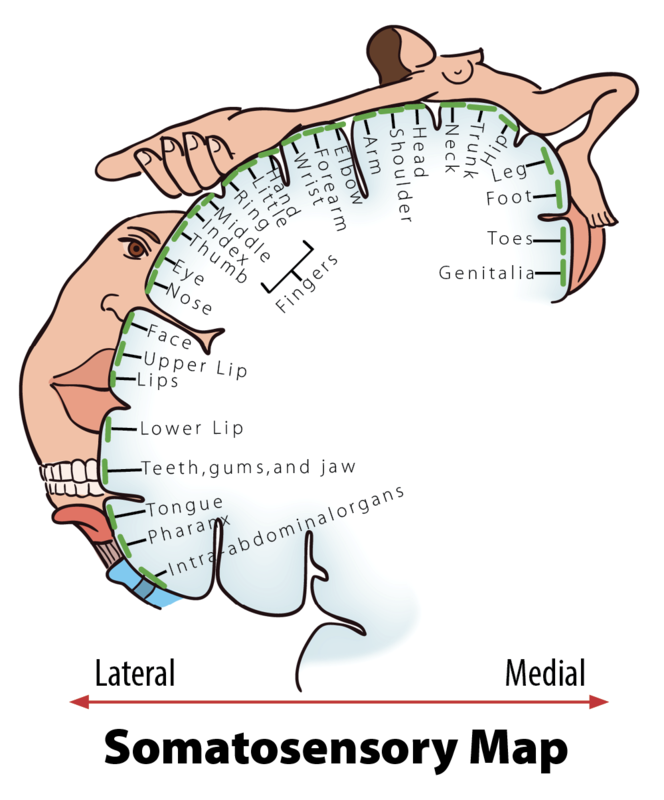 Pain
Phantom limbs
Smell and Taste: The Chemical Senses
Olfaction (smell)
Gustation (taste)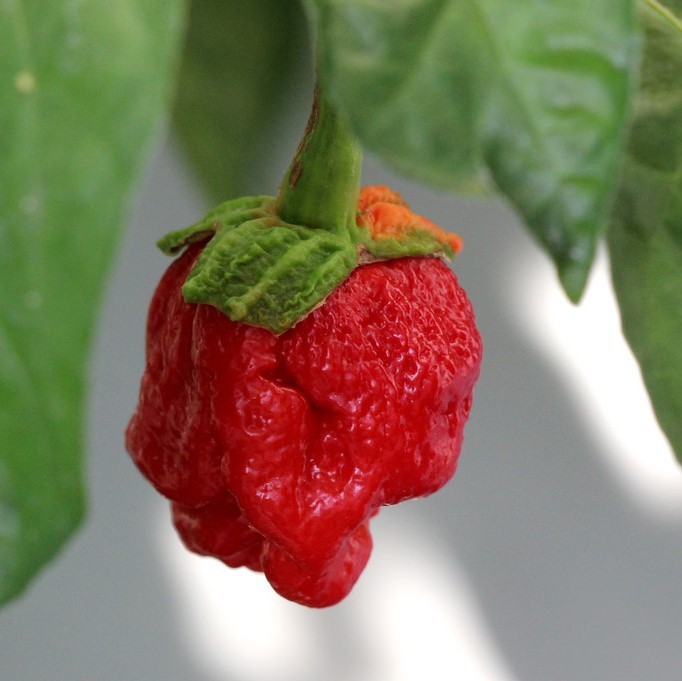 Putting it all Together: Multimodal Perception
Conclusion
Outside Resources
Audio: Auditory Demonstrations from Richard Warren's lab at the University of Wisconsin, Milwaukee

www4.uwm.edu/APL/demonstrations.html

Audio: Auditory Demonstrations. CD published by the Acoustical Society of America (ASA). You can listen to the demonstrations here

www.feilding.net/sfuad/musi30...1/demos/audio/

Book: Ackerman, D. (1990). A natural history of the senses. Vintage.

Book: Sacks, O. (1998). The man who mistook his wife for a hat: And other clinical tales. Simon and Schuster.

Video: Acquired knowledge and its impact on our three-dimensional interpretation of the world - 3D Street Art

Video: Acquired knowledge and its impact on our three-dimensional interpretation of the world - Anamorphic Illusions

Video: Cybersenses

Video: Seeing Sound, Tasting Color

Video: The Phantom Limb Phenomenon

Web: A regularly updated website covering some of the amazing sensory capabilities of non-human animals.

phenomena.nationalgeographic....animal-senses/

Web: A special ringtone that is only audible to younger people.

Web: Amazing library with visual phenomena and optical illusions, explained

Web: An article on the discoveries in echolocation: the use of sound in locating people and things

Web: An optical illusion demonstration the opponent-process theory of color vision.

Web: Anatomy of the eye

Web: Animation showing tonotopic organization of the basilar membrane.

Web: Best Illusion of the Year Contest website

Web: Demonstration of contrast gain adaptation

Web: Demonstration of illusory contours and lateral inhibition. Mach bands

Web: Demonstration of illusory contrast and lateral inhibition. The Hermann grid

Web: Demonstrations and illustrations of cochlear mechanics can be found here

Web: Double Flash Illusion

Web: Further information regarding what and where/how pathways

Web: Great website with a large collection of optical illusions

Web: McGurk Effect Video

Web: More demonstrations and illustrations of cochlear mechanics

www.neurophys.wisc.edu/animations/

Web: Scientific American Frontiers: Cybersenses

www.pbs.org/saf/1509/

Web: The Genetics of Taste

Web: The Monell Chemical Sense Center website

Web: The Rubber Hand Illusion

Web: The Tongue Map: Tasteless Myth Debunked
Discussion Questions
What physical features would an organism need in order to be really good at localizing sound in 3D space? Are there any organisms that currently excel in localizing sound? What features allow them to do this?
What issues would exist with visual recognition of an object if a research participant had his/her corpus callosum severed? What would you need to do in order to observe these deficits?
There are a number of myths that exist about the sensory capabilities of infants. How would you design a study to determine what the true sensory capabilities of infants are?
A well-documented phenomenon experienced by millennials is the phantom vibration of a cell phone when no actual text message has been received. How can we use signal detection theory to explain this?
Vocabulary
Absolute threshold

The smallest amount of stimulation needed for detection by a sense.

Agnosia

Loss of the ability to perceive stimuli.

Anosmia

Loss of the ability to smell.

Audition

Ability to process auditory stimuli. Also called hearing.

Auditory canal

Tube running from the outer ear to the middle ear.

Auditory hair cells

Receptors in the cochlea that transduce sound into electrical potentials.

Binocular disparity

Difference is images processed by the left and right eyes.

Binocular vision

Our ability to perceive 3D and depth because of the difference between the images on each of our retinas.

Bottom-up processing

Building up to perceptual experience from individual pieces.

Chemical senses

Our ability to process the environmental stimuli of smell and taste.

Cochlea

Spiral bone structure in the inner ear containing auditory hair cells.

Cones

Photoreceptors of the retina sensitive to color. Located primarily in the fovea.

Dark adaptation

Adjustment of eye to low levels of light.

Differential threshold

The smallest difference needed in order to differentiate two stimuli. (See Just Noticeable Difference (JND))

Dorsal pathway

Pathway of visual processing. The "where" pathway.

Flavor

The combination of smell and taste.

Gustation

Ability to process gustatory stimuli. Also called taste.

Just noticeable difference (JND)

The smallest difference needed in order to differentiate two stimuli. (see Differential Threshold)

Light adaptation

Adjustment of eye to high levels of light.

Mechanoreceptors

Mechanical sensory receptors in the skin that response to tactile stimulation.

Multimodal perception

The effects that concurrent stimulation in more than one sensory modality has on the perception of events and objects in the world.

Nociception

Our ability to sense pain.

Odorants

Chemicals transduced by olfactory receptors.

Olfaction

Ability to process olfactory stimuli. Also called smell.

Olfactory epithelium

Organ containing olfactory receptors.

Opponent-process theory

Theory proposing color vision as influenced by cells responsive to pairs of colors.

Ossicles

A collection of three small bones in the middle ear that vibrate against the tympanic membrane.

Perception

The psychological process of interpreting sensory information.

Phantom limb

The perception that a missing limb still exists.

Phantom limb pain

Pain in a limb that no longer exists.

Pinna

Outermost portion of the ear.

Primary auditory cortex

Area of the cortex involved in processing auditory stimuli.

Primary somatosensory cortex

Area of the cortex involved in processing somatosensory stimuli.

Primary visual cortex

Area of the cortex involved in processing visual stimuli.

Principle of inverse effectiveness

The finding that, in general, for a multimodal stimulus, if the response to each unimodal component (on its own) is weak, then the opportunity for multisensory enhancement is very large. However, if one component—by itself—is sufficient to evoke a strong response, then the effect on the response gained by simultaneously processing the other components of the stimulus will be relatively small.

Retina

Cell layer in the back of the eye containing photoreceptors.

Rods

Photoreceptors of the retina sensitive to low levels of light. Located around the fovea.

Sensation

The physical processing of environmental stimuli by the sense organs.

Sensory adaptation

Decrease in sensitivity of a receptor to a stimulus after constant stimulation.

Shape theory of olfaction

Theory proposing that odorants of different size and shape correspond to different smells.

Signal detection

Method for studying the ability to correctly identify sensory stimuli.

Somatosensation

Ability to sense touch, pain and temperature.

Somatotopic map

Organization of the primary somatosensory cortex maintaining a representation of the arrangement of the body.

Sound waves

Changes in air pressure. The physical stimulus for audition.

Superadditive effect of multisensory integration

The finding that responses to multimodal stimuli are typically greater than the sum of the independent responses to each unimodal component if it were presented on its own.

Tastants

Chemicals transduced by taste receptor cells.

Taste receptor cells

Receptors that transduce gustatory information.

Top-down processing

Experience influencing the perception of stimuli.

Transduction

The conversion of one form of energy into another.

Trichromatic theory

Theory proposing color vision as influenced by three different cones responding preferentially to red, green and blue.

Tympanic membrane

Thin, stretched membrane in the middle ear that vibrates in response to sound. Also called the eardrum.

Ventral pathway

Pathway of visual processing. The "what" pathway.

Vestibular system

Parts of the inner ear involved in balance.

Weber's law

States that just noticeable difference is proportional to the magnitude of the initial stimulus.
References
Calvert, G. A., Hansen, P. C., Iversen, S. D., & Brammer, M. J. (2001). Detection of audio-visual integration sites in humans by application of electrophysiological criteria to the BOLD effect. Neuroimage, 14(2), 427-438.
Chandrashekar, J., Hoon, M. A., Ryba, N. J., & Zuker, C. S. (2006). The receptors and cells for mammalian taste. Nature, 444(7117), 288-294.
Goodale, M. A., & Milner, A. D. (1992). Separate visual pathways for perception and action. Trends in Neurosciences, 15(1), 20-25.
Hering, E. (1920). Grundzüge der Lehre vom Lichtsinn. J.Springer.
Hubel, D. H., & Wiesel, T. N. (1962). Receptive fields, binocular interaction and functional architecture in the cat's visual cortex. The Journal of Physiology,160(1), 106.
Merzenich, M. M., Knight, P. L., & Roth, G. L. (1975). Representation of cochlea within primary auditory cortex in the cat. Journal of Neurophysiology, 38(2), 231-249.
Middlebrooks, J. C., & Green, D. M. (1991). Sound localization by human listeners. Annual Review of Psychology, 42(1), 135-159.
Mitchell, S. W. (1871). Phantom limbs. Lippincott's Magazine of Popular Literature and Science, 8, 563-569.
Penfield, W., & Rasmussen, T. (1950). The cerebral cortex of man; a clinical study of localization of function. Oxford: England
Populin, L. C., & Yin, T. C. (1998). Behavioral studies of sound localization in the cat. The Journal of Neuroscience, 18(6), 2147-2160.
Ramachandran, V. S., & Rogers-Ramachandran, D. (2000). Phantom limbs and neural plasticity. Archives of Neurology, 57(3), 317-320.
Ramachandran, V. S., & Rogers-Ramachandran, D. (1996). Synaesthesia in phantom limbs induced with mirrors. Proceedings of the Royal Society of London B: Biological Sciences, 263(1369), 377-386.
Renier, L. A., Anurova, I., De Volder, A. G., Carlson, S., VanMeter, J., & Rauschecker, J. P. (2009). Multisensory integration of sounds and vibrotactile stimuli in processing streams for "what" and "where". The Journal of Neuroscience, 29(35), 10950-10960.
Romani, G. L., Williamson, S. J., & Kaufman, L. (1982). Tonotopic organization of the human auditory cortex. Science, 216(4552), 1339-1340.
Shepherd, G. M. (2005). Outline of a theory of olfactory processing and its relevance to humans. Chemical Senses, 30(suppl 1), i3-i5.
Stein, B. E., & Meredith, M. A. (1993). The merging of the senses. The MIT Press.
Stewart, J. E., Feinle-Bisset, C., Golding, M., Delahunty, C., Clifton, P. M., & Keast, R. S. (2010). Oral sensitivity to fatty acids, food consumption and BMI in human subjects. British Journal of Nutrition, 104(01), 145-152.
Sumner, D. (1964). Post Traumatic Anosmia. Brain, 87(1), 107-120.
Svaetichin, G. (1955). Spectral response curves from single cones. Acta physiologica Scandinavica. Supplementum, 39(134), 17-46.
Turin, L. (1996). A spectroscopic mechanism for primary olfactory reception. Chemical Senses, 21(6), 773-791.
Von Helmholtz, H. (1867). Handbuch der physiologischen Optik (Vol. 9). Voss.
Välimäki, V., & Takala, T. (1996). Virtual musical instruments—natural sound using physical models. Organised Sound, 1(02), 75-86.
Walker, K. M., Bizley, J. K., King, A. J., & Schnupp, J. W. (2011). Multiplexed and robust representations of sound features in auditory cortex. The Journal of Neuroscience, 31(41), 14565-14576.
Weinstein, S. M. (1998). Phantom limb pain and related disorders. Neurologic Clinics, 16(4), 919-935.
Young, T. (1802). The Bakerian lecture: On the theory of light and colours. Philosophical transactions of the Royal Society of London, 12-48.