12.2: Mood Disorders
Last updated
Page ID

12004
\( \newcommand{\vecs}[1]{\overset { \scriptstyle \rightharpoonup} {\mathbf{#1}} } \) \( \newcommand{\vecd}[1]{\overset{-\!-\!\rightharpoonup}{\vphantom{a}\smash {#1}}} \)\(\newcommand{\id}{\mathrm{id}}\) \( \newcommand{\Span}{\mathrm{span}}\) \( \newcommand{\kernel}{\mathrm{null}\,}\) \( \newcommand{\range}{\mathrm{range}\,}\) \( \newcommand{\RealPart}{\mathrm{Re}}\) \( \newcommand{\ImaginaryPart}{\mathrm{Im}}\) \( \newcommand{\Argument}{\mathrm{Arg}}\) \( \newcommand{\norm}[1]{\| #1 \|}\) \( \newcommand{\inner}[2]{\langle #1, #2 \rangle}\) \( \newcommand{\Span}{\mathrm{span}}\) \(\newcommand{\id}{\mathrm{id}}\) \( \newcommand{\Span}{\mathrm{span}}\) \( \newcommand{\kernel}{\mathrm{null}\,}\) \( \newcommand{\range}{\mathrm{range}\,}\) \( \newcommand{\RealPart}{\mathrm{Re}}\) \( \newcommand{\ImaginaryPart}{\mathrm{Im}}\) \( \newcommand{\Argument}{\mathrm{Arg}}\) \( \newcommand{\norm}[1]{\| #1 \|}\) \( \newcommand{\inner}[2]{\langle #1, #2 \rangle}\) \( \newcommand{\Span}{\mathrm{span}}\)\(\newcommand{\AA}{\unicode[.8,0]{x212B}}\)
By Anda Gershon and Renee Thompson
Describe the diagnostic criteria for mood disorders.
Understand age, gender, and ethnic differences in prevalence rates of mood disorders.
Identify common risk factors for mood disorders.
Know effective treatments of mood disorders.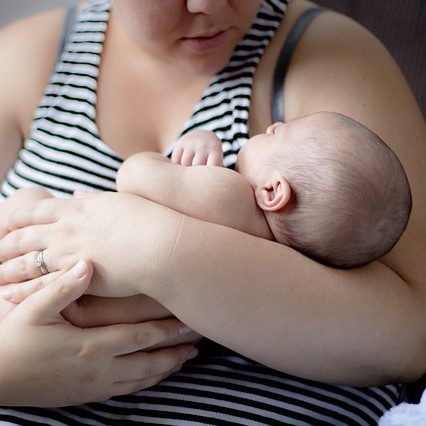 What Are Mood Disorders?
Mood Episodes
Major Depressive Episode
depressed mood
diminished interest or pleasure in almost all activities
significant weight loss or gain or an increase or decrease in appetite
insomnia or hypersomnia
psychomotor agitation or retardation
fatigue or loss of energy
feeling worthless or excessive or inappropriate guilt
diminished ability to concentrate or indecisiveness
recurrent thoughts of death, suicidal ideation, or a suicide attempt
Manic or Hypomanic Episode
inflated self-esteem or grandiosity
increased goal-directed activity or psychomotor agitation
reduced need for sleep
racing thoughts or flight of ideas
distractibility
increased talkativeness
excessive involvement in risky behaviors
Mood Disorders
Unipolar Mood Disorders
poor appetite or overeating
insomnia or hypersomnia
low energy or fatigue
low self-esteem
poor concentration or difficulty making decisions
feelings of hopelessness
Bipolar Mood Disorders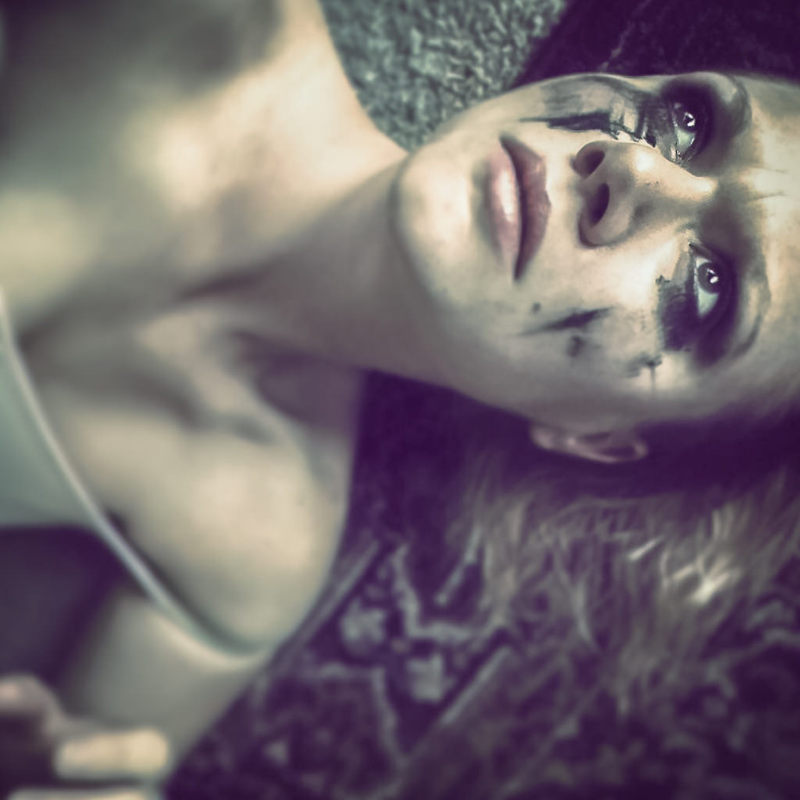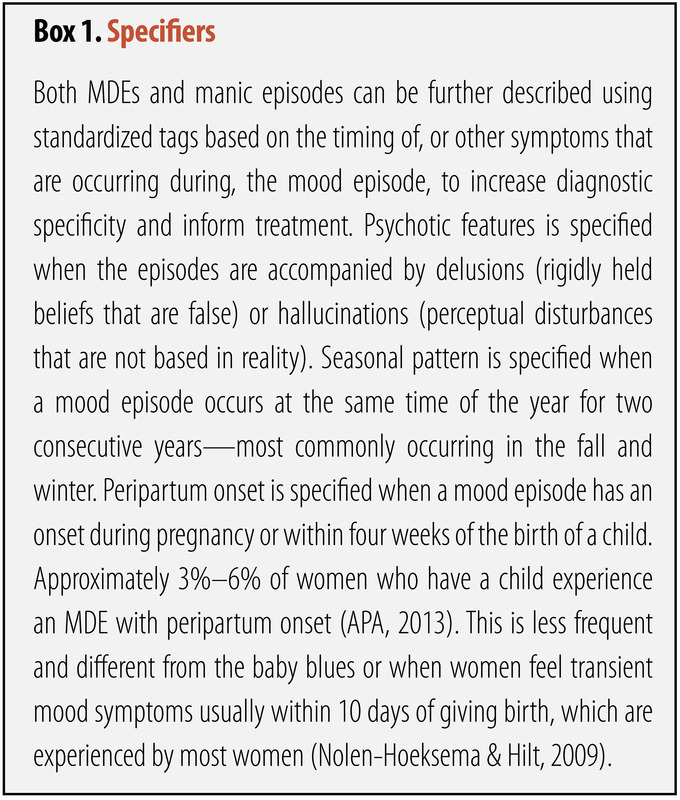 How Common Are Mood Disorders? Who Develops Mood Disorders?
Depressive Disorders
Bipolar Disorders
What Are Some of the Factors Implicated in the Development and Course of Mood Disorders?
Depressive Disorders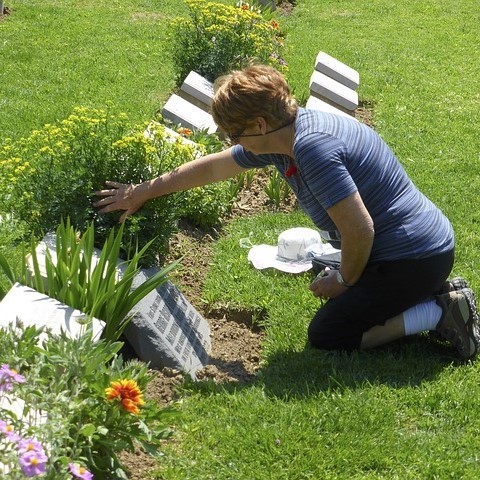 Bipolar Disorders
What Are Some of the Well-Supported Treatments for Mood Disorders?
Depressive Disorders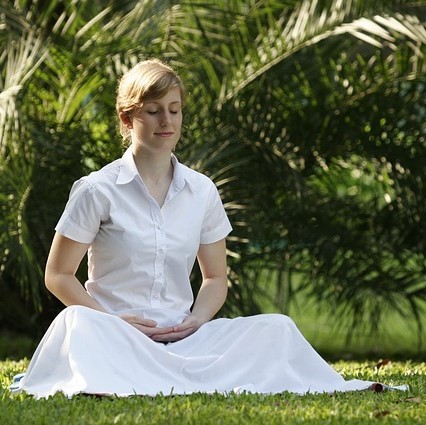 Bipolar Disorders
Conclusion
Outside Resources
Books: Recommended memoirs include A Memoir of Madness by William Styron (MDD); Noonday Demon: An Atlas of Depression by Andrew Solomon (MDD); and An Unquiet Mind: A Memoir of Moods and Madness by Kay Redfield (BD).

Web: Visit the Association for Behavioral and Cognitive Therapies to find a list of the recommended therapists and evidence-based treatments.

Web: Visit the Depression and Bipolar Support Alliance for educational information and social support options.
Discussion Questions
What factors might explain the large gender difference in the prevalence rates of MDD?
Why might American ethnic minority groups experience more persistent BD than European Americans?
Why might the age of onset for MDD be decreasing over time?
Why might overnight travel constitute a potential risk for a person with BD?
What are some reasons positive life events may precede the occurrence of manic episode?
Vocabulary
Anhedonia

Loss of interest or pleasure in activities one previously found enjoyable or rewarding.

Attributional style

The tendency by which a person infers the cause or meaning of behaviors or events.

Chronic stress

Discrete or related problematic events and conditions which persist over time and result in prolonged activation of the biological and/or psychological stress response (e.g., unemployment, ongoing health difficulties, marital discord).

Early adversity

Single or multiple acute or chronic stressful events, which may be biological or psychological in nature (e.g., poverty, abuse, childhood illness or injury), occurring during childhood and resulting in a biological and/or psychological stress response.

Grandiosity

Inflated self-esteem or an exaggerated sense of self-importance and self-worth (e.g., believing one has special powers or superior abilities).

Hypersomnia

Excessive daytime sleepiness, including difficulty staying awake or napping, or prolonged sleep episodes.

Psychomotor agitation

Increased motor activity associated with restlessness, including physical actions (e.g., fidgeting, pacing, feet tapping, handwringing).

Psychomotor retardation

A slowing of physical activities in which routine activities (e.g., eating, brushing teeth) are performed in an unusually slow manner.

Social zeitgeber

Zeitgeber is German for "time giver." Social zeitgebers are environmental cues, such as meal times and interactions with other people, that entrain biological rhythms and thus sleep-wake cycle regularity.

Socioeconomic status (SES)

A person's economic and social position based on income, education, and occupation.

Suicidal ideation

Recurring thoughts about suicide, including considering or planning for suicide, or preoccupation with suicide.
References
Abramson, L. Y, Seligman, M. E. P., & Teasdale, J. (1978). Learned helplessness in humans: Critique and reformulation. Journal of Abnormal Psychology, 87, 49–74. doi: 10.1037/0021-843X.87.1.49
Abramson, L. Y., Metalsky, G. I., & Alloy, L. B. (1989). Hopelessness depression: A theory-based subtype of depression. Psychological Review, 96, 358–373. doi: 10.1037/0022-3514.56.3.431
Altshuler, L., Bookheimer, S., Townsend, J., Proenza, M. A., Sabb, F., Mintz, J., & Cohen, M. S. (2008). Regional brain changes in bipolar I depression: A functional magnetic resonance imaging study. Bipolar Disorders, 10, 708–717. doi: 10.1111/j.1399-5618.2008.00617.x
American Psychiatric Association. (2013). Diagnostic and statistical manual of mental disorders (5th ed.). Washington, DC: Author.
American Psychiatric Association. (2000). Diagnostic and statistical manual of mental disorders (4th ed., text rev.). Washington, DC: Author.
Beck, A. T. (1967). Depression: Clinical, experimental, and theoretical aspects. New York, NY: Hoeber.
Blazer, D., George, L. K., Landerman, R., Pennybacker, M., Melville, M. L., Woodbury, M., et al. (1985). Psychiatric disorders. A rural/urban comparison. Archives of General Psychiatry, 42, 651–656. PMID: 4015306. doi: 10.1001/archpsyc.1985.01790300013002
Breslau, J., Aguilar-Gaxiola, S., Kendler, K. S., Su, M., Williams, D., & Kessler, R. C. (2006). Specifying race-ethnic differences in risk for psychiatric disorder in a US national sample. Psychological Medicine, 36, 57–68. doi: 10.1017/S0033291705006161
Breslau, J., Kendler, K. S., Su, M., Gaxiola-Aguilar, S., & Kessler, R. C. (2005). Lifetime risk and persistence of psychiatric disorders across ethnic groups in the United States. Psychological Medicine, 35, 317–327. doi: 10.1017/S0033291704003514
Brown, G. W., & Harris, T. O. (1989). Life events and illness. New York, NY: Guilford Press.
Butzlaff, R. L., & Hooley, J. M. (1998). Expressed emotion and psychiatric relapse: A meta-analysis. Archives of General Psychiatry, 55, 547–552. doi: 10.1001/archpsyc.55.6.547
Chentsova-Dutton, Y. E., & Tsai, J. L. (2009). Understanding depression across cultures. In I. H. Gotlib & C.L. Hammen (Eds.), Handbook of depression (2nd ed., pp. 363–385). New York, NY: Guilford Press.
Conley, C. S., & Rudolph, K. D. (2009). The emerging sex difference in adolescent depression: Interacting contributions of puberty and peer stress. Development and Psychopathology, 21, 593–620. doi: 10.1017/S0954579409000327
Dunner, D. L. (2000). Optimizing lithium treatment. Journal of Clinical Psychiatry, 61(S9), 76–81.
Ehlers, C. L., Frank, E., & Kupfer, D. J. (1988). Social zeitgebers and biological rhythms: a unified approach to understanding the etiology of depression. Archives of General Psychiatry, 45, 948–952. doi: 10.1001/archpsyc.1988.01800340076012
Ellicott, A., Hammen, C., Gitlin, M., Brown, G., & Jamison, K. (1990). Life events and the course of bipolar disorder. American Journal of Psychiatry, 147, 1194–1198.
Frank, E., Kupfer, D. J., Ehlers, C. L., Monk, T., Cornes, C., Carter, S., et al. (1994). Interpersonal and social rhythm therapy for bipolar disorder: Integrating interpersonal and behavioral approaches. Behavior Therapy, 17, 143–149.
Frank, E., Kupfer, D. J., Thase, M. E., Mallinger, A. G., Swartz, H. A., Fagiolini, A. M., et al. (2005). Two-year outcomes for interpersonal and social rhythm therapy in individuals with bipolar I disorder. Archives of General Psychiatry, 62, 996–1004. doi: 10.1001/archpsyc.62.9.996
Geddes, J. R., Burgess, S., Hawton, K., Jamison, K., & Goodwin, G. M. (2004). Long-term lithium therapy for bipolar disorder: systematic review and meta-analysis of randomized controlled trials. American Journal of Psychiatry, 161, 217–222. doi: 10.1176/appi.ajp.161.2.217
Gonzalez, J. M., Perlick, D. A., Miklowitz, D. J., Kaczynski, R., Hernandez, M., Rosenheck, R. A., et al. (2007). Factors associated with stigma among caregivers of patients with bipolar disorder in the STEP-BD study. Psychiatric Services, 58, 41–48. doi: 10.1176/appi.ps.58.1.41
Goodwin, F. K., & Jamison, K. R. (2007). Manic-depressive illness: Bipolar disorders and recurrent depression. New York, NY: Oxford University Press.
Gotlib, I. H., & Joormann, J. (2010). Cognition and depression: Current status and future directions. Annual Review of Clinical Psychology, 6, 285–312. doi: 10.1146/annurev.clinpsy.121208.131305
Hamilton, J. P., Etkin, A., Furman, D. F., Lemus, M. G., Johnson, R. F., & Gotlib, I. H. (2012). Functional neuroimaging of major depressive disorder: A meta-analysis and new integration of baseline activation and neural response data. American Journal of Psychiatry, 169, 693–703.
Hammen, C. (2005). Stress and depression. Annual Review of Clinical Psychology, 1, 293–319. doi: 10.1146/annurev.clinpsy.1.102803.143938
Harvey, A. G. (2008). Sleep and Circadian Rhythms in Bipolar Disorder: Seeking synchrony, harmony and regulation. American Journal of Psychiatry, 165, 820–829. doi: 10.1176/appi.ajp.2008.08010098
Hasin, D. S., Goodwin, R. D., Sintson, F. S., & Grant, B. F. (2005). Epidemiology of major depressive disorder: Results from the National Epidemiological Survey on Alcoholism and Related Conditions. Archives of General Psychiatry, 62, 1097–1106. doi: 10.1001/archpsyc.62.10.1097
Hassel, S., Almeida, J. R., Kerr, N., Nau, S., Ladouceur, C. D., Fissell, K., et al. (2008). Elevated striatal and decreased dorsolateral prefrontal cortical activity in response to emotional stimuli in euthymic bipolar disorder: No associations with psychotropic medication load. Bipolar Disorders, 10, 916–927. doi: 10.1111/j.1399-5618.2008.00641.x
Isaacowitz, D. M., Gershon, A., Allard, E. S., & Johnson, S. L. (2013). Emotion in aging and bipolar disorder: Similarities, differences and lessons for further research. Emotion Review, 5, 312–320. doi: 10.1177/1754073912472244
Johnson, S. L. (2005). Mania and dysregulation in goal pursuit: A review. Clinical Psychology Review, 25, 241–262. doi: 10.1016/j.cpr.2004.11.002
Johnson, S. L., Cueller, A. K., Ruggero, C., Winett-Perlman, C., Goodnick, P., White, R., et al. (2008). Life events as predictors of mania and depression in bipolar I disorder. Journal of Abnormal Psychology, 117, 268–277. doi: 10.1037/0021-843X.117.2.268
Johnson, S. L., Winett, C. A., Meyer, B., Greenhouse, W. J., & Miller, I. (1999). Social support and the course of bipolar disorder. Journal of Abnormal Psychology, 108, 558–566. doi: 10.1037/0021-843X.108.4.558
Kessler, R. C., Berglund, P., Demler, O., Jim, R., Merikangas, K. R., & Walters, E. E. (2005). Lifetime prevalence and age-of-onset distributions of DSM-IV disorders in the National Comorbidity Survey Replication. Archives of General Psychiatry, 62, 593–602. doi: 10.1001/archpsyc.62.6.593
Kessler, R. C., Birnbaum, H., Bromet, E., Hwang, I., Sampson, N., & Shahly, V. (2010). Age differences in major depression: Results from the National Comorbidity Surveys Replication (NCS-R). Psychological Medicine, 40, 225–237. doi: 10.1017/S0033291709990213
Kessler, R. C., Merikangas, K. R., & Wang, P. S. (2007). Prevalence, comorbidity, and service utilization for mood disorders in the United States at the beginning of the 21st century. Annual Review of Clinical Psychology, 3, 137–158. doi: 10.1146/annurev.clinpsy.3.022806.091444
Kilbourne, A. M., Haas, G. L., Mulsant, B. H., Bauer, M. S., & Pincus, H. A. (2004) Concurrent psychiatric diagnoses by age and race among persons with bipolar disorder. Psychiatric Services, 55, 931–933. doi: 10.1176/appi.ps.55.8.931
Leichsenring, F. (2001). Comparative effects of short-term psychodynamic psychotherapy and cognitive-behavioral therapy in depression: A meta-analytic approach. Clinical Psychology Review, 21, 401–419. doi: 10.1016/S0272-7358(99)00057-4
Lennox, B. R., Jacob, R., Calder, A. J., Lupson, V., & Bullmore, E. T. (2004). Behavioural and neurocognitive responses to sad facial affect are attenuated in patients with mania. Psychological Medicine, 34, 795–802. doi: 10.1017/S0033291704002557
Lenox, R. H., & Hahn C. G. (2000). Overview of the mechanism of action of lithium in the brain: fifty-year update. Journal of Clinical Psychiatry, 61 (S9), 5–15.
Leverich, G. S., Altshuler, L. L., Frye, M. A., Suppes, T., Keck, P. E. Jr, McElroy, S. L., et al. (2003). Factors associated with suicide attempts in 648 patients with bipolar disorder in the Stanley Foundation Bipolar Network. Journal of Clinical Psychiatry, 64, 506–515. doi: 10.4088/JCP.v64n0503
Leverich, G. S., Post, R. M., Keck, P. E. Jr, Altshuler, L. L., Frye, M. A., Kupka, R. W., et al. (2007). The poor prognosis of childhood-onset bipolar disorder. Journal of Pediatrics, 150, 485–490. PMID: 17452221. doi: 10.1016/j.jpeds.2006.10.070
Lewinsohn, P. M., Allen, N. B., Seeley, J. R., & Gotlib, I. H. (1999). First onset versus recurrence of depression: differential processes of psychosocial risk. Journal of Abnormal Psychology, 108, 483–489. doi: 10.1037/0021-843X.108.3.483
Lewinsohn, P. M., Seeley, J. R., Buckley, M. E., & Klein, D. N. (2002). Bipolar disorder in adolescence and young adulthood. Child & Adolescent Psychiatric Clinics of North America, 11, 461–475. doi: 10.1016/S1056-4993(02)00005-6
Lohoff, F. W. (2010). Overview of genetics of major depressive disorder. Current Psychiatry Reports, 12, 539–546. doi: 10.1007/s11920-010-0150-6
Lorant, V., Deliege, D., Eaton, W., Robert, A., Philippot, P., & Ansseau, A. (2003). Socioeconomic inequalities in depression: A meta-analysis. American Journal of Epidemiology, 157, 98–112. doi: 10.1093/aje/kwf182
Malkoff-Schwartz, S., Frank, E., Anderson, B. P., Sherrill, J. T., Siegel, L., Patterson, D., et al. (1998). Stressful life events and social rhythm disruption in the onset of manic and depressive bipolar episodes: a preliminary investigation. Archives of General Psychiatry, 55, 702–707. doi: 10.1001/archpsyc.55.8.702
Mayberg, H. S., Lozano, A. M., Voon, V., McNeely, H. E., Seminowixz, D., Hamani, C., Schwalb, J. M., & Kennedy, S. H. (2005). Deep brain stimulation for treatment-resistant depression. Neuron, 45, 651–660. doi: 10.1016/j.neuron.2005.02.014
McElroy, S. L., Altshuler, L. L., Suppes, T., Keck, P. E. Jr, Frye, M. A., Denicoff, K. D., et al. (2001). Axis I psychiatric comorbidity and its relationship to historical illness variables in 288 patients with bipolar disorder. American Journal of Psychiatry, 158, 420–426. doi: 10.1176/appi.ajp.158.3.420
McGuffin, P., Rijsdijk, F., Andrew, M., Sham, P., Katz, R., Cardno, A. (2003). The heritability of bipolar affective disorder and the genetic relationship to unipolar depression. Archives of General Psychiatry, 60, 497–502. doi: 10.1001/archpsyc.60.5.497
Merikangas, K. R., Akiskal, H. S., Angst, J., Greenberg, P. E., Hirschfeld, R. M., Petukhova, M., et al. (2007). Lifetime and 12-month prevalence of bipolar spectrum disorder in the National Comorbidity Survey replication. Archives of General Psychiatry, 64, 543–552. doi: 10.1001/archpsyc.64.5.543
Merikangas, K. R., Jin, R., He, J. P., Kessler, R. C., Lee, S., Sampson, N. A., et al. (2011). Prevalence and correlates of bipolar spectrum disorder in the world mental health survey initiative. Archives of General Psychiatry, 68, 241–251. doi: 10.1001/archgenpsychiatry.2011.12
Minsky, S., Vega, W., Miskimen, T., Gara, M., & Escobar, J. (2003). Diagnostic patterns in Latino, African American, and European American psychiatric patients. Archives of General Psychiatry, 60, 637–644. doi: 10.1001/archpsyc.60.6.637
Monroe, S. M., & Harkness, K. L. (2011). Recurrence in major depression: A conceptual analysis. Psychological Review, 118, 655–674. doi: 10.1037/a0025190
Monroe, S. M., & Harkness, K. L. (2005). Life stress, the "Kindling" hypothesis, and the recurrence of depression: Considerations from a life stress perspective. Psychological Review, 112, 417–445. doi: 10.1037/0033-295X.112.2.417
Monroe, S.M., Slavich, G.M., Georgiades, K. (2009). The social environment and life stress in depression. In Gotlib, I.H., Hammen, C.L (Eds.) Handbook of depression (2nd ed., pp. 340-360). New York, NY: Guilford Press.
Nolen-Hoeksema, S., & Hilt, L. M. (2009). Gender differences in depression. In I. H. Gotlib & Hammen, C. L. (Eds.), Handbook of depression (2nd ed., pp. 386–404). New York, NY: Guilford Press.
Perlis, R. H., Miyahara, S., Marangell, L. B., Wisniewski, S. R., Ostacher, M., DelBello, M. P., et al. (2004). Long-term implications of early onset in bipolar disorder: data from the first 1000 participants in the systematic treatment enhancement program for bipolar disorder (STEP-BD). Biological Psychiatry, 55, 875–881. PMID: 15110730. doi: 10.1016/j.pscychresns.2007.10.003
Rosa, M. A., Gattaz, W. F., Pascual-Leone, A., Fregni, F., Rosa, M. O., Rumi, D. O., … Marcolin, M. A. (2006). Comparison of repetitive transcranial magnetic stimulation and electroconvulsive therapy in unipolar non-psychotic refractory depression: a randomized, single-blind study. International Journal of Neuropsychopharmacology, 9, 667–676. doi: 10.1017/S1461145706007127
Schulze-Rauschenbach, S. C., Harms, U., Schlaepfer, T. E., Maier, W., Falkai, P., & Wagner, M. (2005). Distinctive neurocognitive effects of repetitive transcranial magnetic stimulation and electroconvulsive therapy in major depression. British Journal of Psychiatry, 186, 410–416. doi: 10.1192/bjp.186.5.410
Shields, B. (2005). Down Came the Rain: My Journey Through Postpartum Depression. New York: Hyperion.
Sullivan, P., Neale, M. C., & Kendler, K. S. (2000). Genetic epidemiology of major depression: Review and meta-analysis. American Journal of Psychiatry, 157, 1552–1562. doi: 10.1176/appi.ajp.157.10.1552
Twenge, J. M., & Nolen-Hoeksema, S. (2002). Age, gender, race, SES, and birth cohort differences on the Children's Depression Inventory: A meta-analysis. Journal of Abnormal Psychology, 111, 578–588. doi: 10.1037/0021-843X.111.4.578
Whisman, M. A., & Uebelacker, L. A. (2009). Prospective associations between marital discord and depressive symptoms in middle-aged and older adults. Psychology and Aging, 24, 184–189. doi: 10.1037/a0014759
Widom, C. S., DuMont, K., & Czaja, S. J. (2007). A prospective investigation of major depressive disorder and comorbidity in abused and neglected children grown up. Archives of General Psychiatry, 64, 49–56. doi: 10.1001/archpsyc.64.1.49
Williams, D. R., Gonzalez, H. M., Neighbors, H., Nesse, R., Abelson, J. M., Sweetman, J., & Jackson, J. S. (2007). Prevalence and distribution of major depressive disorder in African Americans, Caribbean blacks, and non-Hispanic whites: Results from the National Survey of American Life. Archives of General Psychiatry, 64, 305–315. doi: 10.1001/archpsyc.64.3.305
Wingo, A. P., Wingo, T. S., Harvey, P. D., & Baldessarini, R. J. (2009). Effects of lithium on cognitive performance: a meta-analysis. Journal of Clinical Psychiatry, 70, 1588–1597. doi: 10.4088/JCP.08r04972