3.2: Personality Traits
Last updated
Page ID

10607
\( \newcommand{\vecs}[1]{\overset { \scriptstyle \rightharpoonup} {\mathbf{#1}} } \) \( \newcommand{\vecd}[1]{\overset{-\!-\!\rightharpoonup}{\vphantom{a}\smash {#1}}} \)\(\newcommand{\id}{\mathrm{id}}\) \( \newcommand{\Span}{\mathrm{span}}\) \( \newcommand{\kernel}{\mathrm{null}\,}\) \( \newcommand{\range}{\mathrm{range}\,}\) \( \newcommand{\RealPart}{\mathrm{Re}}\) \( \newcommand{\ImaginaryPart}{\mathrm{Im}}\) \( \newcommand{\Argument}{\mathrm{Arg}}\) \( \newcommand{\norm}[1]{\| #1 \|}\) \( \newcommand{\inner}[2]{\langle #1, #2 \rangle}\) \( \newcommand{\Span}{\mathrm{span}}\) \(\newcommand{\id}{\mathrm{id}}\) \( \newcommand{\Span}{\mathrm{span}}\) \( \newcommand{\kernel}{\mathrm{null}\,}\) \( \newcommand{\range}{\mathrm{range}\,}\) \( \newcommand{\RealPart}{\mathrm{Re}}\) \( \newcommand{\ImaginaryPart}{\mathrm{Im}}\) \( \newcommand{\Argument}{\mathrm{Arg}}\) \( \newcommand{\norm}[1]{\| #1 \|}\) \( \newcommand{\inner}[2]{\langle #1, #2 \rangle}\) \( \newcommand{\Span}{\mathrm{span}}\)\(\newcommand{\AA}{\unicode[.8,0]{x212B}}\)
By Edward Diener and Richard E. Lucas
List and describe the "Big Five" ("OCEAN") personality traits that comprise the Five-Factor Model of personality.
Describe how the facet approach extends broad personality traits.
Explain a critique of the personality-trait concept.
Describe in what ways personality traits may be manifested in everyday behavior.
Describe each of the Big Five personality traits, and the low and high end of the dimension.
Give examples of each of the Big Five personality traits, including both a low and high example.
Describe how traits and social learning combine to predict your social activities.
Describe your theory of how personality traits get refined by social learning.
Introduction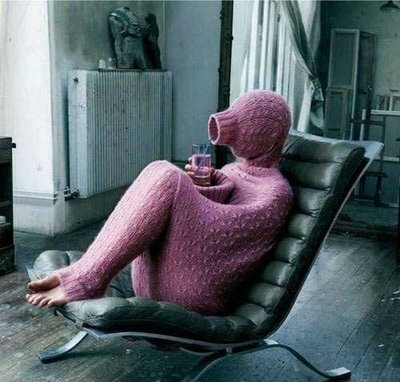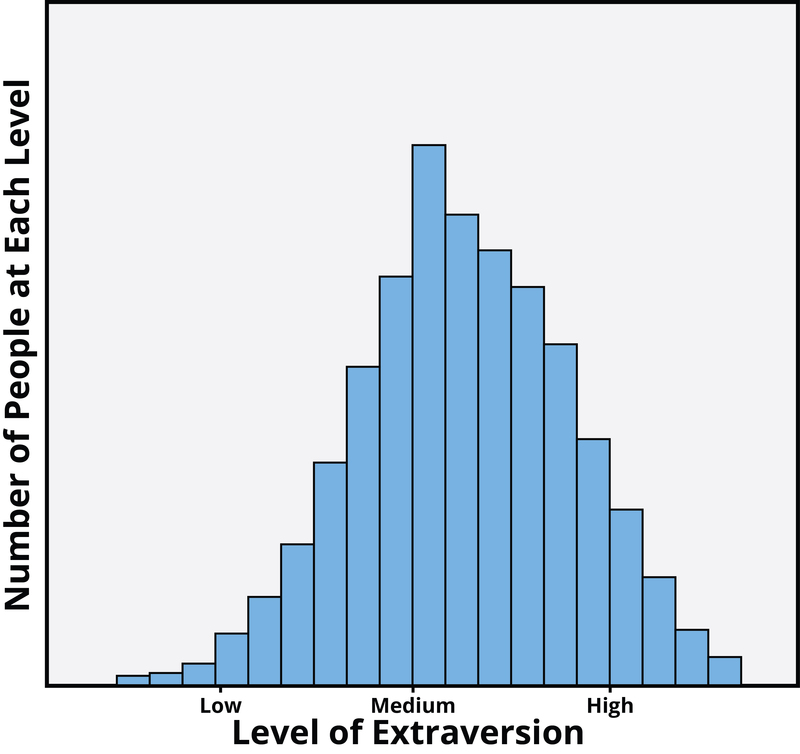 To have a personality trait, individuals must be somewhat consistent across situations in their behaviors related to the trait. For example, if they are talkative at home, they tend also to be talkative at work.
Individuals with a trait are also somewhat stable over time in behaviors related to the trait. If they are talkative, for example, at age 30, they will also tend to be talkative at age 40.
People differ from one another on behaviors related to the trait. Using speech is not a personality trait and neither is walking on two feet—virtually all individuals do these activities, and there are almost no individual differences. But people differ on how frequently they talk and how active they are, and thus personality traits such as Talkativeness and Activity Level do exist.
The Five-Factor Model of Personality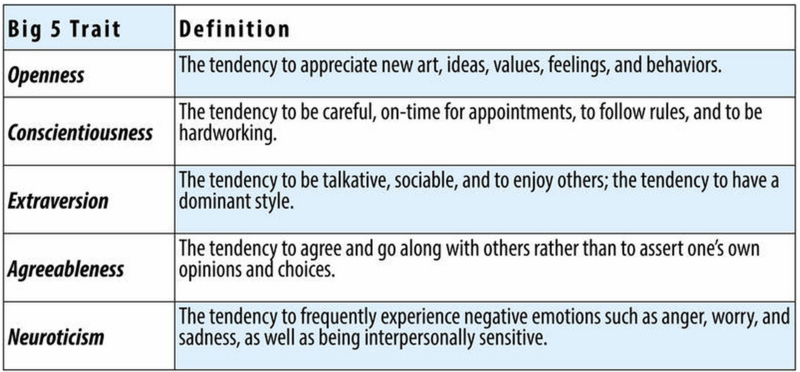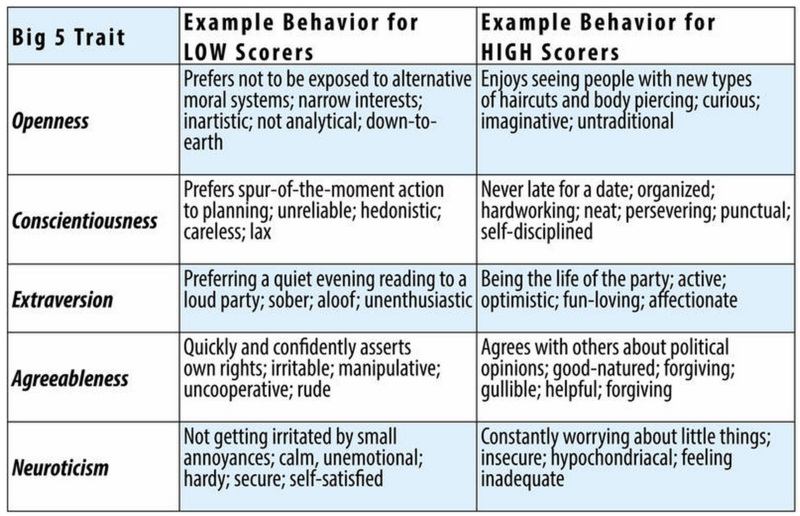 Facets of Traits (Subtraits)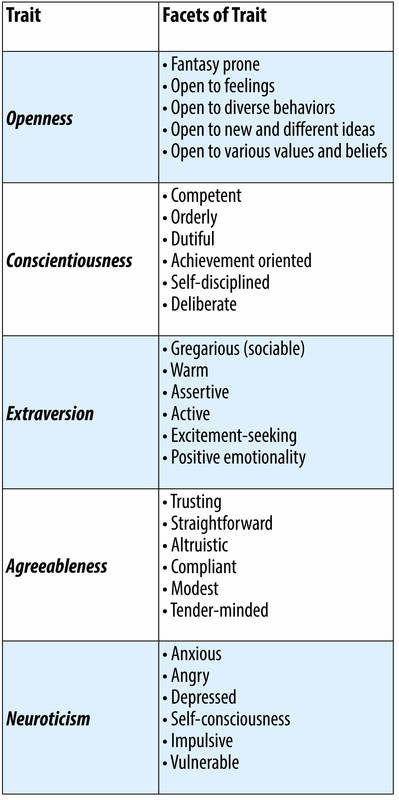 Other Traits Beyond the Five-Factor Model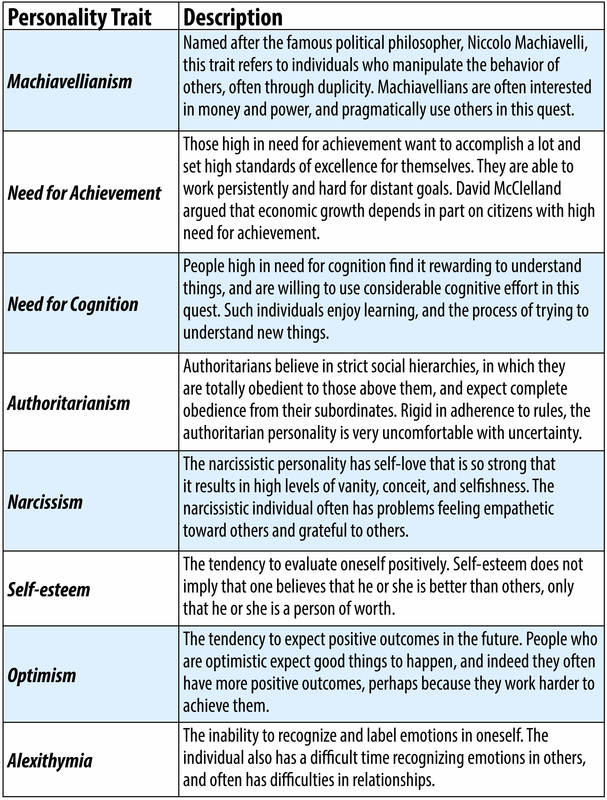 The Person-Situation Debate and Alternatives to the Trait Perspective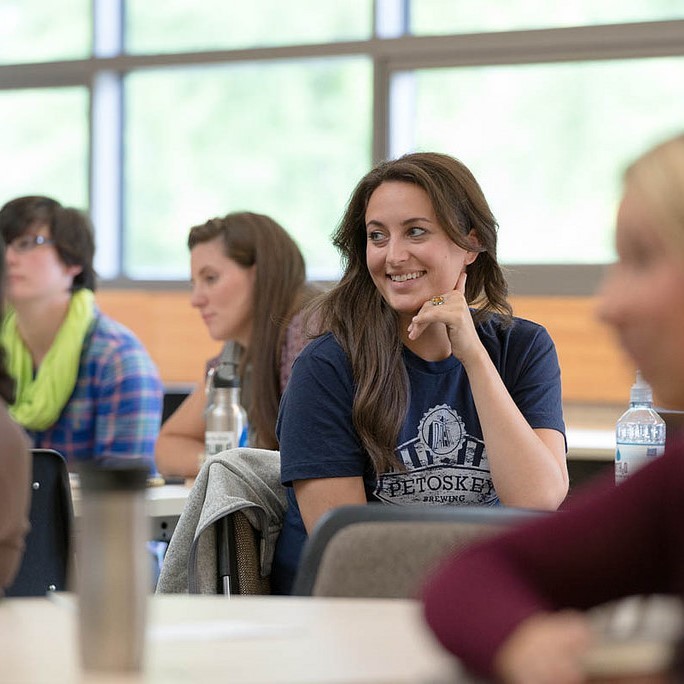 Appendix
The Mini-IPIP Scale
_______ Am the life of the party (E)
_______ Sympathize with others' feelings (A)
_______ Get chores done right away (C)
_______ Have frequent mood swings (N)
_______ Have a vivid imagination (O)
_______Don't talk a lot (E)
_______ Am not interested in other people's problems (A)
_______ Often forget to put things back in their proper place (C)
_______ Am relaxed most of the time (N)
______ Am not interested in abstract ideas (O)
______ Talk to a lot of different people at parties (E)
______ Feel others' emotions (A)
______ Like order (C)
______ Get upset easily (N)
______ Have difficulty understanding abstract ideas (O)
______ Keep in the background (E)
______ Am not really interested in others (A)
______ Make a mess of things (C)
______ Seldom feel blue (N)
______ Do not have a good imagination (O)
Outside Resources
Video 1: Gabriela Cintron's – 5 Factors of Personality (OCEAN Song). This is a student-made video which cleverly describes, through song, common behavioral characteristics of the Big 5 personality traits. It was one of the winning entries in the 2016-17 Noba + Psi Chi Student Video Award.

Video 2: Michael Harris' – Personality Traits: The Big 5 and More. This is a student-made video that looks at characteristics of the OCEAN traits through a series of funny vignettes. It also presents on the Person vs Situation Debate. It was one of the winning entries in the 2016-17 Noba + Psi Chi Student Video Award.

Video 3: David M. Cole's – Grouchy with a Chance of Stomping. This is a student-made video that makes a very important point about the relationship between personality traits and behavior using a handy weather analogy. It was one of the winning entries in the 2016-17 Noba + Psi Chi Student Video Award.

Web: International Personality Item Pool

Web: John Johnson personality scales

Web: Personality trait systems compared

Web: Sam Gosling website

homepage.psy.utexas.edu/homep...samgosling.htm
Discussion Questions
Consider different combinations of the Big Five, such as O (Low), C (High), E (Low), A (High), and N (Low). What would this person be like? Do you know anyone who is like this? Can you select politicians, movie stars, and other famous people and rate them on the Big Five?
How do you think learning and inherited personality traits get combined in adult personality?
Can you think of instances where people do not act consistently—where their personality traits are not good predictors of their behavior?
Has your personality changed over time, and in what ways?
Can you think of a personality trait not mentioned in this module that describes how people differ from one another?
When do extremes in personality traits become harmful, and when are they unusual but productive of good outcomes?
Vocabulary
Agreeableness

A personality trait that reflects a person's tendency to be compassionate, cooperative, warm, and caring to others. People low in agreeableness tend to be rude, hostile, and to pursue their own interests over those of others.

Conscientiousness

A personality trait that reflects a person's tendency to be careful, organized, hardworking, and to follow rules.

Continuous distributions

Characteristics can go from low to high, with all different intermediate values possible. One does not simply have the trait or not have it, but can possess varying amounts of it.

Extraversion

A personality trait that reflects a person's tendency to be sociable, outgoing, active, and assertive.

Facets

Broad personality traits can be broken down into narrower facets or aspects of the trait. For example, extraversion has several facets, such as sociability, dominance, risk-taking and so forth.

Factor analysis

A statistical technique for grouping similar things together according to how highly they are associated.

Five-Factor Model

(also called the Big Five) The Five-Factor Model is a widely accepted model of personality traits. Advocates of the model believe that much of the variability in people's thoughts, feelings, and behaviors can be summarized with five broad traits. These five traits are Openness, Conscientiousness, Extraversion, Agreeableness, and Neuroticism.

HEXACO model

The HEXACO model is an alternative to the Five-Factor Model. The HEXACO model includes six traits, five of which are variants of the traits included in the Big Five (Emotionality [E], Extraversion [X], Agreeableness [A], Conscientiousness [C], and Openness [O]). The sixth factor, Honesty-Humility [H], is unique to this model.

Independent

Two characteristics or traits are separate from one another-- a person can be high on one and low on the other, or vice-versa. Some correlated traits are relatively independent in that although there is a tendency for a person high on one to also be high on the other, this is not always the case.

Lexical hypothesis

The lexical hypothesis is the idea that the most important differences between people will be encoded in the language that we use to describe people. Therefore, if we want to know which personality traits are most important, we can look to the language that people use to describe themselves and others.

Neuroticism

A personality trait that reflects the tendency to be interpersonally sensitive and the tendency to experience negative emotions like anxiety, fear, sadness, and anger.

Openness to Experience

A personality trait that reflects a person's tendency to seek out and to appreciate new things, including thoughts, feelings, values, and experiences.

Personality

Enduring predispositions that characterize a person, such as styles of thought, feelings and behavior.

Personality traits

Enduring dispositions in behavior that show differences across individuals, and which tend to characterize the person across varying types of situations.

Person-situation debate

The person-situation debate is a historical debate about the relative power of personality traits as compared to situational influences on behavior. The situationist critique, which started the person-situation debate, suggested that people overestimate the extent to which personality traits are consistent across situations.
References
Allport, G. W., & Odbert, H. S. (1936). Trait names: A psycholexical study. Psychological Monographs, 47, 211.
Ashton, M. C., & Lee, K. (2007). Empirical, theoretical, and practical advantages of the HEXACO model of personality structure. Personality and Social Psychological Review, 11, 150–166.
Caspi, A., Roberts, B. W., & Shiner, R. L. (2005). Personality development: Stability and change. Annual Reviews of Psychology, 56, 453–484.
Donnellan, M. B., Oswald, F. L., Baird, B. M., & Lucas, R. E. (2006). The mini-IPIP scales: Tiny-yet-effective measures of the Big Five factors of personality. Psychological Assessment, 18, 192–203.
Eysenck, H. J. (1981). A model for personality.New York: Springer Verlag.
Goldberg, L. R. (1990). An alternative description of personality: The Big Five personality traits. Journal of Personality and Social Psychology, 59, 1216–1229.
Gray, J. A. (1981). A critique of Eysenck's theory of personality. In H. J. Eysenck (Ed.), A Model for Personality (pp. 246-276). New York: Springer Verlag.
Gray, J. A. & McNaughton, N. (2000). The neuropsychology of anxiety: An enquiry into the functions of the septo-hippocampal system (second edition).Oxford: Oxford University Press.
Matthews, G., Deary, I. J., & Whiteman, M. C. (2003). Personality traits. Cambridge, UK: Cambridge University Press.
McCrae, R. R., & Costa, P. T. (1987). Validation of the five-factor model of personality across instruments and observers. Journal of Personality and Social Psychology, 52, 81–90.
McCrae, R. R. & John, O. P. (1992). An introduction to the five-factor model and its applications. Journal of Personality, 60, 175–215.
Mischel, W. (1968). Personality and assessment. New York: John Wiley.
Paunonen, S. V., & Ashton, M. S. (2001). Big five factors and facets and the prediction of behavior. Journal of Personality and Social Psychology, 81, 524–539.
Roberts, B. W., Kuncel, N. R., Shiner, R., Caspi, A., & Golberg, L. R. (2007). The power of personality: The comparative validity of personality traits, socioeconomic status, and cognitive ability for predicting important life outcomes. Perspectives on Psychological Science, 2, 313-345.