4.1: Affective Neuroscience
Last updated
Page ID

10613
\( \newcommand{\vecs}[1]{\overset { \scriptstyle \rightharpoonup} {\mathbf{#1}} } \) \( \newcommand{\vecd}[1]{\overset{-\!-\!\rightharpoonup}{\vphantom{a}\smash {#1}}} \)\(\newcommand{\id}{\mathrm{id}}\) \( \newcommand{\Span}{\mathrm{span}}\) \( \newcommand{\kernel}{\mathrm{null}\,}\) \( \newcommand{\range}{\mathrm{range}\,}\) \( \newcommand{\RealPart}{\mathrm{Re}}\) \( \newcommand{\ImaginaryPart}{\mathrm{Im}}\) \( \newcommand{\Argument}{\mathrm{Arg}}\) \( \newcommand{\norm}[1]{\| #1 \|}\) \( \newcommand{\inner}[2]{\langle #1, #2 \rangle}\) \( \newcommand{\Span}{\mathrm{span}}\) \(\newcommand{\id}{\mathrm{id}}\) \( \newcommand{\Span}{\mathrm{span}}\) \( \newcommand{\kernel}{\mathrm{null}\,}\) \( \newcommand{\range}{\mathrm{range}\,}\) \( \newcommand{\RealPart}{\mathrm{Re}}\) \( \newcommand{\ImaginaryPart}{\mathrm{Im}}\) \( \newcommand{\Argument}{\mathrm{Arg}}\) \( \newcommand{\norm}[1]{\| #1 \|}\) \( \newcommand{\inner}[2]{\langle #1, #2 \rangle}\) \( \newcommand{\Span}{\mathrm{span}}\)\(\newcommand{\AA}{\unicode[.8,0]{x212B}}\)
By Eddie Harmon-Jones and Cindy Harmon-Jones
Define affective neuroscience.
Describe neuroscience techniques used to study emotions in humans and animals.
Name five emotional systems and their associated neural structures and neurotransmitters.
Give examples of exogenous chemicals (e.g., drugs) that influence affective systems, and discuss their effects.
Discuss multiple affective functions of the amygdala and the nucleus accumbens.
Name several specific human emotions, and discuss their relationship to the affective systems of nonhuman animals.
Affective Neuroscience: What is it?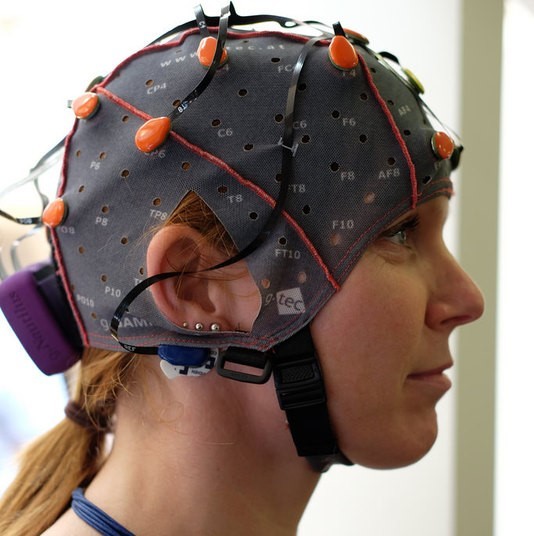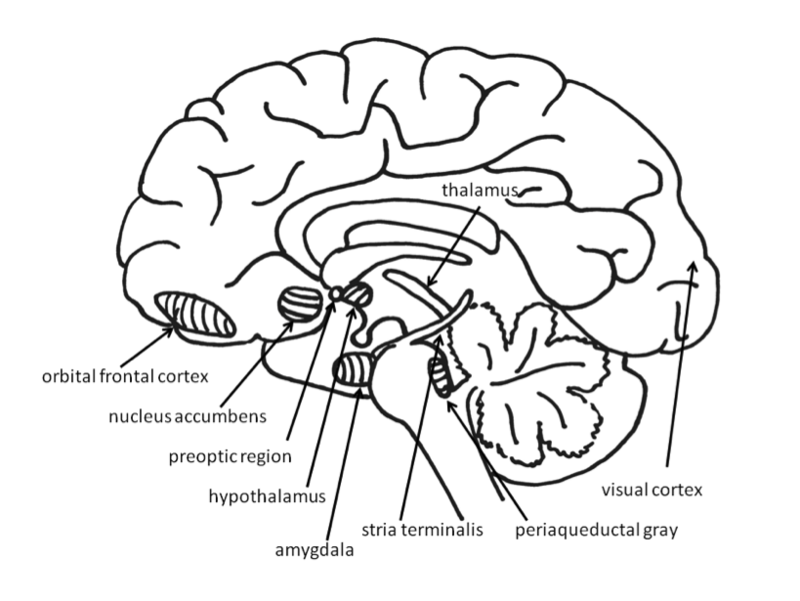 Basic Emotions
Desire: The neural systems of reward seeking
"Liking": The neural circuits of pleasure and enjoyment
Fear: The neural system of freezing and fleeing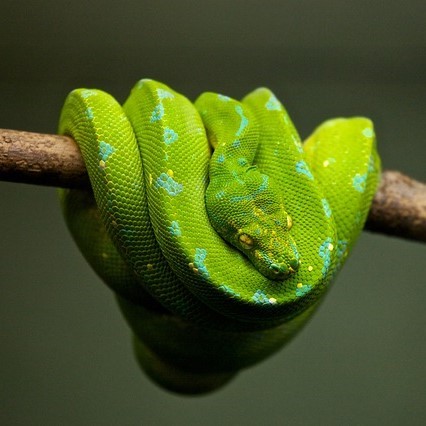 Rage: The circuits of anger and attack
Love: The neural systems of care and attachment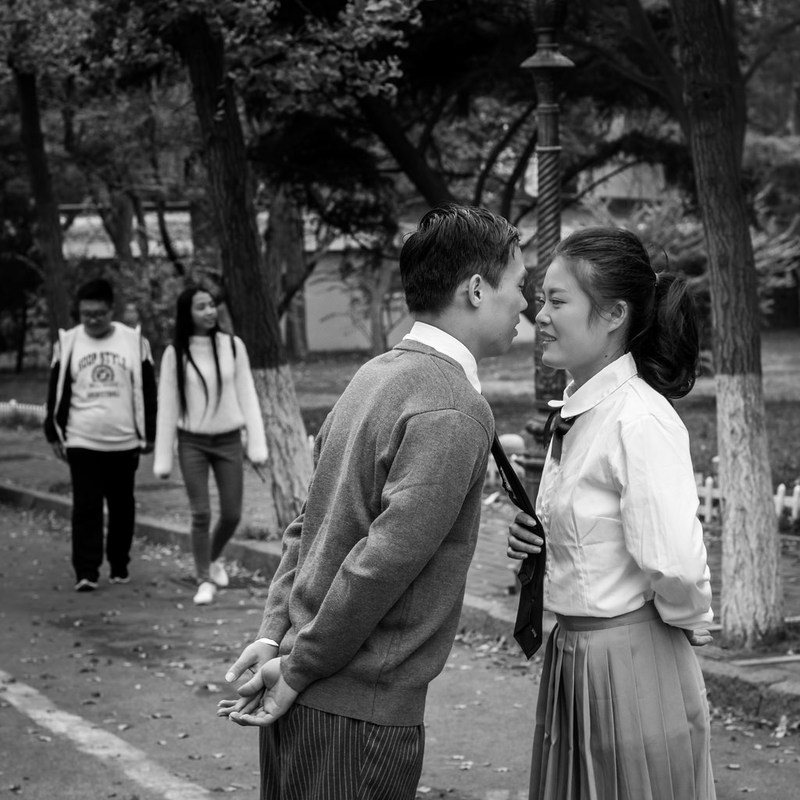 Grief: The neural networks of loneliness and panic
Plasticity: Experiences can alter the brain
Brain structures have multiple functions
Conclusion
Outside Resources
Video: A 1-hour interview with Jaak Panksepp, the father of affective neuroscience

Video: A 15-minute interview with Kent Berridge on pleasure in the brain

Video: A 5-minute interview with Joseph LeDoux on the amygdala and fear

Web: Brain anatomy interactive 3D model
Discussion Questions
The neural circuits of "liking" are different from the circuits of "wanting." How might this relate to the problems people encounter when they diet, fight addictions, or try to change other habits?
The structures and neurotransmitters that produce pleasure during social contact also produce panic and grief when organisms are deprived of social contact. How does this contribute to an understanding of love?
Research shows that stressful environments increase the area of the nucleus accumbens that is sensitive to fear, whereas preferred environments increase the area that is sensitive to rewards. How might these changes be adaptive?
Vocabulary
Affect

An emotional process; includes moods, subjective feelings, and discrete emotions.

Amygdala

Two almond-shaped structures located in the medial temporal lobes of the brain.

Hypothalamus

A brain structure located below the thalamus and above the brain stem.

Neuroscience

The study of the nervous system.

Nucleus accumbens

A region of the basal forebrain located in front of the preoptic region.

Orbital frontal cortex

A region of the frontal lobes of the brain above the eye sockets.

Periaqueductal gray

The gray matter in the midbrain near the cerebral aqueduct.

Preoptic region

A part of the anterior hypothalamus.

Stria terminalis

A band of fibers that runs along the top surface of the thalamus.

Thalamus

A structure in the midline of the brain located between the midbrain and the cerebral cortex.

Visual cortex

The part of the brain that processes visual information, located in the back of the brain.
References
Anderson, A. K., Christoff, K., Stappen, I., Panitz, D., Ghahremani, D. G., Glover, G., . . . Sobel, N. (2003). Dissociated neural representations of intensity and valence in human olfaction. Nature Neuroscience, 6, 196–202.
Berkman, E. T., & Lieberman, M. D. (2010). Approaching the bad and avoiding the good: Lateral prefrontal cortical asymmetry distinguishes between action and valence. Journal of Cognitive Neuroscience, 22(9), 1970–1979. doi: 10.1162/jocn.2009.21317
Berridge, K. C., & Kringelbach, M. L. (2013). Neuroscience of affect: brain mechanisms of pleasure and displeasure. Current Opinion in Neurobiology, 23, 294–303. doi.org/10.1016/j.conb.2013.01.017
Berridge, K. C., & Kringelbach, M. L. (2008). Affective neuroscience of pleasure: Reward in humans and animals. Psychopharmacology, 199, 457–480. doi: 10.1007/s00213-008-1099-6
Blanchard, D. C., & Blanchard, R. J. (2003). What can animal aggression research tell us about human aggression? Hormones and Behavior, 44, 171–177.
Farb, N.A.S., Chapman, H. A., & Anderson, A. K. (2013). Emotions: Form follows function. Current Opinion in Neurobiology, 23, 393–398. http://dx.doi.org/10.1016/j.conb.2013.01.015
Fox, N. A., & Davidson, R. J. (1986). Taste-elicited changes in facial signs of emotion and the asymmetry of brain electrical activity in human newborns. Neuropsychologia, 24, 417–422.
Freese, J. L., & Amaral, D. G. (2009). Neuroanatomy of the primate amygdala. In P. J. Whalen & E. A. Phelps (Eds.), The human amygdala (pp. 3–42). New York, NY: Guilford Press.
Gable, P. A., & Harmon-Jones, E. (2008). Relative left frontal activation to appetitive stimuli: Considering the role of individual differences. Psychophysiology, 45, 275-278.
Goldstein, K. (1939). The organism: An holistic approach to biology, derived from pathological data in man. New York, NY: American Book.
Gottfried, J. A., O'Doherty, J., & Dolan, R. J. (2002). Appetitive and aversive olfactory learning in humans studied using event-related functional magnetic resonance imaging. Journal of Neuroscience, 22, 10829–10837.
Gray, J. A. (1987). The psychology of fear and stress (2nd ed.). Cambridge, England: Cambridge University Press.
Harmon-Jones, E., Harmon-Jones, C., & Price, T. F. (2013). What is approach motivation? Emotion Review, 5, 291–295. doi: 10.1177/1754073913477509
Heinrichs, M., von Dawans, B., & Domes, G. (2009). Oxytocin, vasopressin, and human social behavior. Frontiers in Neuroendocrinology, 30, 548–557.
Izard, C. E. (2010). The many meanings/aspects of emotion: Definitions, functions, activation, and regulation. Emotion Review, 2, 363–370. doi: 10.1177/1754073910374661
LeDoux, J. E. (1996). The emotional brain: The mysterious underpinnings of emotional life. New York, NY: Simon & Schuster.
LeDoux, J. E., Farb, C. F., Ruggiero, D. A. (1990). Topographic organization of neurons in the acoustic thalamus that project to the amygdala. Journal of Neuroscience, 10, 1043–1054.
Numan, M., & Insel, T. R. (2003). The neurobiology of parental behavior. New York, NY: SpringerVerlag.
O'Doherty J. P., Deichmann, R., Critchley, H. D., & Dolan, R. J. (2002). Neural responses during anticipation of a primary taste reward. Neuron, 33, 815–826.
O'Doherty, J., Kringelbach, M. L., Rolls, E. T., Hornak, J., & Andrews, C. (2001). Abstract reward and punishment representations in the human orbitofrontal cortex. Nature Neuroscience, 4, 95–102.
O'Doherty, J., Winston, J., Critchley, H., Perrett, D., Burt, D. M., & Dolan, R. J. (2003). Beauty in a smile: The role of medial orbitofrontal cortex in facial attractiveness. Neuropsychologia, 41, 147–155.
Panksepp, J. (1998). Affective neuroscience: The foundations of human and animal emotions. New York, NY: Oxford University Press.
Panksepp, J., & Biven, L. (2012). The archaeology of mind: Neuroevolutionary origins of human emotions. New York, NY: Norton.
Panksepp, J., Normansell, L., Herman, B., Bishop, P., & Crepeau, L. (1988). Neural and neurochemical control of the separation distress call. In J. D. Newman (Ed.), The physiological control of mammalian vocalization (pp. 263–299). New York, NY: Plenum.
Peterson, C. K., & Harmon-Jones, E. (2012). Anger and testosterone: Evidence that situationally-induced anger relates to situationally-induced testosterone. Emotion, 12, 899–902. doi: 10.1037/a0025300
Reynolds, S. M., & Berridge, K. C. (2008). Emotional environments retune the valence of appetitive versus fearful functions in nucleus accumbens. Nature Neuroscience, 11, 423–425.
Reynolds, S. M., & Berridge, K. C. (2002). Positive and negative motivation in nucleus accumbens shell: Bivalent rostrocaudal gradients for GABA-elicited eating, taste "liking"/"disliking" reactions, place preference/avoidance, and fear. Journal of Neuroscience, 22, 7308–7320.
Reynolds, S. M., & Berridge, K. C. (2001). Fear and feeding in the nucleus accumbens shell: Rostrocaudal segregation of GABA-elicited defensive behavior versus eating behavior. Journal of Neuroscience, 21, 3261–3270.
Schulkin, J. (1991). Sodium hunger: The search for a salty taste. New York, NY: Cambridge University Press.
Seymour, B., Daw, N., Dayan, P., Singer, T., & Dolan, R. (2007). Differential encoding of losses and gains in the human striatum. Journal of Neuroscience, 27, 4826–4831.
Stewart, J., De Wit, H., & Eikelboom, R. (1984). Role of unconditioned and conditioned drug effects in the self-administration of opiates and stimulants. Psychological Review, 91, 251-268.
Wacker, J., Mueller, E. M., Pizzagalli, D. A., Hennig, J., & Stemmler, G. (2013). Dopamine-D2-receptor blockade reverses the association between trait approach motivation and frontal asymmetry in an approach-motivation context. Psychological Science, 24(4), 489–497. doi: 10.1177/0956797612458935
Whalen, P. J. (1998). Fear, vigilance, and ambiguity: initial neuroimaging studies of the human amygdala. Current Directions in Psychological Science, 7, 177–188.