5.4: Forgetting and Amnesia
Last updated
Page ID

10623
\( \newcommand{\vecs}[1]{\overset { \scriptstyle \rightharpoonup} {\mathbf{#1}} } \) \( \newcommand{\vecd}[1]{\overset{-\!-\!\rightharpoonup}{\vphantom{a}\smash {#1}}} \)\(\newcommand{\id}{\mathrm{id}}\) \( \newcommand{\Span}{\mathrm{span}}\) \( \newcommand{\kernel}{\mathrm{null}\,}\) \( \newcommand{\range}{\mathrm{range}\,}\) \( \newcommand{\RealPart}{\mathrm{Re}}\) \( \newcommand{\ImaginaryPart}{\mathrm{Im}}\) \( \newcommand{\Argument}{\mathrm{Arg}}\) \( \newcommand{\norm}[1]{\| #1 \|}\) \( \newcommand{\inner}[2]{\langle #1, #2 \rangle}\) \( \newcommand{\Span}{\mathrm{span}}\) \(\newcommand{\id}{\mathrm{id}}\) \( \newcommand{\Span}{\mathrm{span}}\) \( \newcommand{\kernel}{\mathrm{null}\,}\) \( \newcommand{\range}{\mathrm{range}\,}\) \( \newcommand{\RealPart}{\mathrm{Re}}\) \( \newcommand{\ImaginaryPart}{\mathrm{Im}}\) \( \newcommand{\Argument}{\mathrm{Arg}}\) \( \newcommand{\norm}[1]{\| #1 \|}\) \( \newcommand{\inner}[2]{\langle #1, #2 \rangle}\) \( \newcommand{\Span}{\mathrm{span}}\)\(\newcommand{\AA}{\unicode[.8,0]{x212B}}\)
By Nicole Dudukovic and Brice Kuhl
Identify five reasons we forget and give examples of each.
Describe how forgetting can be viewed as an adaptive process.
Explain the difference between anterograde and retrograde amnesia.
Introduction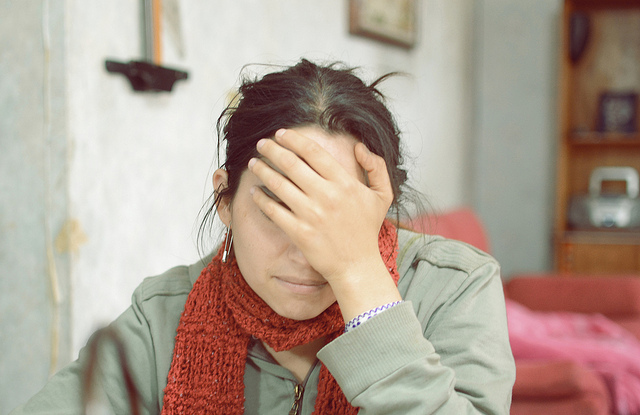 Causes of Forgetting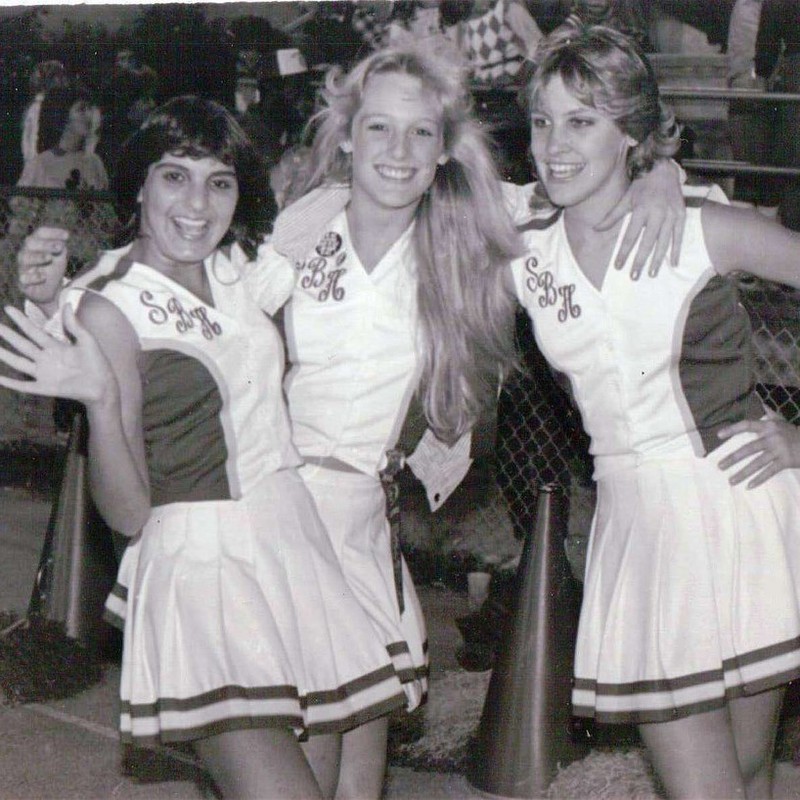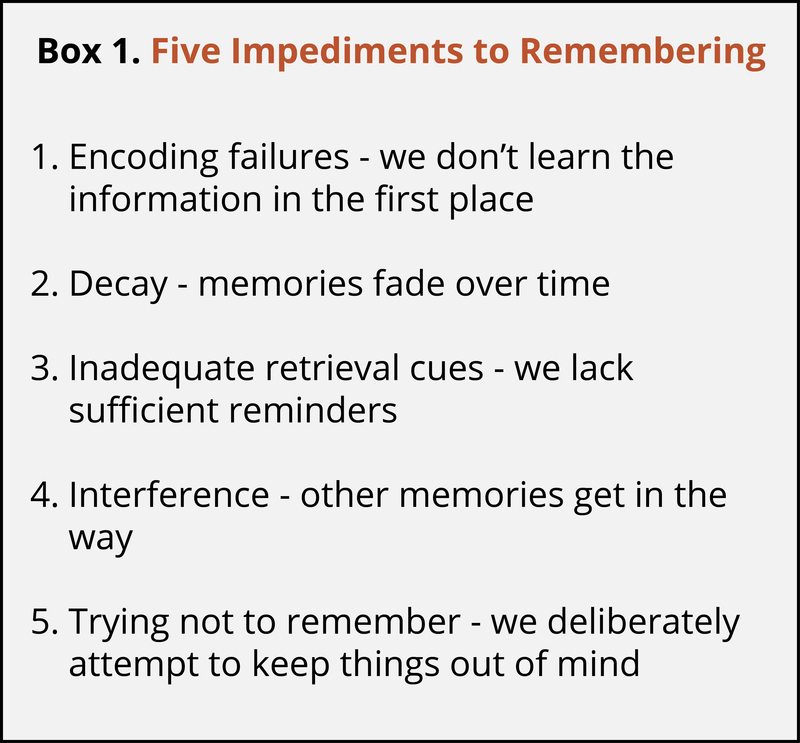 Adaptive Forgetting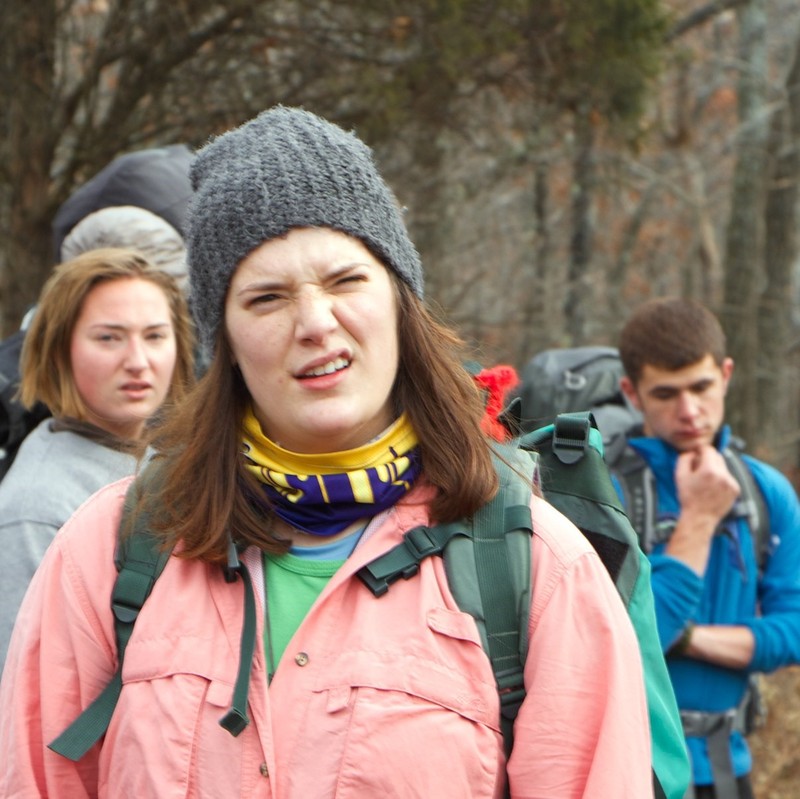 Amnesia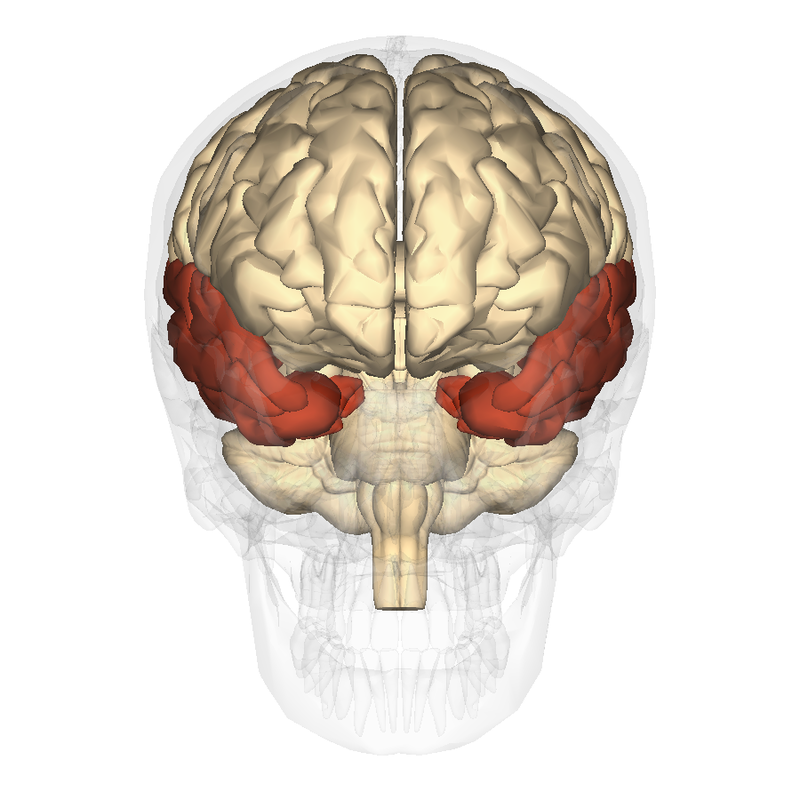 Conclusion
Outside Resources
Web: Brain Case Study: Patient HM

Web: Self-experiment, Penny demo

www.indiana.edu/~p1013447/dictionary/penny.htm

Web: The Man Who Couldn't Remember
Discussion Questions
Is forgetting good or bad? Do you agree with the authors that forgetting is an adaptive process? Why or why not?
Can we ever prove that something is forgotten? Why or why not?
Which of the five reasons for forgetting do you think explains the majority of incidences of forgetting? Why?
How is real-life amnesia different than amnesia that is portrayed on TV and in film?
Vocabulary
Anterograde amnesia

Inability to form new memories for facts and events after the onset of amnesia.

Consolidation

Process by which a memory trace is stabilized and transformed into a more durable form.

Decay

The fading of memories with the passage of time.

Declarative memory

Conscious memories for facts and events.

Dissociative amnesia

Loss of autobiographical memories from a period in the past in the absence of brain injury or disease.

Encoding

Process by which information gets into memory.

Interference

Other memories get in the way of retrieving a desired memory

Medial temporal lobes

Inner region of the temporal lobes that includes the hippocampus.

Retrieval

Process by which information is accessed from memory and utilized.

Retrograde amnesia

Inability to retrieve memories for facts and events acquired before the onset of amnesia.

Temporally graded retrograde amnesia

Inability to retrieve memories from just prior to the onset of amnesia with intact memory for more remote events.
References
Anderson, J. R., & Milson, R. (1989). Human memory: An adaptive perspective. *Psychological Review*, 96, 703–719.
Anderson, M. C., & Green, C. (2001). Suppressing unwanted memories by executive control. Nature, 410, 366–369.
Bahrick, H. P., Bahrick, P. O., & Wittinger, R. P. (1975). Fifty years of memory for names and faces: A cross-sectional approach. Journal of Experimental Psychology: General, 104, 54–75.
Bjork, R. A. (1989). Retrieval inhibition as an adaptive mechanism in human memory. In H. L. Roediger, III, & F. I. M. Craik (Eds.), Varieties of Memory and Consciousness (pp. 309– 330). Hillsdale, NJ: Erlbaum.
Corkin, S. (2002). What's new with the amnesic patient H. M.? *Nature Reviews Neuroscience*, 3, 153–160.
Craik, F. I. M., Govoni, R., Naveh-Benjamin, M., & Anderson, N. D. (1996). The effects of divided attention on encoding and retrieval processes in human memory. *Journal of Experimental Psychology: General*, 125, 159–180.
Ebbinghaus, H. (1913). Memory. A contribution to experimental psychology. New York: Teachers College/Columbia University (Engl. ed.). (Original work published in 1885.)
Hertel, P. T., & Calcaterra, G. (2005). Intentional forgetting benefits from thought substitution. Psychonomic Bulletin & Review, 12, 484–489.
Hodges, J. R. (1994). Retrograde amnesia. In A. Baddeley, B. A. Wilson, & F. Watts (Eds.), Handbook of Memory Disorders (pp. 81–107). New York: Wiley.
Kihlstrom, J. F. (2005). Dissociative disorders. Annual Review of Clinical Psychology, 1, 227– 253.
Kopelman, M. (2000). Focal retrograde amnesia and the attribution of causality: An exceptionally critical review. Cognitive Neuropsychology, 17, 585–621.
Levy, B. J., & Anderson, M. C. (2002). Inhibitory processes and the control of memory retrieval. Trends in Cognitive Sciences, 6, 299–305.
Luria, A. R. (1968). The mind of a mnemonist: A little book about a vast memory (L. Solataroff, Trans.). New York: Basic Books.
McGaugh, J. L. (2000). Memory: A century of consolidation. Science, 287, 248–251.
McGeoch, J. A. (1932). Forgetting and the law of disuse. Psychological Reviews, 39, 352– 370.
Mensink, G., & Raaijmakers, J. G. (1988). A model for interference and forgetting. *Psychological Review*, 95, 434–455.
Nickerson, R. S., & Adams, M. J. (1979). Long-term memory for a common object. *Cognitive Psychology*, 11, 287–307.
Reed, J. M. & Squire, L. R. (1998). Retrograde amnesia for facts and events: Findings from four new cases. Journal of Neuroscience, 18, 3943–3954.
Schacter, D. L. (1999). The seven sins of memory: Insights from psychology and cognitive neuroscience. American Psychologist, 54, 182–203.
Scoville, W. B. & Milner, B. (1957). Loss of recent memory after bilateral hippocampal lesions. Journal of Neurology, Neurosurgery, & Psychiatry, 20, 11–21.
Squire, L. R., & Alvarez, P. (1995). Retrograde amnesia and memory consolidation: A neurobiological perspective. Current Opinions in Neurobiology, 5, 169–177.
Tulving, E., & Pearlstone, Z. (1966). Availability versus accessibility of information in memory for words. Journal of Verbal Learning and Verbal Behavior, 5, 381–391.
Wixted, J. T. (2004). The psychology and neuroscience of forgetting. *Annual Reviews of Psychology*, 55, 235–269.