9.11: Autism: Insights from the Study of the Social Brain
Last updated
Page ID

11672
\( \newcommand{\vecs}[1]{\overset { \scriptstyle \rightharpoonup} {\mathbf{#1}} } \) \( \newcommand{\vecd}[1]{\overset{-\!-\!\rightharpoonup}{\vphantom{a}\smash {#1}}} \)\(\newcommand{\id}{\mathrm{id}}\) \( \newcommand{\Span}{\mathrm{span}}\) \( \newcommand{\kernel}{\mathrm{null}\,}\) \( \newcommand{\range}{\mathrm{range}\,}\) \( \newcommand{\RealPart}{\mathrm{Re}}\) \( \newcommand{\ImaginaryPart}{\mathrm{Im}}\) \( \newcommand{\Argument}{\mathrm{Arg}}\) \( \newcommand{\norm}[1]{\| #1 \|}\) \( \newcommand{\inner}[2]{\langle #1, #2 \rangle}\) \( \newcommand{\Span}{\mathrm{span}}\) \(\newcommand{\id}{\mathrm{id}}\) \( \newcommand{\Span}{\mathrm{span}}\) \( \newcommand{\kernel}{\mathrm{null}\,}\) \( \newcommand{\range}{\mathrm{range}\,}\) \( \newcommand{\RealPart}{\mathrm{Re}}\) \( \newcommand{\ImaginaryPart}{\mathrm{Im}}\) \( \newcommand{\Argument}{\mathrm{Arg}}\) \( \newcommand{\norm}[1]{\| #1 \|}\) \( \newcommand{\inner}[2]{\langle #1, #2 \rangle}\) \( \newcommand{\Span}{\mathrm{span}}\)\(\newcommand{\AA}{\unicode[.8,0]{x212B}}\)
By Kevin A. Pelphrey
Know the basic symptoms of ASD.
Distinguish components of the social brain and understand their dysfunction in ASD.
Appreciate how social neuroscience may facilitate the diagnosis and treatment of ASD.
Defining Autism Spectrum Disorder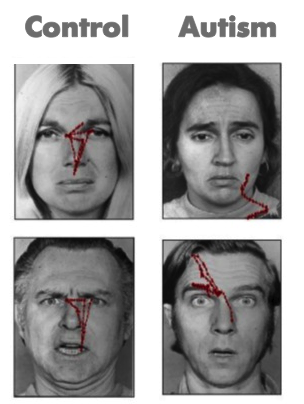 Defining the Social Brain
Current Understanding of Social Perception in ASD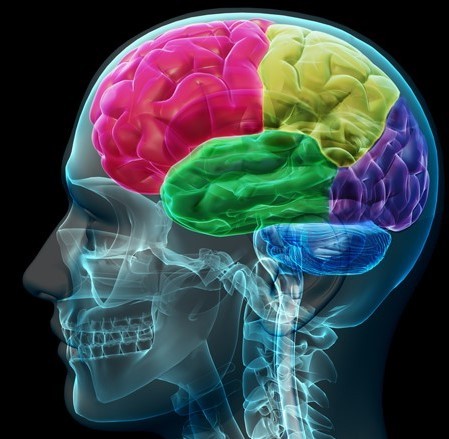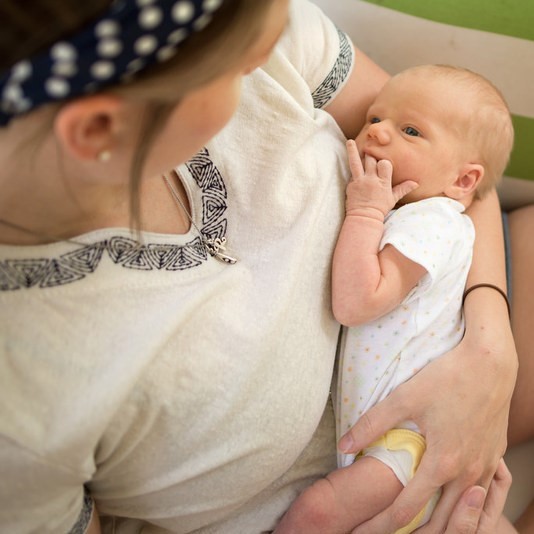 Exploring Diversity in ASD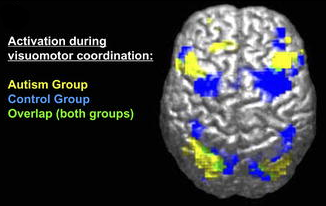 Atypical Brain Development Before the Emergence of Atypical Behavior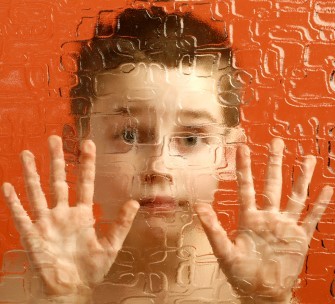 Hope for Improved Outcomes
Outside Resources
Web: American Psychiatric Association's website for the 5th edition of the Diagnostic and Statistical Manual of Mental Disorders

Web: Autism Science Foundation - organization supporting autism research by providing funding and other assistance to scientists and organizations conducting, facilitating, publicizing and disseminating autism research. The organization also provides information about autism to the general public and serves to increase awareness of autism spectrum disorders and the needs of individuals and families affected by autism.

Web: Autism Speaks - Autism science and advocacy organization
Discussion Questions
How can neuroimaging inform our understanding of the causes of autism?
What are the ways in which neuroimaging, including fMRI and ERP, may benefit efforts to diagnosis and treat autism?
How can an understanding of the social brain help us to understand ASD?
What are the core symptoms of ASD, and why is the social brain of particular interest?
What are some of the components of the social brain, and what functions do they serve?
Vocabulary
Endophenotypes

A characteristic that reflects a genetic liability for disease and a more basic component of a complex clinical presentation. Endophenotypes are less developmentally malleable than overt behavior.

Event-related potentials (ERP)

Measures the firing of groups of neurons in the cortex. As a person views or listens to specific types of information, neuronal activity creates small electrical currents that can be recorded from non-invasive sensors placed on the scalp. ERP provides excellent information about the timing of processing, clarifying brain activity at the millisecond pace at which it unfolds.

Functional magnetic resonance imaging (fMRI)

Entails the use of powerful magnets to measure the levels of oxygen within the brain that vary with changes in neural activity. That is, as the neurons in specific brain regions "work harder" when performing a specific task, they require more oxygen. By having people listen to or view social percepts in an MRI scanner, fMRI specifies the brain regions that evidence a relative increase in blood flow. In this way, fMRI provides excellent spatial information, pinpointing with millimeter accuracy, the brain regions most critical for different social processes.

Social brain

The set of neuroanatomical structures that allows us to understand the actions and intentions of other people.
References
Allison, T., Puce, A., & McCarthy, G. (2000). Social perception from visual cues: Role of the STS region. Trends in Cognitive Science, 4(7), 267–278.
Bentin, S., Allison, T., Puce, A., Perez, E., et al. (1996). Electrophysiological studies of face perception in humans. Journal of Cognitive Neuroscience, 8(6), 551–565.
Brothers, L. (1990). The social brain: A project for integrating primate behavior and neurophysiology in a new domain. Concepts in Neuroscience, 1, 27–51.
Dawson, G., Meltzoff, A. N., Osterling, J., Rinaldi, J., & Brown, E. (1998). Children with autism fail to orient to naturally occurring social stimuli. Journal of Autism & Developmental Disorders, 28(6), 479–485.
Dawson, G., Webb, S. J., & McPartland, J. (2005). Understanding the nature of face processing impairment in autism: Insights from behavioral and electrophysiological studies. Developmental Neuropsychology, 27(3), 403–424.
Elsabbagh, M., Mercure, E., Hudry, K., Chandler, S., Pasco, G., Charman, T., et al. (2012). Infant neural sensitivity to dynamic eye gaze is associated with later emerging autism. Current Biology, 22(4), 338–342.
Geschwind, D. H., & Levitt, P. (2007). Autism spectrum disorders: Developmental disconnection syndromes. Current Opinion in Neurobiology, 17(1), 103–111.
Goren, C. C., Sarty, M., & Wu, P. Y. (1975). Visual following and pattern discrimination of face-like stimuli by newborn infants. Pediatrics, 56(4), 544–549.
Gottesman I. I., & Shields, J. (1973) Genetic theorizing and schizophrenia. British Journal of Psychiatry, 122, 15–30.
Hobson, R. (1986). The autistic child's appraisal of expressions of emotion. Journal of Child Psychology and Psychiatry, 27(3), 321–342.
Johnson, M. H. (2006). Biological motion: A perceptual life detector? Current Biology, 16(10), R376–377.
Kaiser, M. D., Hudac, C. M., Shultz, S., Lee, S. M., Cheung, C., Berken, A. M., et al. (2010). Neural signatures of autism. Proceedings of the National Academy of Sciences of the United States of America, 107(49), 21223–21228.
Kanner, L. (1943). Autistic disturbances of affective contact. Nervous Child, 2, 217–250.
Klin, A., Lin, D. J., Gorrindo, P., Ramsay, G., & Jones, W. (2009). Two-year-olds with autism orient to non-social contingencies rather than biological motion. Nature, 459(7244), 257–261.
Maestro, S., Muratori, F., Cavallaro, M. C., Pei, F., Stern, D., Golse, B., et al. (2002). Attentional skills during the first 6 months of age in autism spectrum disorder. Journal of the American Academy of Child and Adolescent Psychiatry, 41(10), 1239–1245.
McCleery, J. P., Akshoomoff, N., Dobkins, K. R., & Carver, L. J. (2009). Atypical face versus object processing and hemispheric asymmetries in 10-month-old infants at risk for autism. Biological Psychiatry, 66(10), 950–957.
McPartland, J. C., Dawson, G., Webb, S. J., Panagiotides, H., & Carver, L. J. (2004). Event-related brain potentials reveal anomalies in temporal processing of faces in autism spectrum disorder. Journal of Child Psychology and Psychiatry, 45(7), 1235–1245.
McPartland, J. C., Webb, S. J., Keehn, B., & Dawson, G. (2011). Patterns of visual attention to faces and objects in autism spectrum disorder. Journal of Autism and Develop Disorders, 41(2), 148–157.
Minshew, N. J., & Williams, D. L. (2007). The new neurobiology of autism: Cortex, connectivity, and neuronal organization. Archives of Neurology, 64(7), 945–950.
Osterling, J., & Dawson, G. (1994). Early recognition of children with autism: A study of first birthday home videotapes. Journal of Autism and Developmental Disorders, 24, 247-257.
Osterling, J. A., Dawson, G., & Munson, J. A. (2002). Early recognition of 1-year-old infants with autism spectrum disorder versus mental retardation. Development & Psychopathology, 14(2), 239–251.
Ozonoff, S., Iosif, A. M., Baguio, F., Cook, I. C., Hill, M. M., Hutman, T., et al. (2010). A prospective study of the emergence of early behavioral signs of autism. Journal of the American Academy of Child and Adolescent Psychiatry, 49(3), 256–266.
Pelphrey, K. A., Sasson, N. J., Reznick, J. S., Paul, G., Goldman, B. D., & Piven, J. (2002). Visual scanning of faces in autism. Journal of Autism & Developmental Disorders, 32(4), 249–261.
Schultz, R. T., Gauthier, I., Klin, A., Fulbright, R. K., Anderson, A. W., Volkmar, F., et al. (2000). Abnormal ventral temporal cortical activity during face discrimination among individuals with autism and Asperger syndrome. Archives of General Psychiatry, 57(4), 331–340.
Simion, F., Regolin, L., & Bulf, H. (2008). A predisposition for biological motion in the newborn baby. Proceedings of the National Academy of Sciences, 105(2), 809–813.
de Haan, M., Johnson, M. H., & Halit, H. (2003). Development of face-sensitive event-related potentials during infancy: A review. International Journal of Psychophysiology, 51(1), 45–58.