7.1: External Effects
Last updated
Page ID

43780
\( \newcommand{\vecs}[1]{\overset { \scriptstyle \rightharpoonup} {\mathbf{#1}} } \) \( \newcommand{\vecd}[1]{\overset{-\!-\!\rightharpoonup}{\vphantom{a}\smash {#1}}} \)\(\newcommand{\id}{\mathrm{id}}\) \( \newcommand{\Span}{\mathrm{span}}\) \( \newcommand{\kernel}{\mathrm{null}\,}\) \( \newcommand{\range}{\mathrm{range}\,}\) \( \newcommand{\RealPart}{\mathrm{Re}}\) \( \newcommand{\ImaginaryPart}{\mathrm{Im}}\) \( \newcommand{\Argument}{\mathrm{Arg}}\) \( \newcommand{\norm}[1]{\| #1 \|}\) \( \newcommand{\inner}[2]{\langle #1, #2 \rangle}\) \( \newcommand{\Span}{\mathrm{span}}\) \(\newcommand{\id}{\mathrm{id}}\) \( \newcommand{\Span}{\mathrm{span}}\) \( \newcommand{\kernel}{\mathrm{null}\,}\) \( \newcommand{\range}{\mathrm{range}\,}\) \( \newcommand{\RealPart}{\mathrm{Re}}\) \( \newcommand{\ImaginaryPart}{\mathrm{Im}}\) \( \newcommand{\Argument}{\mathrm{Arg}}\) \( \newcommand{\norm}[1]{\| #1 \|}\) \( \newcommand{\inner}[2]{\langle #1, #2 \rangle}\) \( \newcommand{\Span}{\mathrm{span}}\)
LEARNING OBJECTIVE
How can society stop people from doing annoying things and encourage them to do pleasing things?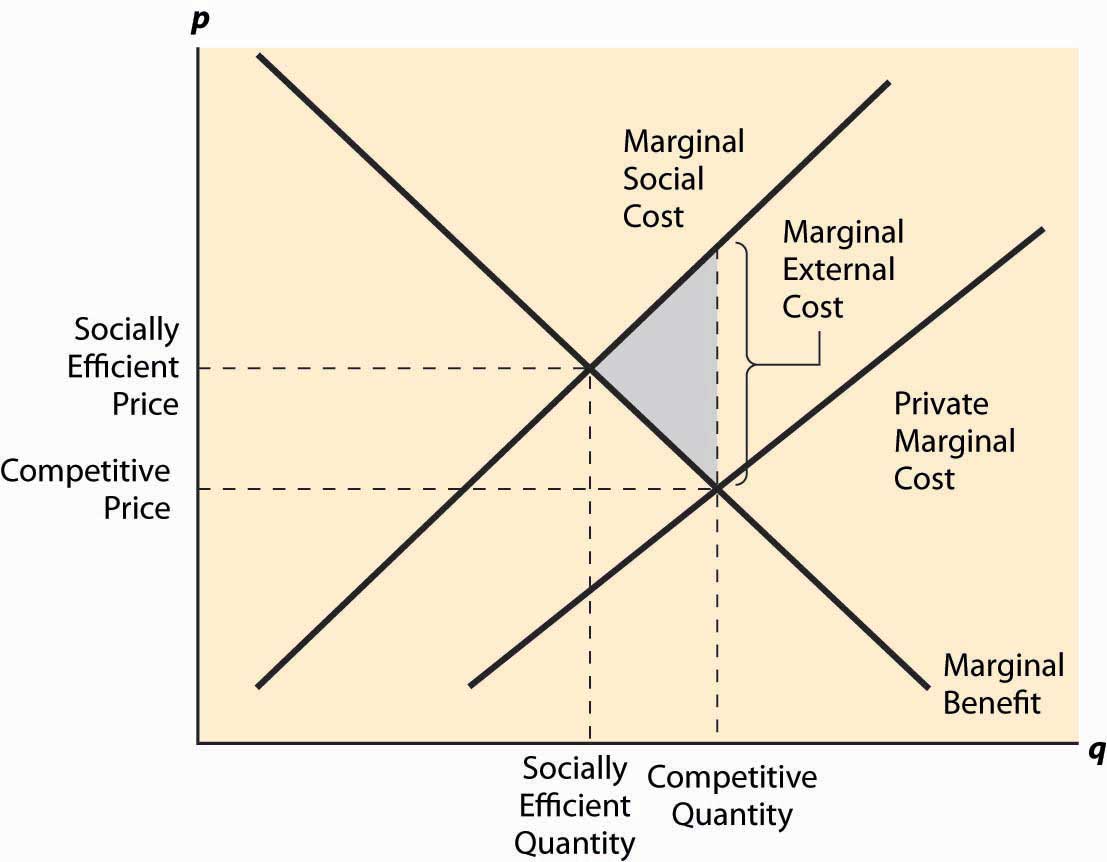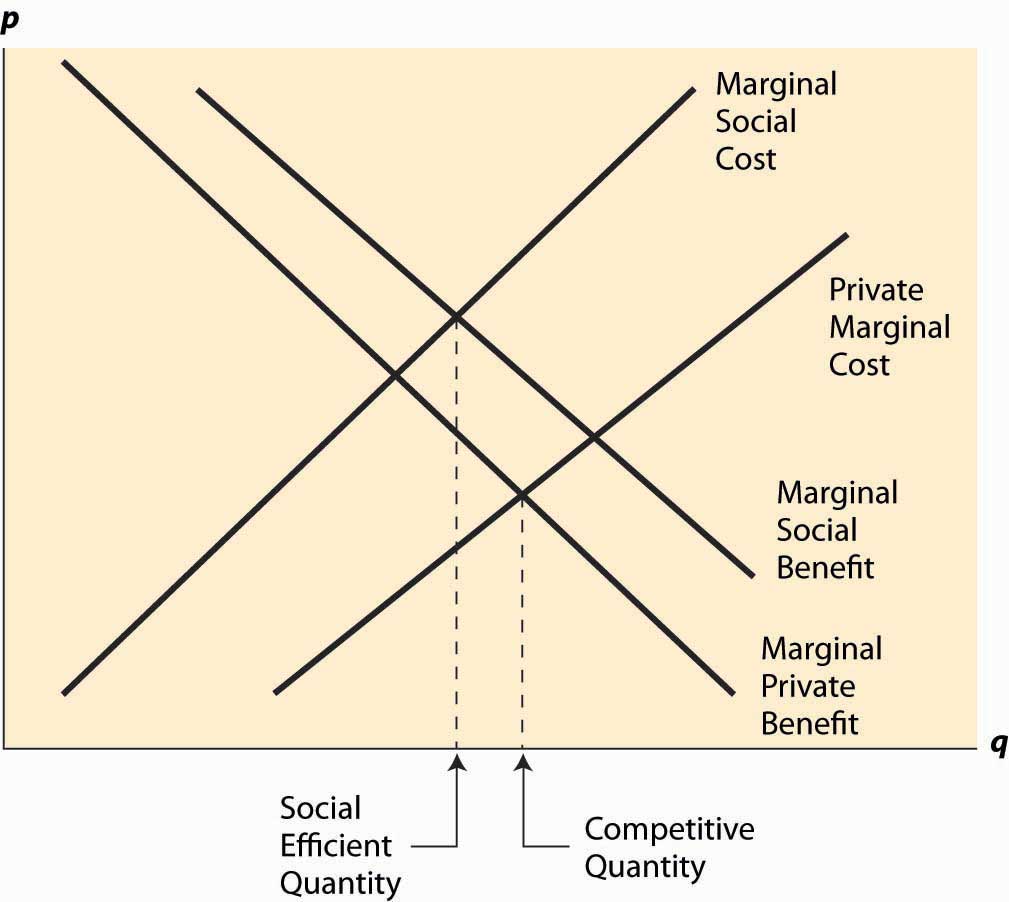 Key Takeaways
An externality is any effect on people not involved in a particular transaction.
Pollution is the classic negative externality.
Externalities will generally cause competitive markets to behave inefficiently from a social perspective. Externalities create a market failure—that is, a competitive market does not yield the socially efficient outcome.
Education is viewed as creating an important positive externality.
A major source of externalities arises in communicable diseases. Your vaccination not only reduces the likelihood that you will contract a disease but also makes it less likely that you will infect others with the disease.
Private costs are those borne by the parties to a transaction; external costs are costs borne by others not party to the transaction; and social costs represent the sum of private and external costs.
Private benefits are those enjoyed by the parties to a transaction; external benefits are those enjoyed by others not party to the transaction; and social benefits represent the sum of private and external benefits.
Demand is marginal private benefit; supply is marginal private cost.
The social optimum arises at the quantity where marginal social benefit equals marginal social cost. A different quantity than the social optimum creates a deadweight loss equal to the difference of marginal social benefit and cost.
The tragedy of the commons is the overuse of a resource arising because users ignore the harmful effects of their use on other users.
EXERCISES
A child who is vaccinated against polio is more likely to contract polio (from the vaccine) than an unvaccinated child. Does this fact imply that programs forcing vaccination of schoolchildren are ill-advised? Include with your answer a diagram illustrating the negative marginal benefit of vaccination, and use the horizontal axis to represent the proportion of the population vaccinated.
The total production from an oil field generally depends on the rate at which the oil is pumped, with faster rates leading to lower total production but earlier production. Suppose two different producers can pump from the field. Illustrate—using an externality diagram where the horizontal axis is the rate of production for one of the producers—the difference between the socially efficient outcome and the equilibrium outcome. Like many other states, Texas's law requires that, when multiple people own land over a single oil field, the output is shared among the owners, with each owner obtaining a share equal to a proportion of the field under their land. This process is called unitization. Does it solve the problem of externalities in pumping and yield an efficient outcome? Why or why not?
Imagine that many students are bothered by loud music playing at 7 a.m. near their dorm. Using economic analysis, how would you improve the situation?
A local community uses revenue from its property taxes to build an expressway. Explain how this could give rise to free riders and how to solve the free-rider problem.