7.4: Tradable Permits and Auctions
Last updated
Page ID

43783
\( \newcommand{\vecs}[1]{\overset { \scriptstyle \rightharpoonup} {\mathbf{#1}} } \) \( \newcommand{\vecd}[1]{\overset{-\!-\!\rightharpoonup}{\vphantom{a}\smash {#1}}} \)\(\newcommand{\id}{\mathrm{id}}\) \( \newcommand{\Span}{\mathrm{span}}\) \( \newcommand{\kernel}{\mathrm{null}\,}\) \( \newcommand{\range}{\mathrm{range}\,}\) \( \newcommand{\RealPart}{\mathrm{Re}}\) \( \newcommand{\ImaginaryPart}{\mathrm{Im}}\) \( \newcommand{\Argument}{\mathrm{Arg}}\) \( \newcommand{\norm}[1]{\| #1 \|}\) \( \newcommand{\inner}[2]{\langle #1, #2 \rangle}\) \( \newcommand{\Span}{\mathrm{span}}\) \(\newcommand{\id}{\mathrm{id}}\) \( \newcommand{\Span}{\mathrm{span}}\) \( \newcommand{\kernel}{\mathrm{null}\,}\) \( \newcommand{\range}{\mathrm{range}\,}\) \( \newcommand{\RealPart}{\mathrm{Re}}\) \( \newcommand{\ImaginaryPart}{\mathrm{Im}}\) \( \newcommand{\Argument}{\mathrm{Arg}}\) \( \newcommand{\norm}[1]{\| #1 \|}\) \( \newcommand{\inner}[2]{\langle #1, #2 \rangle}\) \( \newcommand{\Span}{\mathrm{span}}\)
LEARNING OBJECTIVE
Is there a better way to regulate annoying behavior than either taxes or quotas?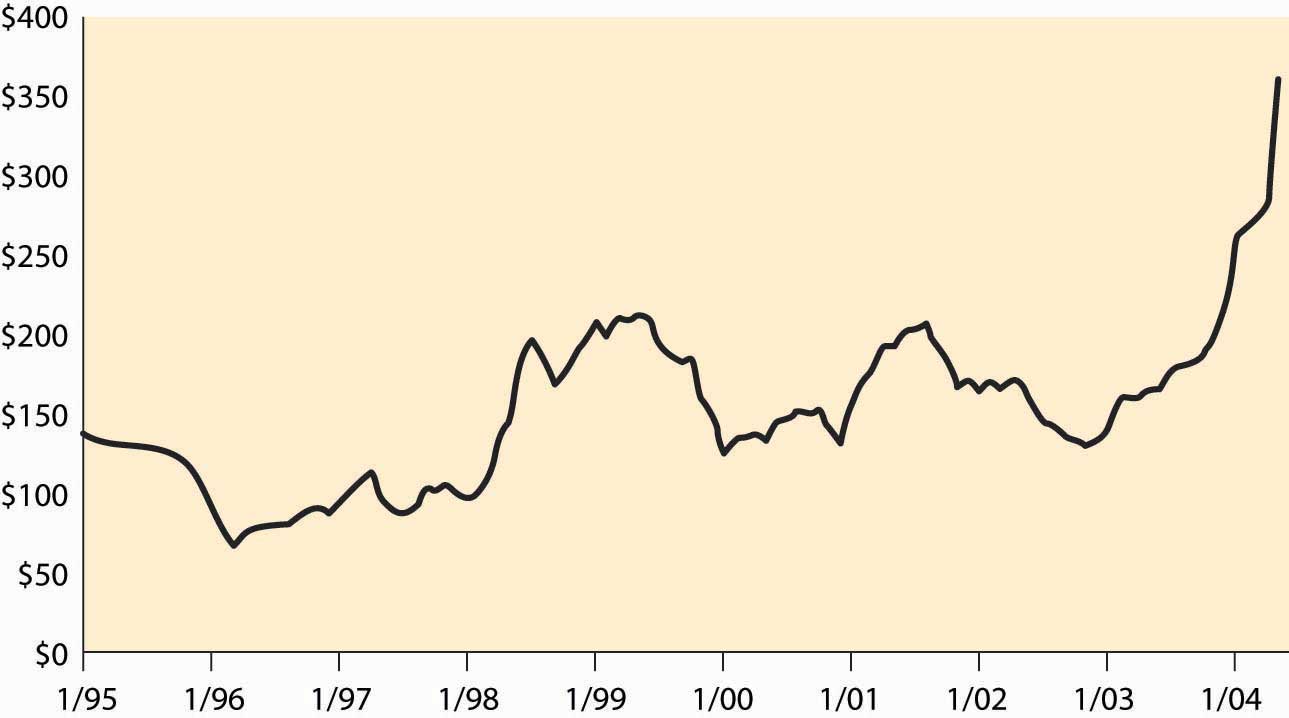 Key Takeaways
A solution to inefficiencies in the allocation of quota rights is to permit trading them.
Tradable permits represent a hybrid of a quota system and a Pigouvian taxation system. The quota determines the overall quantity of pollution, while the purchase of pollution rights acts like a tax on pollution.
The United States has permitted the trading of permits for some pollutants, like sulfur dioxide.
The major advantage of a tradable permits system is that it creates the opportunity for efficient exchange.
A somewhat unexpected advantage of tradable permits has been the purchase of permits by environmental groups, as a way of buying cleaner air.
Tradable permits offer the advantages of a taxation scheme—efficient use of pollution—without needing to estimate the social cost of pollution directly.
The price of permits can be a very useful instrument in assessing the appropriate time to reduce the quantity, since high permit prices, relative to likely marginal external costs, suggest that the quantity of the quota is too low, while low prices suggest that the quantity is too large and should be reduced.