11.3: Investment Under Uncertainty
Last updated
Page ID

43810
\( \newcommand{\vecs}[1]{\overset { \scriptstyle \rightharpoonup} {\mathbf{#1}} } \) \( \newcommand{\vecd}[1]{\overset{-\!-\!\rightharpoonup}{\vphantom{a}\smash {#1}}} \)\(\newcommand{\id}{\mathrm{id}}\) \( \newcommand{\Span}{\mathrm{span}}\) \( \newcommand{\kernel}{\mathrm{null}\,}\) \( \newcommand{\range}{\mathrm{range}\,}\) \( \newcommand{\RealPart}{\mathrm{Re}}\) \( \newcommand{\ImaginaryPart}{\mathrm{Im}}\) \( \newcommand{\Argument}{\mathrm{Arg}}\) \( \newcommand{\norm}[1]{\| #1 \|}\) \( \newcommand{\inner}[2]{\langle #1, #2 \rangle}\) \( \newcommand{\Span}{\mathrm{span}}\) \(\newcommand{\id}{\mathrm{id}}\) \( \newcommand{\Span}{\mathrm{span}}\) \( \newcommand{\kernel}{\mathrm{null}\,}\) \( \newcommand{\range}{\mathrm{range}\,}\) \( \newcommand{\RealPart}{\mathrm{Re}}\) \( \newcommand{\ImaginaryPart}{\mathrm{Im}}\) \( \newcommand{\Argument}{\mathrm{Arg}}\) \( \newcommand{\norm}[1]{\| #1 \|}\) \( \newcommand{\inner}[2]{\langle #1, #2 \rangle}\) \( \newcommand{\Span}{\mathrm{span}}\)
LEARNING OBJECTIVES
What is the effect of risk on investment?
What is an option?
| | Expected revenue | EPV |
| --- | --- | --- |
| 0 | –$1.5M | –$1.5M |
| 1–20 | $0.25M | $1.338M |
| Net | | –$0.162 |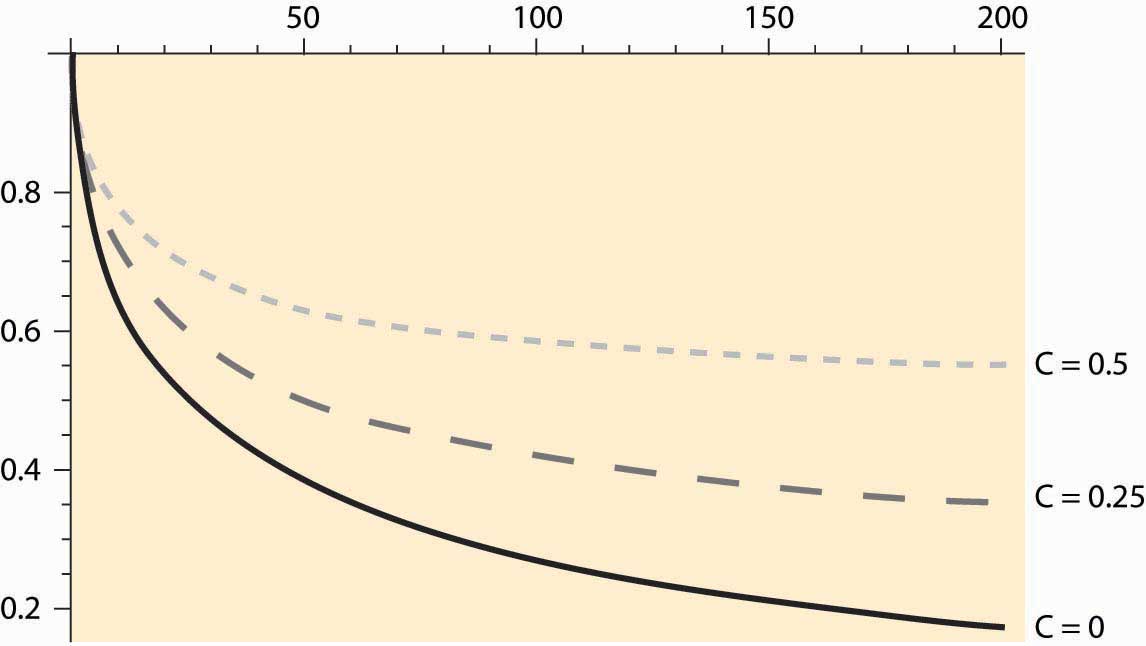 Key Takeaways
The standard approach to investment under uncertainty is to compute an NPV, with the interest rate used adjusted to compensate for the risk.
The most important thing to understand is that the interest rate is specific to the project and not to the investor.
The option value of investment includes the value of decisions that have not yet been made. Building a factory today forecloses the opportunity of building the factory a year later, when better information concerning market conditions has been realized, but also creates the option of selling over the next year.
NPV gets the right answer when investments can be replicated.
An important example of the option value is refinancing a home.
EXERCISE
You are searching for a job. The net value of jobs that arise is uniformly distributed on the interval [0, 1]. When you accept a job, you must stop looking at subsequent jobs. If you can interview with one employer per week, what jobs should you accept? Use a 7% annual interest rate.