16.1: Matrix Games
Last updated
Page ID

43843
\( \newcommand{\vecs}[1]{\overset { \scriptstyle \rightharpoonup} {\mathbf{#1}} } \) \( \newcommand{\vecd}[1]{\overset{-\!-\!\rightharpoonup}{\vphantom{a}\smash {#1}}} \)\(\newcommand{\id}{\mathrm{id}}\) \( \newcommand{\Span}{\mathrm{span}}\) \( \newcommand{\kernel}{\mathrm{null}\,}\) \( \newcommand{\range}{\mathrm{range}\,}\) \( \newcommand{\RealPart}{\mathrm{Re}}\) \( \newcommand{\ImaginaryPart}{\mathrm{Im}}\) \( \newcommand{\Argument}{\mathrm{Arg}}\) \( \newcommand{\norm}[1]{\| #1 \|}\) \( \newcommand{\inner}[2]{\langle #1, #2 \rangle}\) \( \newcommand{\Span}{\mathrm{span}}\) \(\newcommand{\id}{\mathrm{id}}\) \( \newcommand{\Span}{\mathrm{span}}\) \( \newcommand{\kernel}{\mathrm{null}\,}\) \( \newcommand{\range}{\mathrm{range}\,}\) \( \newcommand{\RealPart}{\mathrm{Re}}\) \( \newcommand{\ImaginaryPart}{\mathrm{Im}}\) \( \newcommand{\Argument}{\mathrm{Arg}}\) \( \newcommand{\norm}[1]{\| #1 \|}\) \( \newcommand{\inner}[2]{\langle #1, #2 \rangle}\) \( \newcommand{\Span}{\mathrm{span}}\)
LEARNING OBJECTIVES
How are games modeled?
What is optimal play?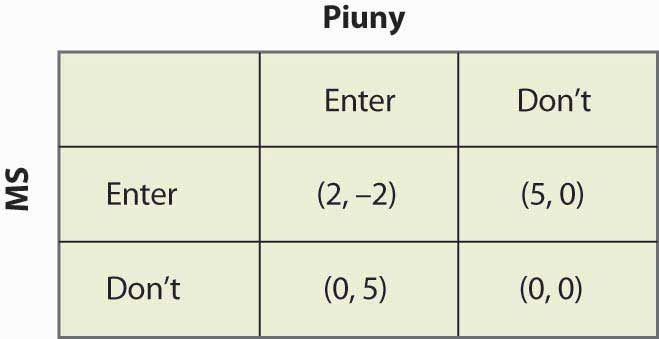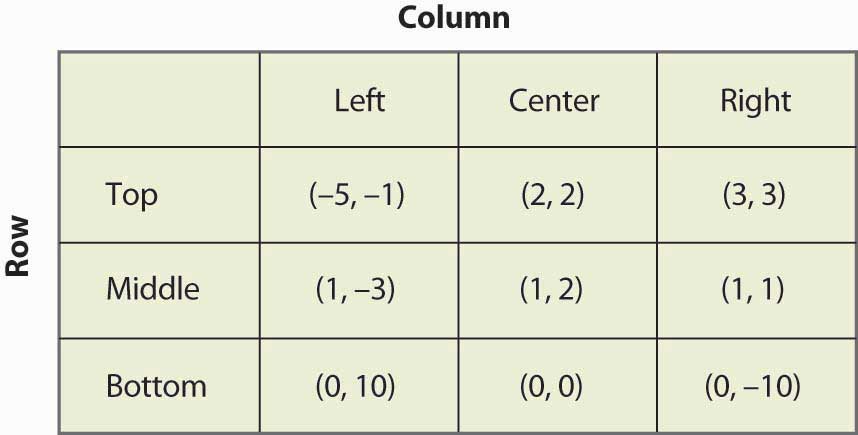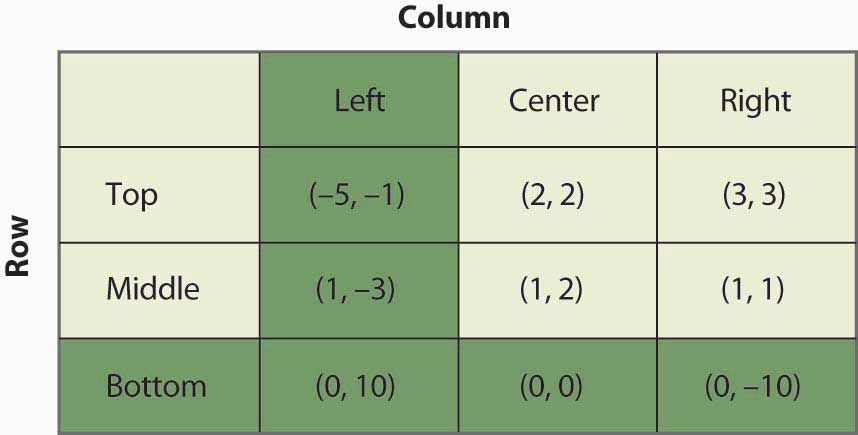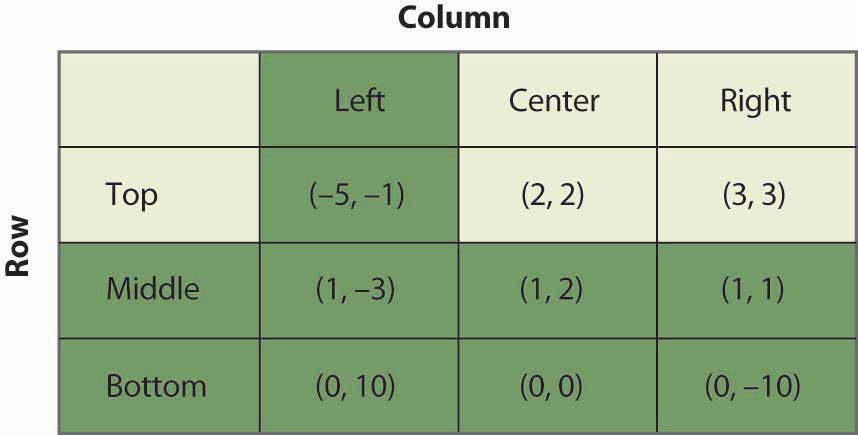 Key Takeaways
Strategic behavior arises where there are few enough market participants that their actions individually matter, and where the behavior of any one participant influences choices of the other participants.
Game theory is the study of how people play games. A game consists of the players, their information and available actions, and payoffs.
In a matrix payoff game, all actions are chosen simultaneously. The row player chooses a row in a matrix; the column player simultaneously chooses a column. The outcome of the game is a pair of payoffs where the first entry is the payoff of the row player, and the second is the payoff of the column player.
In the prisoner's dilemma, two criminals named Row and Column have been apprehended by the police and are being questioned separately. They are jointly guilty of the crime. Each player can choose either to confess or not. Each player individually benefits from confessing, but together they are harmed.
A dominant strategy is a strategy that is best for a player no matter what others choose.
Iterated elimination of dominated strategies first removes strategies dominated by others, then checks if any new strategies are dominated and removes them, and so on. In many cases, iterated elimination of dominated strategies solves a game.