6.1: States of Consciousness
Last updated
Page ID

11984
\( \newcommand{\vecs}[1]{\overset { \scriptstyle \rightharpoonup} {\mathbf{#1}} } \) \( \newcommand{\vecd}[1]{\overset{-\!-\!\rightharpoonup}{\vphantom{a}\smash {#1}}} \)\(\newcommand{\id}{\mathrm{id}}\) \( \newcommand{\Span}{\mathrm{span}}\) \( \newcommand{\kernel}{\mathrm{null}\,}\) \( \newcommand{\range}{\mathrm{range}\,}\) \( \newcommand{\RealPart}{\mathrm{Re}}\) \( \newcommand{\ImaginaryPart}{\mathrm{Im}}\) \( \newcommand{\Argument}{\mathrm{Arg}}\) \( \newcommand{\norm}[1]{\| #1 \|}\) \( \newcommand{\inner}[2]{\langle #1, #2 \rangle}\) \( \newcommand{\Span}{\mathrm{span}}\) \(\newcommand{\id}{\mathrm{id}}\) \( \newcommand{\Span}{\mathrm{span}}\) \( \newcommand{\kernel}{\mathrm{null}\,}\) \( \newcommand{\range}{\mathrm{range}\,}\) \( \newcommand{\RealPart}{\mathrm{Re}}\) \( \newcommand{\ImaginaryPart}{\mathrm{Im}}\) \( \newcommand{\Argument}{\mathrm{Arg}}\) \( \newcommand{\norm}[1]{\| #1 \|}\) \( \newcommand{\inner}[2]{\langle #1, #2 \rangle}\) \( \newcommand{\Span}{\mathrm{span}}\)\(\newcommand{\AA}{\unicode[.8,0]{x212B}}\)
By Robert Biswas-Diener and Jake Teeny
Define consciousness and distinguish between high and low conscious states
Explain the relationship between consciousness and bias
Understand the difference between popular portrayals of hypnosis and how it is currently used therapeutically
Introduction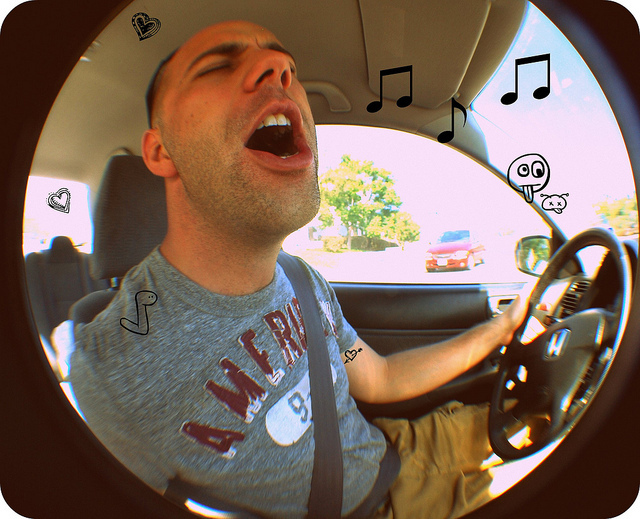 Levels of Awareness
Low Awareness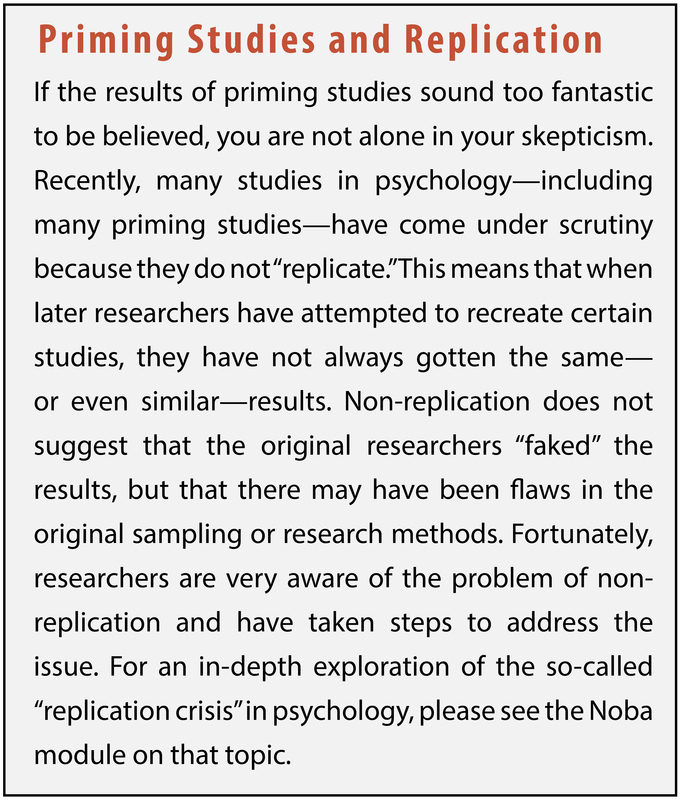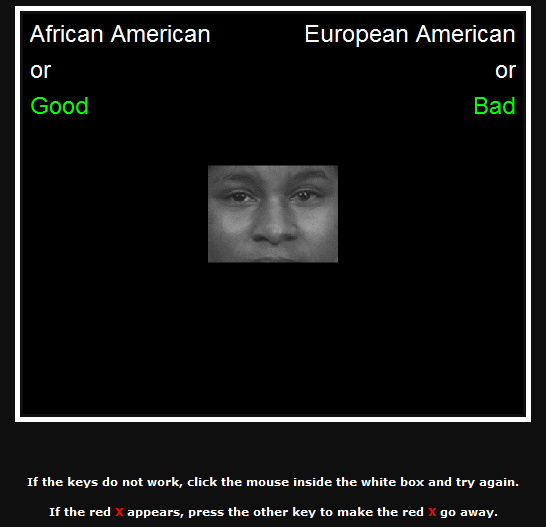 High Awareness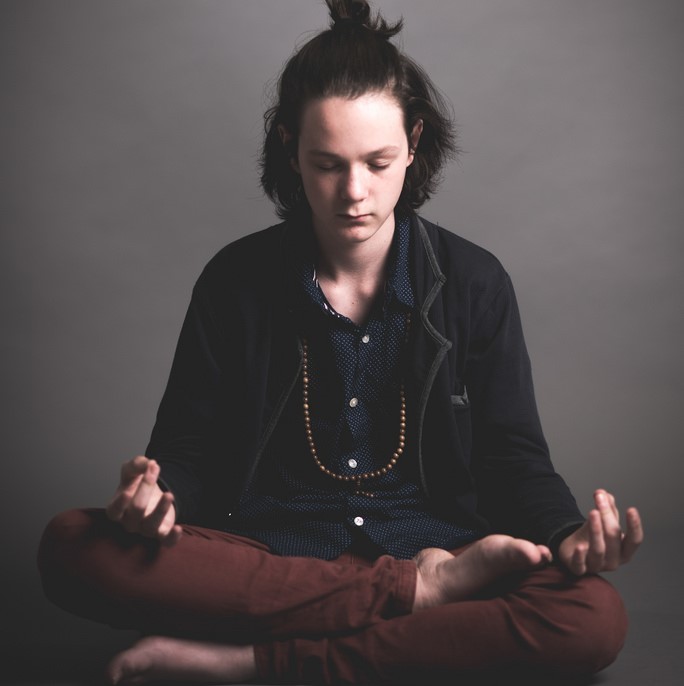 Other States of Consciousness
Hypnosis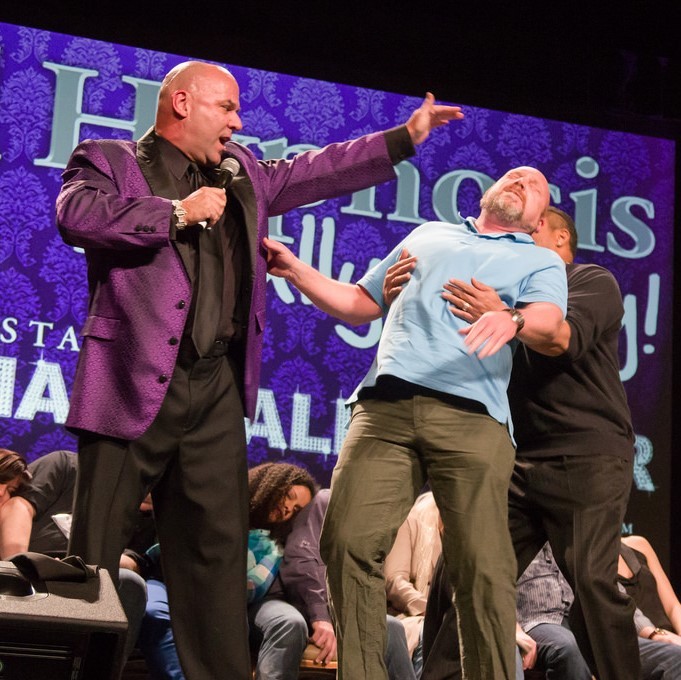 Sleep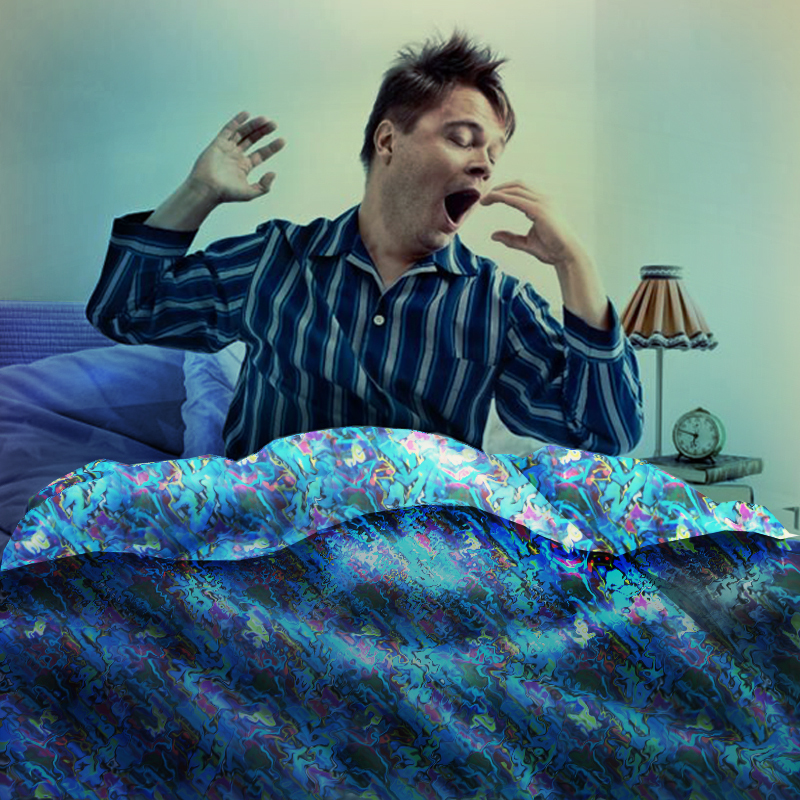 Stage 1 (called NREM 1, or N1) is the "falling asleep" stage and is marked by theta waves.
Stage 2 (called NREM 2, or N2) is considered a light sleep. Here, there are occasional "sleep spindles," or very high intensity brain waves. These are thought to be associated with the processing of memories. NREM 2 makes up about 55% of all sleep.
Stage 3 (called NREM 3, or N3) makes up between 20-25% of all sleep and is marked by greater muscle relaxation and the appearance of delta waves.
Finally, REM sleep is marked by rapid eye movement (REM). Interestingly, this stage—in terms of brain activity—is similar to wakefulness. That is, the brain waves occur less intensely than in other stages of sleep. REM sleep accounts for about 20% of all sleep and is associated with dreaming.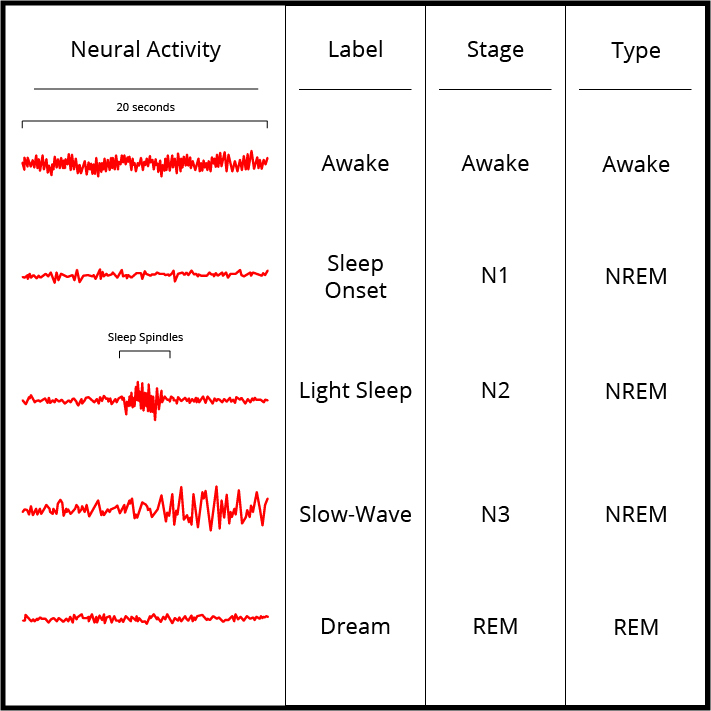 Psychoactive Drugs
Hallucinogens
Depressants
Stimulants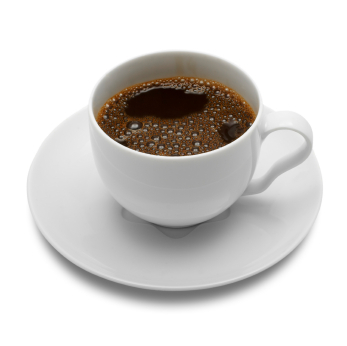 Conclusion
Outside Resources
App: Visual illusions for the iPad.

Book: A wonderful book about how little we know about ourselves: Wilson, T. D. (2004). Strangers to ourselves. Cambridge, MA: Harvard University Press.

Book: Another wonderful book about free will—or its absence?: Wegner, D. M. (2002). The illusion of conscious will. Cambridge, MA: MIT Press.

Information on alcoholism, alcohol abuse, and treatment:

The American Psychological Association has information on getting a good night's sleep as well as on sleep disorders

The LSD simulator: This simulator uses optical illusions to simulate the halluginogenic experience of LSD. Simply follow the instructions in this two minute video. After looking away you may see the world around you in a warped or pulsating way similar to the effects of LSD. The effect is temporary and will disappear in about a minute.

The National Sleep Foundation is a non-profit with videos on insomnia, sleep training in children, and other topics

Video: An artist who periodically took LSD and drew self-portraits:

Video: An interesting video on attention:

Video: Clip on out-of-body experiences induced using virtual reality.

Video: Clip on the rubber hand illusion, from the BBC science series \\\\\\\"Horizon.\\\\\\\"

Video: Clip showing a patient with blindsight, from the documentary \\\\\\\"Phantoms in the Brain.\\\\\\\"

Video: Demonstration of motion-induced blindness - Look steadily at the blue moving pattern. One or more of the yellow spots may disappear:

Video: Howie Mandel from America\\\'s Got Talent being hypnotized into shaking hands with people:

Video: Imaging the Brain, Reading the Mind - A talk by Marsel Mesulam.

Video: Lucas Handwerker – a stage hypnotist discusses the therapeutic aspects of hypnosis:

Video: Ted Talk - Simon Lewis: Don\\\\\\\'t take consciousness for granted

Video: TED Talk on Dream Research:

Video: The mind-body problem - An interview with Ned Block:

Want a quick demonstration of priming? (Want a quick demonstration of how powerful these effects can be? Check out:

Web: A good overview of priming:

en.Wikipedia.org/wiki/Priming_(psychology)

Web: Definitions of Consciousness:

Web: Learn more about motion-induced blindness on Michael Bach\\\\\\\'s website:
Discussion Questions
If someone were in a coma after an accident, and you wanted to better understand how "conscious" or aware s/he were, how might you go about it?
What are some of the factors in daily life that interfere with people's ability to get adequate sleep? What interferes with your sleep?
How frequently do you remember your dreams? Do you have recurring images or themes in your dreams? Why do you think that is?
Consider times when you fantasize or let your mind wander? Describe these times: are you more likely to be alone or with others? Are there certain activities you engage in that seem particularly prone to daydreaming?
A number of traditional societies use consciousness altering substances in ceremonies. Why do you think they do this?
Do you think attitudes toward drug use are changing over time? If so, how? Why do you think these changes occur?
Students in high school and college are increasingly using stimulants such as Adderol as study aids and "performance enhancers." What is your opinion of this trend?
Vocabulary
Blood Alcohol Content (BAC)

Blood Alcohol Content (BAC): a measure of the percentage of alcohol found in a person's blood. This measure is typically the standard used to determine the extent to which a person is intoxicated, as in the case of being too impaired to drive a vehicle.

Circadian Rhythm

Circadian Rhythm: The physiological sleep-wake cycle. It is influenced by exposure to sunlight as well as daily schedule and activity. Biologically, it includes changes in body temperature, blood pressure and blood sugar.

Consciousness

Consciousness: the awareness or deliberate perception of a stimulus

Cues

Cues: a stimulus that has a particular significance to the perceiver (e.g., a sight or a sound that has special relevance to the person who saw or heard it)

Depressants

Depressants: a class of drugs that slow down the body's physiological and mental processes.

Dissociation

Dissociation: the heightened focus on one stimulus or thought such that many other things around you are ignored; a disconnect between one's awareness of their environment and the one object the person is focusing on

Euphoria

Euphoria: an intense feeling of pleasure, excitement or happiness.

Flexible Correction Model

Flexible Correction Model: the ability for people to correct or change their beliefs and evaluations if they believe these judgments have been biased (e.g., if someone realizes they only thought their day was great because it was sunny, they may revise their evaluation of the day to account for this "biasing" influence of the weather)

Hallucinogens

Hallucinogens: substances that, when ingested, alter a person's perceptions, often by creating hallucinations that are not real or distorting their perceptions of time.

Hypnosis

Hypnosis: the state of consciousness whereby a person is highly responsive to the suggestions of another; this state usually involves a dissociation with one's environment and an intense focus on a single stimulus, which is usually accompanied by a sense of relaxation

Hypnotherapy

Hypnotherapy: The use of hypnotic techniques such as relaxation and suggestion to help engineer desirable change such as lower pain or quitting smoking.

Implicit Associations Test

Implicit Associations Test (IAT): A computer reaction time test that measures a person's automatic associations with concepts. For instance, the IAT could be used to measure how quickly a person makes positive or negative evaluations of members of various ethnic groups.

Jet Lag

Jet Lag: The state of being fatigued and/or having difficulty adjusting to a new time zone after traveling a long distance (across multiple time zones).

Melatonin

Melatonin: A hormone associated with increased drowsiness and sleep.

Mindfulness

Mindfulness: a state of heightened focus on the thoughts passing through one's head, as well as a more controlled evaluation of those thoughts (e.g., do you reject or support the thoughts you're having?)

Priming

Priming: the activation of certain thoughts or feelings that make them easier to think of and act upon

Stimulants

Stimulants: a class of drugs that speed up the body's physiological and mental processes.

Trance States

Trance: a state of consciousness characterized by the experience of "out-of-body possession," or an acute dissociation between one's self and the current, physical environment surrounding them.
References
Abbot, N. C., Stead, L. F., White, A. R., Barnes, J., & Ernst, E. (1998). Hypnotherapy for smoking cessation. Cochrane Database of Systematic Reviews, 2.
Bargh, J. A., Chen, M., & Burrows, L. (1996). Automaticity of social behavior: Direct effects of trait construct and stereotype activation on action. Journal of Personality and Social Psychology, 71(2), 230.
Buboltz, W., Brown, F. & Soper, B. (2001). Sleep habits and patterns of college students: A preliminary study. Journal of American College Health, 50, 131-135.
Chaiken, S. (1980). Heuristic versus systematic information processing and the use of source versus message cues in persuasion. Journal of Personality and Social Psychology, 39(5), 752.
Ewin, D. M. (1978). Clinical use of hypnosis for attenuation of burn depth. Hypnosis at its Bicentennial-Selected Papers from the Seventh International Congress of Hypnosis and Psychosomatic Medicine. New York: Plenum Press.
Freud, S. (2001). The Standard Edition of the Complete Psychological Works of Sigmund Freud: The Interpretation of Dreams (First Part) (Vol. 4). Random House.
Gilbert, D. T., & Hixon, J. G. (1991). The trouble of thinking: activation and application of stereotypic beliefs. Journal of Personality and Social Psychology, 60(4), 509.
Greenwald, A. G., & Farnham, S. D. (2000). Using the Implicit Association Test to measure self-esteem and self-concept. Journal of Personality and Social Psychology, 79, 1022-1038.
Greenwald, A. G., McGhee, D. E., & Schwartz, J. K. L. (1998). Measuring individual differences in implicit cognition: The Implicit Association Test. Journal of Personality and Social Psychology, 74, 1464-1480.
Kihlstrom, J.F. (2003). Hypnosis and memory. In J.F. Byrne (Ed.), Learning and memory, 2nd ed. (pp. 240-242). Farmington Hills, Mi.: Macmillan Reference
Kirsch, I., & Lynn, S. J. (1995). Altered state of hypnosis: Changes in the theoretical landscape. American Psychologist, 50(10), 846.
Lynn S. J., and Kirsch I. (2006). Essentials of clinical hypnosis. Washington, DC: American Psychological Association.
Lynn, S. J., Rhue, J. W., & Weekes, J. R. (1990). Hypnotic involuntariness: A social-cognitive analysis. Psychological Review, 97, 169–184.
Manoach, D. S., Thakkar, K. N., Stroynowski, E., Ely, A., McKinley, S. K., Wamsley, E., ... & Stickgold, R. (2010). Reduced overnight consolidation of procedural learning in chronic medicated schizophrenia is related to specific sleep stages. Journal of Psychiatric Research, 44(2), 112-120.
Nosek, B. A., Banaji, M. R., & Greenwald, A. G. (2002). Harvesting implicit group attitudes and beliefs from a demonstration website. Group Dynamics, 6(1), 101-115.
Patterson, D. R., Everett, J. J., Burns, G. L., & Marvin, J. A. (1992). Hypnosis for the treatment of burn pain. Journal of Consulting and Clinical Psychology, 60, 713-17
Pekala, R. J., Kumar, V. K., Maurer, R., Elliott-Carter, N., Moon, E., & Mullen, K. (2010). Suggestibility, expectancy, trance state effects, and hypnotic depth: I. Implications for understanding hypnotism. American Journal of Clinical Hypnosis, 52(4), 275-290.
Petty, R. E., & Cacioppo, J. T. (1986). The Elaboration Likelihood Model of persuasion. In L. Berkowitz (Ed.), Advances in Experimental Social Psychology (Vol. 19, pp. 123-205). New York: Academic Press.
Raichle, M. E. (2015). The brain's default mode network. Annual Review of Neuroscience, 38, 433-447.
Stewart, B. & Kleinhues, P. (2003). World cancer report. World Health Organization.
Syrjala, K. L., Cummings, C., & Donaldson, G. W. (1992). Hypnosis or cognitive behavioral training for the reduction of pain and nausea during cancer treatment: A controlled clinical trial. Pain, 48, 137-46.
Wegener, D. T., & Petty, R. E. (1997). The flexible correction model: The role of naive theories of bias in bias correction. Advances in Experimental Social Psychology, 29, 142-208.
Wickramasekera II, I. E., & Szlyk, J. (2003). Could empathy be a predictor of hypnotic ability? International Journal of Clinical and Experimental Hypnosis, 51(4), 390–399.
Williams, L. E., & Bargh, J. A. (2008). Experiencing physical warmth promotes interpersonal warmth. Science, 322(5901), 606-607.
Öhman, A., & Soares, J. J. (1994). \"Unconscious anxiety\": phobic responses to masked stimuli. Journal of Abnormal Psychology, 103(2), 231.
Šušmáková, K., & Krakovská, A. (2008). Discrimination ability of individual measures used in sleep stages classification. Artificial Intelligence in Medicine, 44(3), 261-277.