10.3: Optimal Levels of Happiness
Last updated
Page ID

10657
\( \newcommand{\vecs}[1]{\overset { \scriptstyle \rightharpoonup} {\mathbf{#1}} } \) \( \newcommand{\vecd}[1]{\overset{-\!-\!\rightharpoonup}{\vphantom{a}\smash {#1}}} \)\(\newcommand{\id}{\mathrm{id}}\) \( \newcommand{\Span}{\mathrm{span}}\) \( \newcommand{\kernel}{\mathrm{null}\,}\) \( \newcommand{\range}{\mathrm{range}\,}\) \( \newcommand{\RealPart}{\mathrm{Re}}\) \( \newcommand{\ImaginaryPart}{\mathrm{Im}}\) \( \newcommand{\Argument}{\mathrm{Arg}}\) \( \newcommand{\norm}[1]{\| #1 \|}\) \( \newcommand{\inner}[2]{\langle #1, #2 \rangle}\) \( \newcommand{\Span}{\mathrm{span}}\) \(\newcommand{\id}{\mathrm{id}}\) \( \newcommand{\Span}{\mathrm{span}}\) \( \newcommand{\kernel}{\mathrm{null}\,}\) \( \newcommand{\range}{\mathrm{range}\,}\) \( \newcommand{\RealPart}{\mathrm{Re}}\) \( \newcommand{\ImaginaryPart}{\mathrm{Im}}\) \( \newcommand{\Argument}{\mathrm{Arg}}\) \( \newcommand{\norm}[1]{\| #1 \|}\) \( \newcommand{\inner}[2]{\langle #1, #2 \rangle}\) \( \newcommand{\Span}{\mathrm{span}}\)\(\newcommand{\AA}{\unicode[.8,0]{x212B}}\)
By Shigehiro Oishi
Learn about the research on the relationship between happiness and important life outcomes.
Learn about the levels of happiness that are associated with the highest levels of outcomes.
Introduction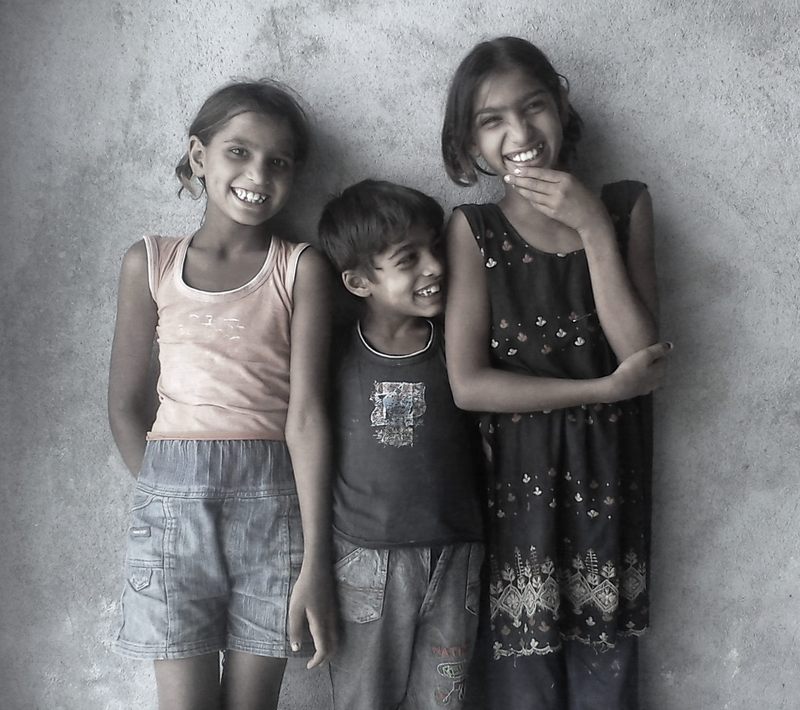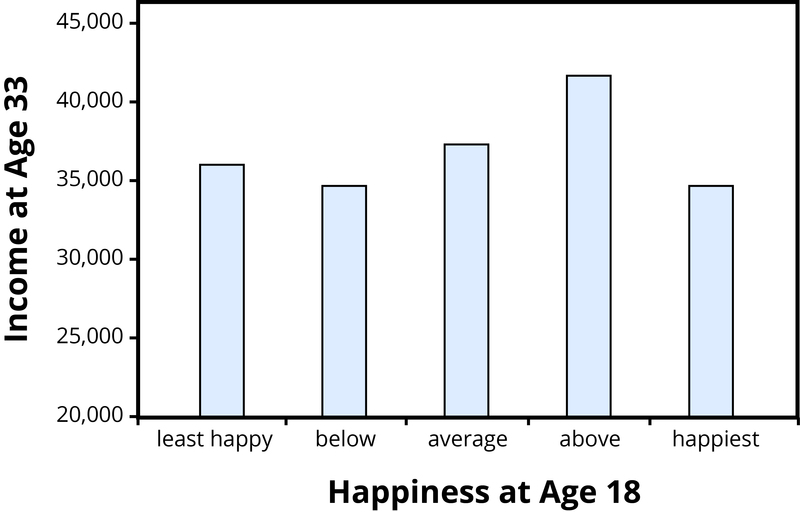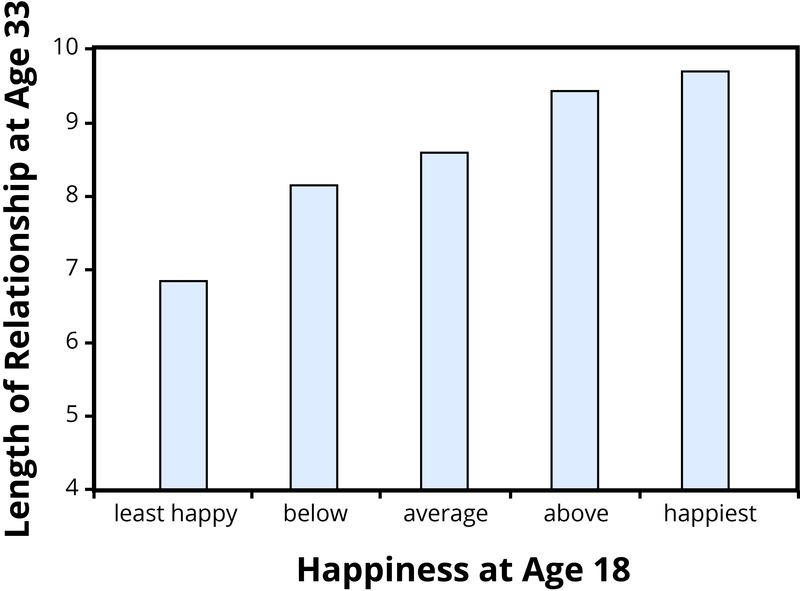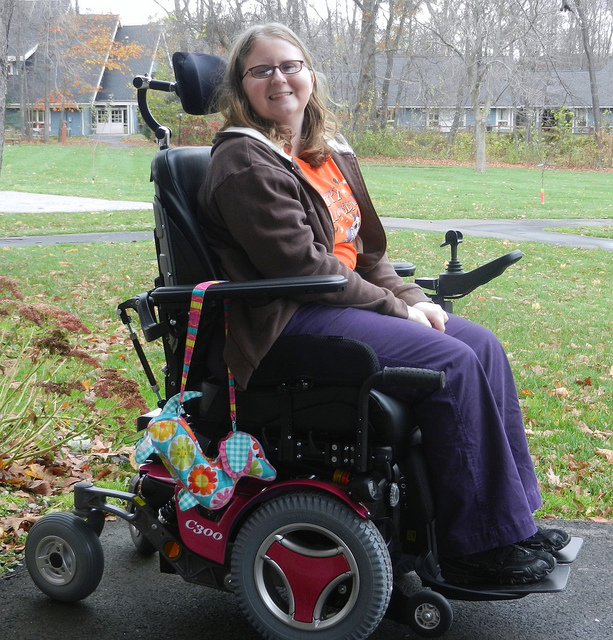 Conclusion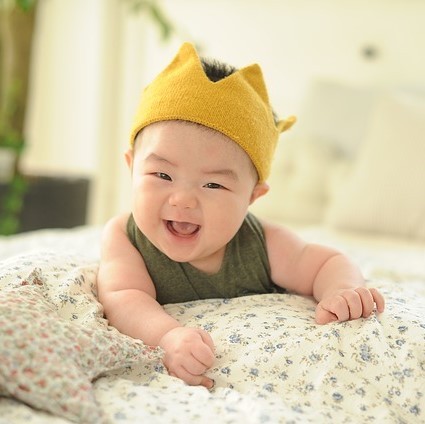 Discussion Questions
Why do you think that the optimal level of happiness is the moderate level of happiness for future income, and the highest education achieved? Can you think of any other reasons than the ones described in this module why this is the case?
Do you think that the optimal level of happiness differs, not only across life domains, but across cultures? If so, how? In which culture, might the optimal level of happiness be lower? Higher? Why?
What might be the optimal level of happiness for health and longevity? Highest possible level of happiness or moderate level? Why do you think so?
Vocabulary
Happiness

A state of well-being characterized by relative permanence, by dominantly agreeable emotion ranging in value from mere contentment to deep and intense joy in living, and by a natural desire for its continuation.

Life domains

Various domains of life, such as finances and job.

Life satisfaction

The degree to which one is satisfied with one's life overall.

Optimal level

The level that is the most favorable for an outcome.
References
Carlson, M., Charlin, V., & Miller, N. (1988). Positive mood and helping behavior: A test of six hypotheses. Journal of Personality and Social Psychology, 55, 211–229.
Cropanzano, R., & Wright, T. A. (1999). A 5-year study of change in the relationship between well-being and job performance. Consulting Psychology Journal: Practice and Research, 51, 252–265.
Diener, E., & Biswas-Diener, R. (2008). Happiness: Unlocking the mysteries of psychological wealth. Malden, MA: Blackwell.
Diener, E., Nickerson, C., Lucas, R. E., & Sandvik, E. (2002). Dispositional affect and job outcomes. Social Indicators Research, 59, 229–259
Diener, E., Suh, E. M., Lucas, R. E., & Smith, H. L. (1999). Subjective well-being: Three decades of progress. Psychological Bulletin, 125, 276–302.
Lucas, R. E., Clark, A. E., Georgellis, Y., & Diener, E. (2003). Reexamining adaptation and the set point model of happiness: Reactions to changes in marital status. Journal of Personality and Social Psychology, 84, 527–539.
Lyubomirsky, S., King, L., & Diener, E. (2005). The benefits of frequent positive affect: Does happiness lead to success? Psychological Bulletin, 131, 803–855.
McClelland, D. C. (1961). The achieving society. New York, NY: D. Van Nostrand Co.
Murray, S. L., Holmes, J. G., & Griffin, D. W. (2003). Reflections on the self-fulfilling effects of positive illusions. Psychological Inquiry, 14, 289–295.
Oishi, S., & Koo, M. (2008). Two new questions about happiness: "Is happiness good?" and "Is happier better?" In M. Eid & R. J. Larsen. (Eds.), Handbook of subjective well-being (pp. 290–306). New York: Oxford University Press.
Oishi, S., Diener, E., & Lucas, R. E. (2007). The optimal level of well-being: Can we be too happy? Perspectives on Psychological Science, 2, 346–360.
Pressman, S. D., & Cohen, S. (2012). Positive emotion use and longevity in famous deceased psychologists. Health Psychology, 31, 297–305.
Roberts, B. W., Caspi, A., & Moffitt, T. E. (2003). Work experiences and personality development in young adulthood. Journal of Personality and Social Psychology, 84, 582–593.
Thomson, J. A. K. (1953). The ethics of Aristotle: The Nicomachean ethics. London, U.K.: Penguin Books.
Veenhoven, R. (1989). How harmful is happiness? Consequences of enjoying life or not. Rotterdam: University Pers Roterdam.