Page ID

10642
\( \newcommand{\vecs}[1]{\overset { \scriptstyle \rightharpoonup} {\mathbf{#1}} } \) \( \newcommand{\vecd}[1]{\overset{-\!-\!\rightharpoonup}{\vphantom{a}\smash {#1}}} \)\(\newcommand{\id}{\mathrm{id}}\) \( \newcommand{\Span}{\mathrm{span}}\) \( \newcommand{\kernel}{\mathrm{null}\,}\) \( \newcommand{\range}{\mathrm{range}\,}\) \( \newcommand{\RealPart}{\mathrm{Re}}\) \( \newcommand{\ImaginaryPart}{\mathrm{Im}}\) \( \newcommand{\Argument}{\mathrm{Arg}}\) \( \newcommand{\norm}[1]{\| #1 \|}\) \( \newcommand{\inner}[2]{\langle #1, #2 \rangle}\) \( \newcommand{\Span}{\mathrm{span}}\) \(\newcommand{\id}{\mathrm{id}}\) \( \newcommand{\Span}{\mathrm{span}}\) \( \newcommand{\kernel}{\mathrm{null}\,}\) \( \newcommand{\range}{\mathrm{range}\,}\) \( \newcommand{\RealPart}{\mathrm{Re}}\) \( \newcommand{\ImaginaryPart}{\mathrm{Im}}\) \( \newcommand{\Argument}{\mathrm{Arg}}\) \( \newcommand{\norm}[1]{\| #1 \|}\) \( \newcommand{\inner}[2]{\langle #1, #2 \rangle}\) \( \newcommand{\Span}{\mathrm{span}}\)\(\newcommand{\AA}{\unicode[.8,0]{x212B}}\)
By Simona Buetti and Alejandro Lleras
Describe how the eye transforms light information into neural energy.
Understand what sorts of information the brain is interested in extracting from the environment and why it is useful.
Describe how the visual system has adapted to deal with different lighting conditions.
Understand the value of having two eyes.
Understand why we have color vision.
Understand the interdependence between vision and other brain functions.
What Is Vision?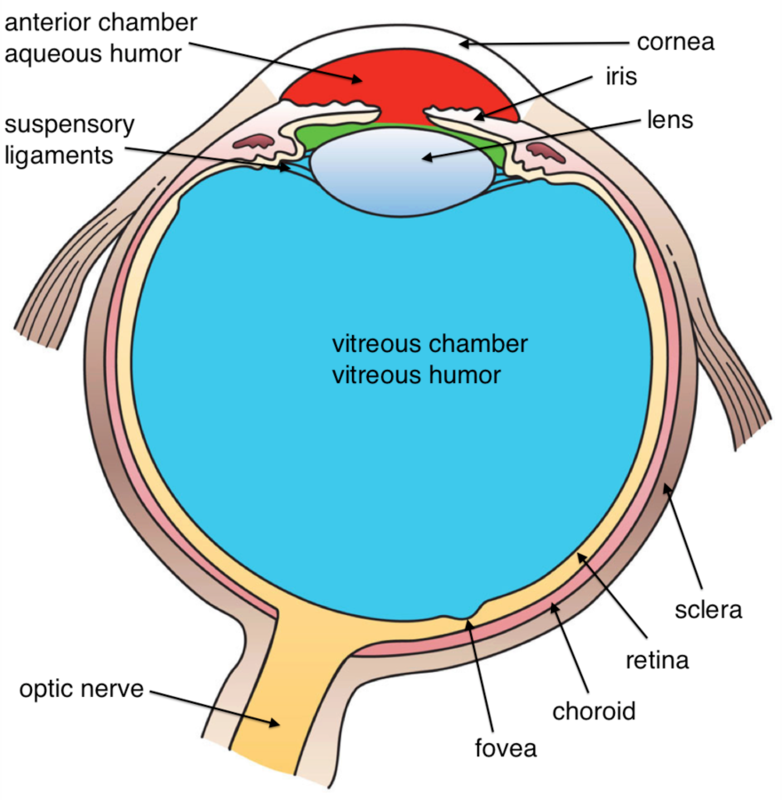 The Importance of Contrast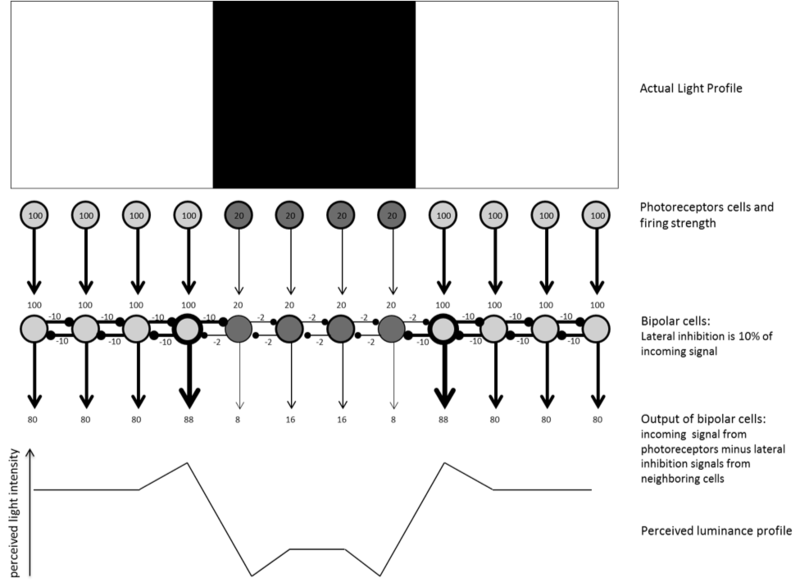 Sensitivity to Different Light Conditions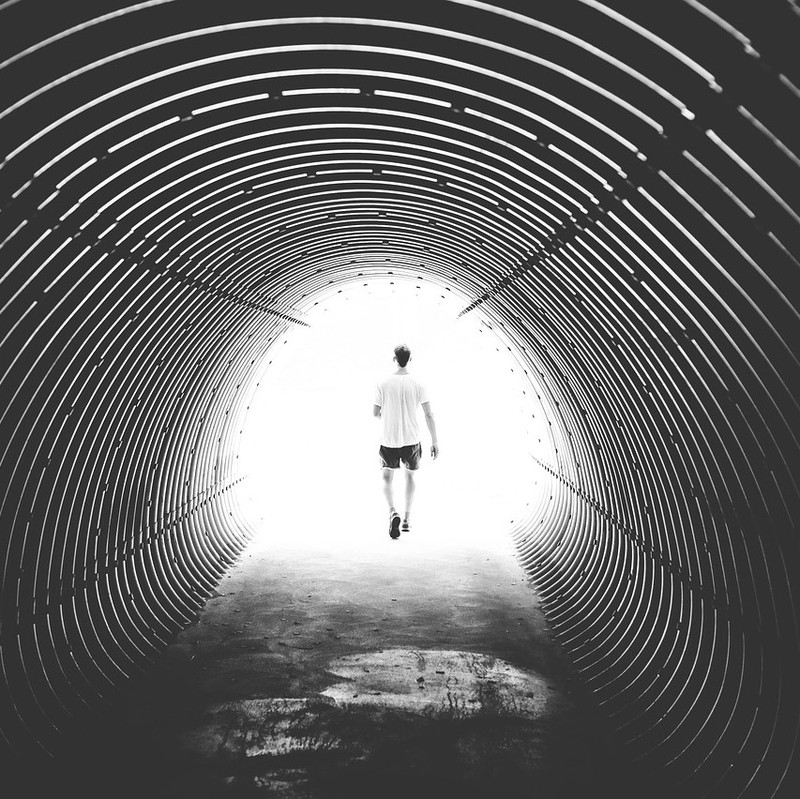 The Reconstruction Process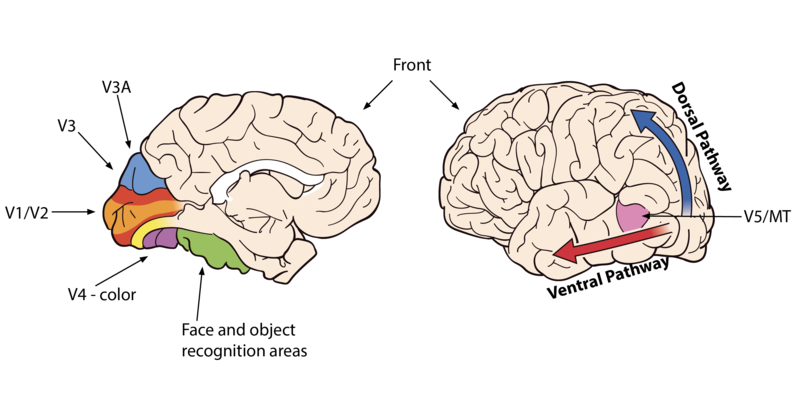 The Experience of Color
Integration with Other Modalities
Concluding Remarks
Outside Resources
Video: Acquired knowledge and its impact on our three-dimensional interpretation of the world - 3D Street Art

Video: Acquired knowledge and its impact on our three-dimensional interpretation of the world - Anamorphic Illusions

Video: Acquired knowledge and its impact on our three-dimensional interpretation of the world - Optical Illusion

Web: Amazing library with visual phenomena and optical illusions, explained

Web: Anatomy of the eye

Web: Demonstration of contrast gain adaptation

Web: Demonstration of illusory contours and lateral inhibition. Mach bands

Web: Demonstration of illusory contrast and lateral inhibition. The Hermann grid

Web: Further information regarding what and where/how pathways
Discussion Questions
When running in the dark, it is recommended that you never look straight at the ground. Why? What would be a better strategy to avoid obstacles?
The majority of ganglion cells in the eye specialize in detecting drops in the amount of light coming from a given location. That is, they increase their firing rate when they detect less light coming from a specific location. Why might the absence of light be more important than the presence of light? Why would it be evolutionarily advantageous to code this type of information?
There is a hole in each one of your eyeballs called the optic disk. This is where veins enter the eyeball and where neurons (the axons of the ganglion cells) exit the eyeball. Why do you not see two holes in the world all the time? Close one eye now. Why do you not see a hole in the world now? To "experience" a blind spot, follow the instructions in this website: http://michaelbach.de/ot/cog_blindSpot/index.html
Imagine you were given the task of testing the color-perception abilities of a newly discovered species of monkeys in the South Pacific. How would you go about it?
An important aspect of emotions is that we sense them in ourselves much in the same way as we sense other perceptions like vision. Can you think of an example where the concept of contrast gain can be used to understand people's responses to emotional events?
Vocabulary
Binocular advantage

Benefits from having two eyes as opposed to a single eye.

Cones

Photoreceptors that operate in lighted environments and can encode fine visual details. There are three different kinds (S or blue, M or green and L or red) that are each sensitive to slightly different types of light. Combined, these three types of cones allow you to have color vision.

Contrast

Relative difference in the amount and type of light coming from two nearby locations.

Contrast gain

Process where the sensitivity of your visual system can be tuned to be most sensitive to the levels of contrast that are most prevalent in the environment.

Dark adaptation

Process that allows you to become sensitive to very small levels of light, so that you can actually see in the near-absence of light.

Lateral inhibition

A signal produced by a neuron aimed at suppressing the response of nearby neurons.

Opponent Process Theory

Theory of color vision that assumes there are four different basic colors, organized into two pairs (red/green and blue/yellow) and proposes that colors in the world are encoded in terms of the opponency (or difference) between the colors in each pair. There is an additional black/white pair responsible for coding light contrast.

Photoactivation

A photochemical reaction that occurs when light hits photoreceptors, producing a neural signal.

Primary visual cortex (V1)

Brain region located in the occipital cortex (toward the back of the head) responsible for processing basic visual information like the detection, thickness, and orientation of simple lines, color, and small-scale motion.

Rods

Photoreceptors that are very sensitive to light and are mostly responsible for night vision.

Synesthesia

The blending of two or more sensory experiences, or the automatic activation of a secondary (indirect) sensory experience due to certain aspects of the primary (direct) sensory stimulation.

Trichromacy theory

Theory that proposes that all of your color perception is fundamentally based on the combination of three (not two, not four) different color signals.

Vestibulo-ocular reflex

Coordination of motion information with visual information that allows you to maintain your gaze on an object while you move.

What pathway

Pathway of neural processing in the brain that is responsible for your ability to recognize what is around you.

Where-and-How pathway

Pathway of neural processing in the brain that is responsible for you knowing where things are in the world and how to interact with them.
References
Enns, J. T., & Lleras, A. (2008). New evidence for prediction in human vision. Trends in Cognitive Sciences, 12¸ 327–333.
Gardner, J. L., Sun, P., Waggoner, R. A. , Ueno, K., Tanaka, K., & Cheng, K. (2005). Contrast adaptation and representation in human early visual cortex. Neuron, 47, 607–620.
Goodale, M. A., & Milner, A. D. (1992). Separate visual pathways for perception and action. Trends in Neuroscience, 15, 20–25.
Helmholtz, H. von. (1867). Handbuch der Physiologischen Optik. Leipzig: Leopold Voss.
Hering, E. (1892). Grundzüge der Lehre vom Lichtsinn. Berlin, Germany: Springer.
Horikawa, T., Tamaki, M., Miyawaki, Y., & Kamitani, Y. (2013). Neural decoding of visual imagery during sleep. Science, 340(6132), 639–642.
Hubel, D. H., & Wiesel, T. N. (1962). Receptive fields, binocular interaction, and functional architecture in the cat's visual cortex. Journal of Physiology, 160, 106–154.
Hurley, J. B. (2002). Shedding light on adaptation. Journal of General Physiology, 119, 125–128.
Nirenberg, S., & Pandarinath, C. (2012). Retinal prosthetic strategy with the capacity to restore normal vision. Proceedings of the National Academy of Sciences, 109 (37), 15012–15017.
Stuart, J. A., & Brige, R. R. (1996). Characterization of the primary photochemical events in bacteriorhodopsin and rhodopsin. In A. G. Lee (Ed.), Rhodopsin and G-protein linked receptors (Part A, Vol. 2, pp. 33–140). Greenwich, CT: JAI.
Svaetichin, G. (1956). Spectral response curves from single cones, Actaphysiologica Scandinavia, Suppl. 134, 17–46.
Young, T. (1802). Bakerian lecture: On the theory of light and colours. Philosophical Transaction of the Royal Society London, 92, 12–48.