5.4: Poor Listening Habits
Last updated
Page ID

107110
\( \newcommand{\vecs}[1]{\overset { \scriptstyle \rightharpoonup} {\mathbf{#1}} } \) \( \newcommand{\vecd}[1]{\overset{-\!-\!\rightharpoonup}{\vphantom{a}\smash {#1}}} \)\(\newcommand{\id}{\mathrm{id}}\) \( \newcommand{\Span}{\mathrm{span}}\) \( \newcommand{\kernel}{\mathrm{null}\,}\) \( \newcommand{\range}{\mathrm{range}\,}\) \( \newcommand{\RealPart}{\mathrm{Re}}\) \( \newcommand{\ImaginaryPart}{\mathrm{Im}}\) \( \newcommand{\Argument}{\mathrm{Arg}}\) \( \newcommand{\norm}[1]{\| #1 \|}\) \( \newcommand{\inner}[2]{\langle #1, #2 \rangle}\) \( \newcommand{\Span}{\mathrm{span}}\) \(\newcommand{\id}{\mathrm{id}}\) \( \newcommand{\Span}{\mathrm{span}}\) \( \newcommand{\kernel}{\mathrm{null}\,}\) \( \newcommand{\range}{\mathrm{range}\,}\) \( \newcommand{\RealPart}{\mathrm{Re}}\) \( \newcommand{\ImaginaryPart}{\mathrm{Im}}\) \( \newcommand{\Argument}{\mathrm{Arg}}\) \( \newcommand{\norm}[1]{\| #1 \|}\) \( \newcommand{\inner}[2]{\langle #1, #2 \rangle}\) \( \newcommand{\Span}{\mathrm{span}}\)
Identify your own poor listening habits.
Understand the types of noise that can affect a listener's ability to attend to a message.
Explain how a listener's attention span can limit the listener's ability to attend to a speaker's message.
Analyze how a listener's personal biases can influence her or his ability to attend to a message.
Define receiver apprehension and the impact it can have on a listener's ability to attend to a message.
Numerous tests confirm that we are inefficient listeners. Studies have shown that immediately after listening to a 10-minute oral presentation, the average listener has heard, understood, and retained 50 percent of what was said. Within 48 hours, that drops off another 50 percent to a final level of 25 percent efficiency. In other words, we often comprehend and retain only one-fourth of what we hear. We all want to be more than 25 percent efficient. Poor listening causes us many personal and professional problems. It's not difficult to see the many problems inefficient listeners can create for themselves and others.
Poor Listening Habits
The International Listening Association identifies many listening habits that can interfere with our ability to listen effectively. Here, we will analyze a few of the most common habits.
Interrupting the Speaker
Conversations unfold as a series of turns, and conversational turn-taking has been likened to a dance where communicators try to avoid stepping on each other's toes. One of the most frequent glitches in the turn-taking process is an interruption, but not all interruptions are considered "bad listening." An interruption could be unintentional if we misread cues and think a person is done speaking only to have him or her start up again at the same time we do. Sometimes interruptions are more like overlapping statements that show support ("I think so too.") or excitement about the conversation ("That's so cool!"). Supportive paralanguage like "uh-huh," as we learned earlier, also overlaps with a speaker's message. All these interruptions are not typically thought of as evidence of bad listening unless they become distracting for the speaker or are unnecessary. Unintentional interruptions can still be considered bad listening if they result from mindless communication. So if you interrupt unintentionally, but because you were only half-listening, then the interruption is still evidence of bad listening. Or if you interrupt the speaker in an attempt to dominate the conversation, you are engaged in poor listening. Hijacking the speaker's message with "That reminds me..." or "That's nothing, let me tell you about..." is evidence of an attempt to hijack the conversation.
Faking attention
Do you have a friend or family member who repeats stories? If so, then you've probably engaged in fake listening as a politeness strategy. Outwardly visible signals of attentiveness are an important part of the listening process, but when they are just an "act," are bad listening behaviors. Although it is a bad listening practice, we all understandably engage in faking attention from time to time, especially if the friend just needs a sounding board and isn't expecting advice or guidance. We may also pseudo-listen to a romantic partner to prevent hurting their feelings. On the other hand, some of us constantly fake attention when we can't really afford to do so, such as in the classroom and at work. We should avoid faking attention as much as possible and should definitely avoid making it a listening habit. Although we may get away with it in some situations, each time we risk being "found out," which could have negative consequences.
Giving in to Internal and External Distractions
Our ability to process more information more quickly than a speaker can talk often leads to internal distractions. While people speak at a rate of 125 to 175 words per minute, we can process between 400 and 800 words per minute. (Owen Hargie, Skilled Interpersonal Interaction: Research, Theory, and Practice (London: Routledge, 2011), 195. This gap between speech rate and thought rate gives us an opportunity to engage in thoughts unrelated to the message. Because of this gap, it is impossible to give one message our "undivided attention," but we can occupy other channels in our minds with thoughts related to the central message. For example, using some of your extra cognitive processing abilities to repeat, rephrase, or reorganize messages coming from one source allows you to use that extra capacity in a way that reinforces the primary message.
A common problem for many in listening is that we give in to external barriers such as technology.
Technology, Multitasking, and Listening
Do you like to listen to music while you do homework? Do you clean your apartment while talking to your mom on the phone? Do you think students should be allowed to use laptops in all college classrooms? Your answers to these questions will point to your preferences for multitasking. If you answered "yes" to most of them, then you are in line with the general practices of the "net generation" of digital natives for whom multitasking, especially with various forms of media, is a way of life. Multitasking is a concept that has been around for a while and emerged along with the increasing expectation that we will fill multiple role demands throughout the day. Multitasking can be pretty straightforward and beneficial—for example, if we listen to motivating music while working out. But multitasking can be very inefficient, especially when one or more of our concurrent tasks are complex or unfamiliar to us. (Fleura Bardhi, Andres J. Rohm, and Fareena Sultan, "Tuning in and Tuning out: Media Multitasking among Young Consumers," Journal of Consumer Behaviour 9 (2010): 318.)
Media multitasking specifically refers to the use of multiple forms of media at the same time, and it can have positive and negative effects on listening. The negative effects of media multitasking have received much attention in recent years, as people question the decreasing attention span within our society. Media multitasking may promote inefficiency because it can lead to distractions and plays a prominent role for many in procrastination. The numerous options for media engagement that we have can also lead to a feeling of chaos as our attention is pulled in multiple directions, creating a general sense of disorder. And many of us feel a sense of enslavement when we engage in media multitasking, as we feel like we can't live without certain personal media outlets.
Media multitasking can also increase efficiency, as people can carry out tasks faster. The links to videos and online articles included in this textbook allow readers like you to quickly access additional information about a particular subject to prepare for a presentation or complete a paper assignment. Media multitasking can also increase engagement. Aside from just reading material in a textbook, students can now access information through an author's blog or Twitter account.
Media multitasking can produce an experience that feels productive, but is it really? What are the consequences of our media- and the technology-saturated world? Although many of us like to think that we're good multitaskers, some research indicates otherwise. For example, student laptop use during class has been connected to lower academic performance. (Carrie B. Fried, "In-Class Laptop Use and Its Effects on Student Learning," Computers and Education 50 (2008): 906–14. This is because media multitasking has the potential to interfere with listening to multiple stages of the process. The study showed that laptop use interfered with receiving, as students using them reported that they paid less attention to the class lectures. This is because students used the laptops for purposes other than taking notes or exploring class content. Of the students using laptops, 81 percent checked the e-mail during lectures, 68 percent used instant messaging, and 43 percent surfed the web. Students using laptops also had difficulty with the interpretation stage of listening, as they found less clarity in the parts of the lecture they heard and did not understand the course material as much as students who didn't use a laptop. The difficulties with receiving and interpreting obviously create issues with recall that can lead to lower academic performance in the class. Laptop use also negatively affected the listening abilities of students not using laptops. These students reported that they were distracted, as their attention was drawn to the laptop screens of other students. Although these examples are about laptops, cell phones have now taken over as likely distractions to listening.
What are some common ways that you engage in media multitasking? What are some positive and negative consequences of your media multitasking?
What strategies do you or could you use to help minimize the negative effects of media multitasking?
Should laptops, smartphones, and other media devices be used by students during college classes? Why or why not? What restrictions or guidelines for use could instructors provide that would capitalize on the presence of such media to enhance student learning and help minimize distractions?
From the book A Primer on Communication Studies (v. 1.0).
Factors that Interfere with Listening
Some of the factors that interfere with good listening might exist beyond our control, but others are manageable. It's helpful to be aware of these factors so that they interfere as little as possible with understanding the message.
Noise
Physical noise consists of various sounds in an environment that interfere with a source's ability to hear. Construction noises right outside a window, planes flying directly overhead, or loud music in the next room can make it difficult to hear the message being presented by a speaker even if a microphone is being used. It is sometimes possible to manage the context to reduce the noise. Closing a window might be helpful. Asking the people in the next room to turn their music down might be possible. Changing to a new location is more difficult, as it involves finding a new location and having everyone get there. If you are responsible for organizing a meeting at work or school, consider the environment and, if possible, choose a setting where external noise won't interfere with communication and listening.
Psychological noise consists of distractions to a speaker's message caused by a receiver's internal thoughts. For example, if you are preoccupied with personal problems, it is difficult to give your full attention to understanding the meanings of a message. The presence of another person to whom you feel attracted, or perhaps a person you dislike intensely, can also be psychosocial noise that draws your attention away from the message.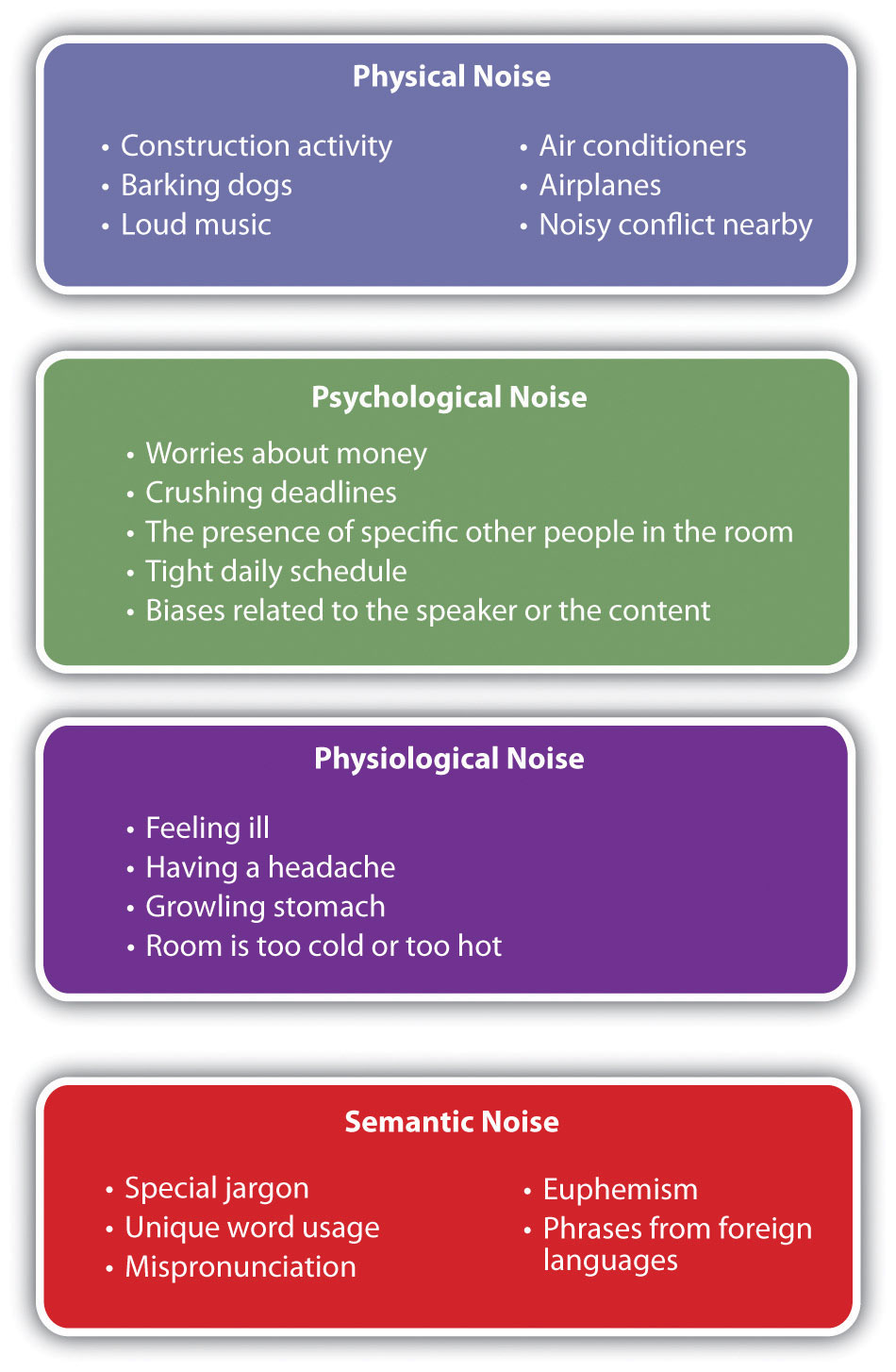 Attention Span
Receiver Biases
Listening or Receiver Apprehension
Key Takeaways
The International Listening Association has identified common habits that can lead to poor listening.
Listeners are often unable to accurately attend to messages because of four types of noise. Physical noise is caused by the physical setting a listener is in. Psychological noise exists within a listener's own mind and prevents him or her from attending to a speaker's message. Physiological noise exists because a listener's body is feeling some sensation that prevents him or her from attending to a speaker's message. Semantic noise is caused by a listener's confusion over the meanings of words used by a speaker.
All audiences have a limited attention span. As a speaker, you must realize how long you can reasonably expect an audience to listen to your message.
Listeners must be aware of the biases they have for speakers and the topics speakers choose. Biases can often prevent a listener from accurately and competently listening to a speaker's actual message.
Receiver apprehension is the fear that a listener might be unable to understand the message, process the information correctly, or adapt thinking to include new information coherently. Speakers need to make sure their messages are appropriate to the audience's knowledge level and clearly define and explain all terms that could lead to increased anxiety.
Learning Activities
In a group, discuss what distracts you most from listening attentively to a speaker. Have you found ways to filter out or manage the distraction?
This chapter refers to psychological noise as one of the distractions you might experience. Identify strategies you have successfully used to minimize the impact of the specific psychological noises you have experienced.
Make a list of biases you might have as a listener. You can think about how you'd answer such questions as, With whom would I refuse to be seen socially or in public? Who would I reject as a trustworthy person to help if I were in danger? What topics do I refuse to discuss? The answers to these questions might provide useful insights into your biases as a listener.