4.1: Basic Demographics
Last updated
Page ID

43759
\( \newcommand{\vecs}[1]{\overset { \scriptstyle \rightharpoonup} {\mathbf{#1}} } \) \( \newcommand{\vecd}[1]{\overset{-\!-\!\rightharpoonup}{\vphantom{a}\smash {#1}}} \)\(\newcommand{\id}{\mathrm{id}}\) \( \newcommand{\Span}{\mathrm{span}}\) \( \newcommand{\kernel}{\mathrm{null}\,}\) \( \newcommand{\range}{\mathrm{range}\,}\) \( \newcommand{\RealPart}{\mathrm{Re}}\) \( \newcommand{\ImaginaryPart}{\mathrm{Im}}\) \( \newcommand{\Argument}{\mathrm{Arg}}\) \( \newcommand{\norm}[1]{\| #1 \|}\) \( \newcommand{\inner}[2]{\langle #1, #2 \rangle}\) \( \newcommand{\Span}{\mathrm{span}}\) \(\newcommand{\id}{\mathrm{id}}\) \( \newcommand{\Span}{\mathrm{span}}\) \( \newcommand{\kernel}{\mathrm{null}\,}\) \( \newcommand{\range}{\mathrm{range}\,}\) \( \newcommand{\RealPart}{\mathrm{Re}}\) \( \newcommand{\ImaginaryPart}{\mathrm{Im}}\) \( \newcommand{\Argument}{\mathrm{Arg}}\) \( \newcommand{\norm}[1]{\| #1 \|}\) \( \newcommand{\inner}[2]{\langle #1, #2 \rangle}\) \( \newcommand{\Span}{\mathrm{span}}\)
LEARNING OBJECTIVE
Who lives in the United States?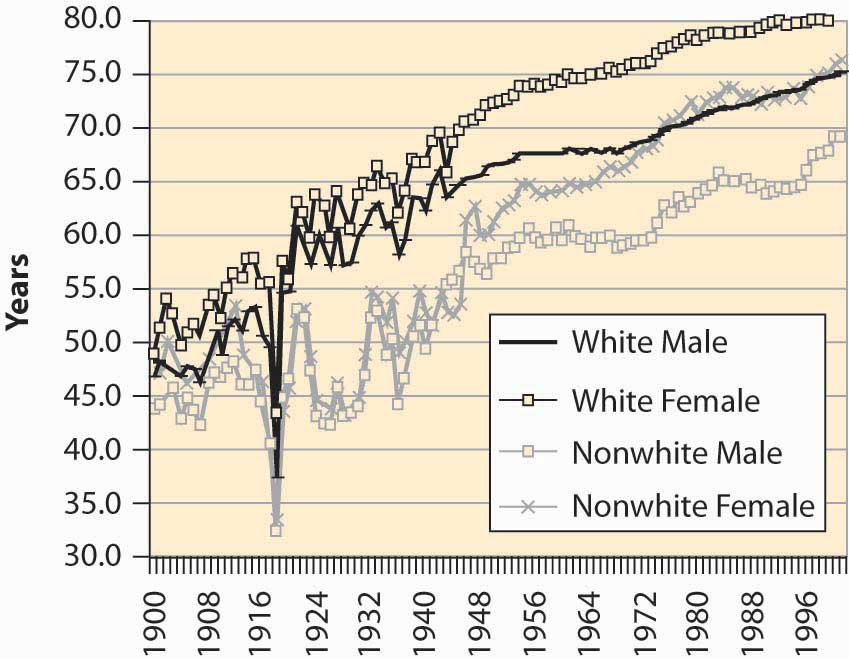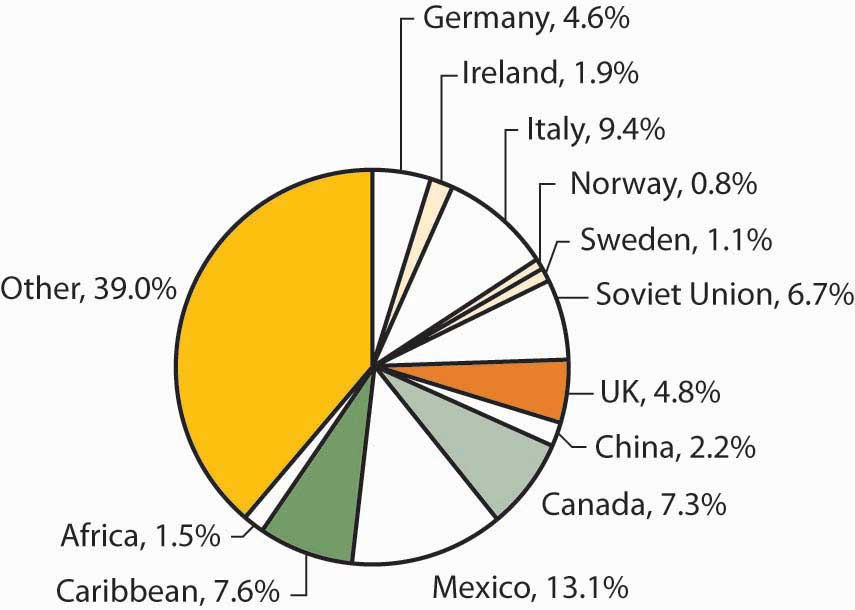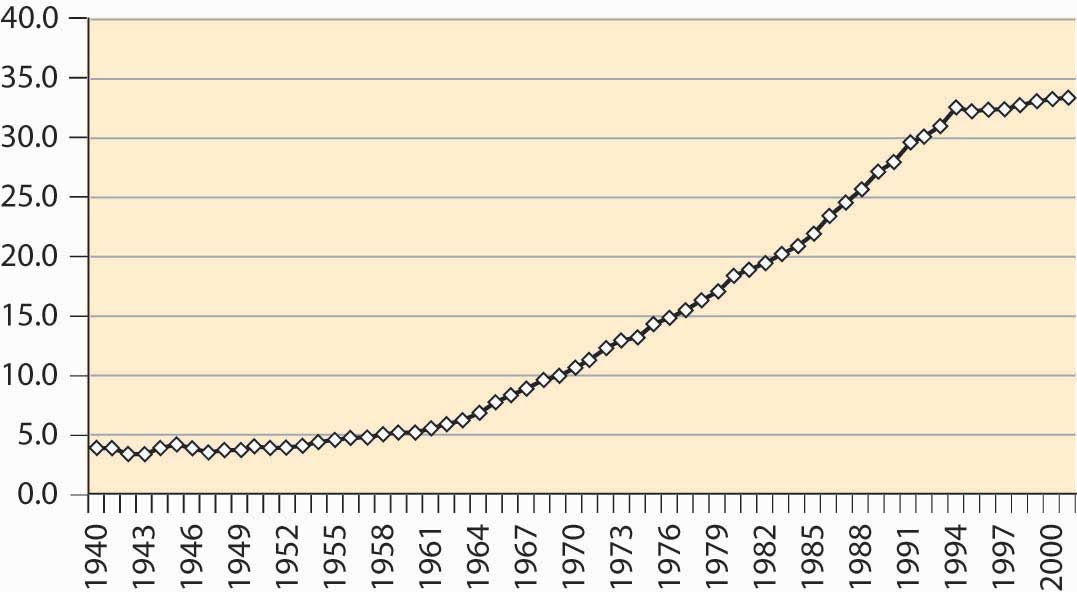 Key Takeaways
No one in his or her right mind memorizes the takeaways of this chapter; the goal is to have a sense of one's nation.
There are about 300 million people in the United States, up from 76 million in 1900.
The U.S. population has become primarily an urban population, growing from 40% to 80% urban in the past century.
The population is primarily white, with 12%–13% African American.
The U.S. population has aged, with the proportion of seniors (over 65 years of age) tripling over the past century, and the proportion of young people dropping by over one-third.
The baby boom was a dramatic increase in births for the years 1946 to 1964.
The aging of the American population is a consequence of greater life expectancy.
About 11% of Americans were born in foreign countries.
The divorced population is about 10%.
Marriage rates have fallen, but primarily because the "never married" category has grown.