4.3: Households and Consumption
Last updated
Page ID

43761
\( \newcommand{\vecs}[1]{\overset { \scriptstyle \rightharpoonup} {\mathbf{#1}} } \) \( \newcommand{\vecd}[1]{\overset{-\!-\!\rightharpoonup}{\vphantom{a}\smash {#1}}} \)\(\newcommand{\id}{\mathrm{id}}\) \( \newcommand{\Span}{\mathrm{span}}\) \( \newcommand{\kernel}{\mathrm{null}\,}\) \( \newcommand{\range}{\mathrm{range}\,}\) \( \newcommand{\RealPart}{\mathrm{Re}}\) \( \newcommand{\ImaginaryPart}{\mathrm{Im}}\) \( \newcommand{\Argument}{\mathrm{Arg}}\) \( \newcommand{\norm}[1]{\| #1 \|}\) \( \newcommand{\inner}[2]{\langle #1, #2 \rangle}\) \( \newcommand{\Span}{\mathrm{span}}\) \(\newcommand{\id}{\mathrm{id}}\) \( \newcommand{\Span}{\mathrm{span}}\) \( \newcommand{\kernel}{\mathrm{null}\,}\) \( \newcommand{\range}{\mathrm{range}\,}\) \( \newcommand{\RealPart}{\mathrm{Re}}\) \( \newcommand{\ImaginaryPart}{\mathrm{Im}}\) \( \newcommand{\Argument}{\mathrm{Arg}}\) \( \newcommand{\norm}[1]{\| #1 \|}\) \( \newcommand{\inner}[2]{\langle #1, #2 \rangle}\) \( \newcommand{\Span}{\mathrm{span}}\)\(\newcommand{\AA}{\unicode[.8,0]{x212B}}\)
How much stuff do we have?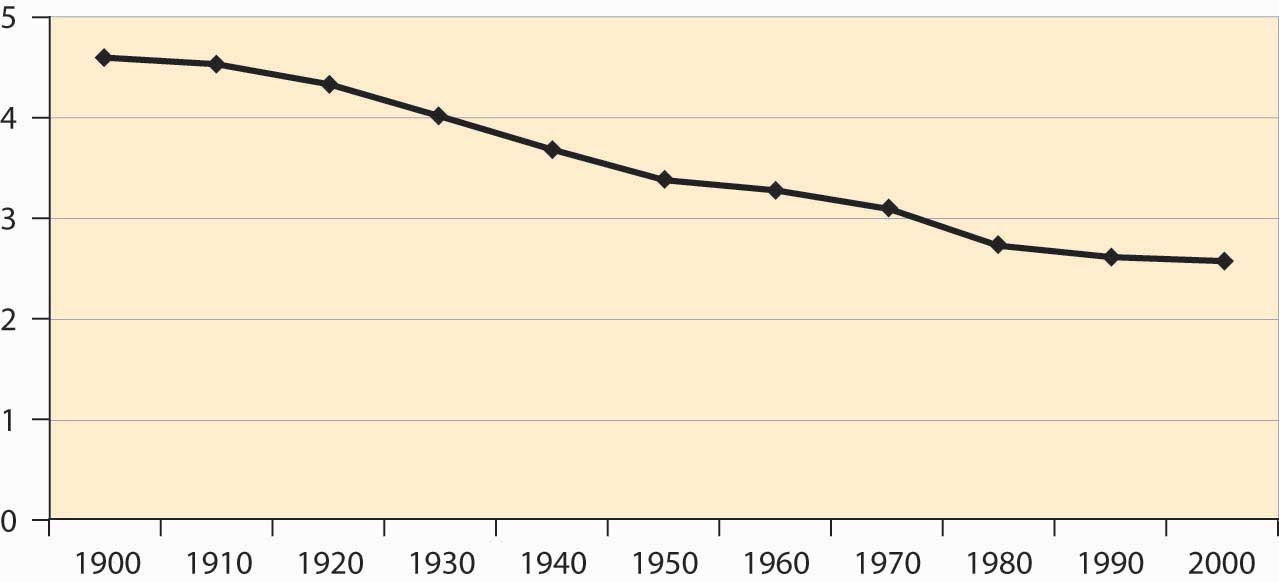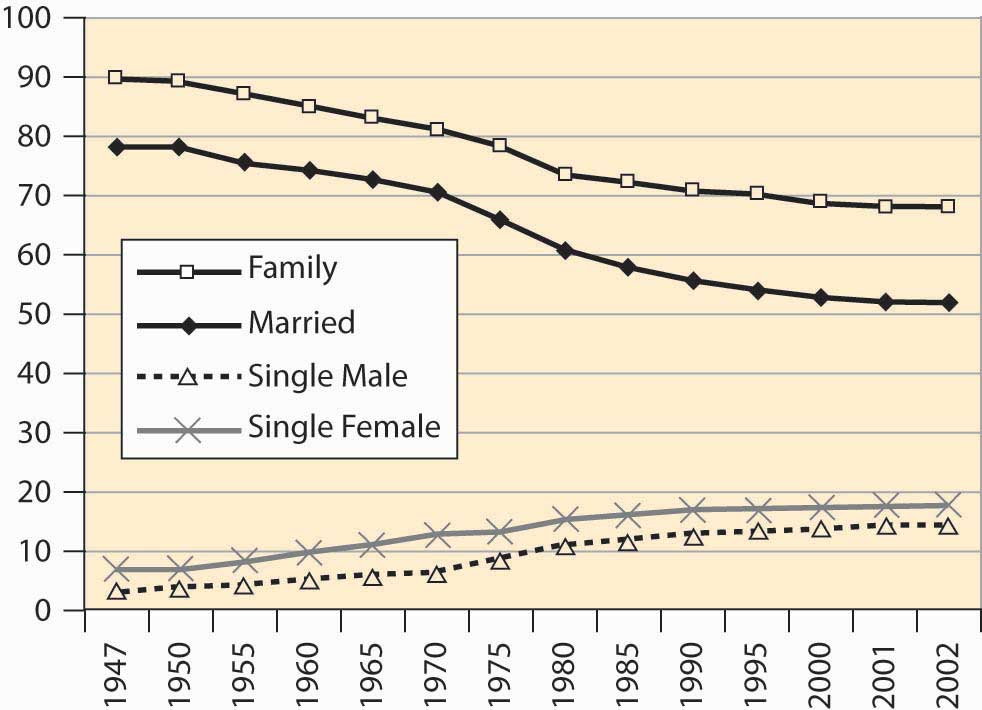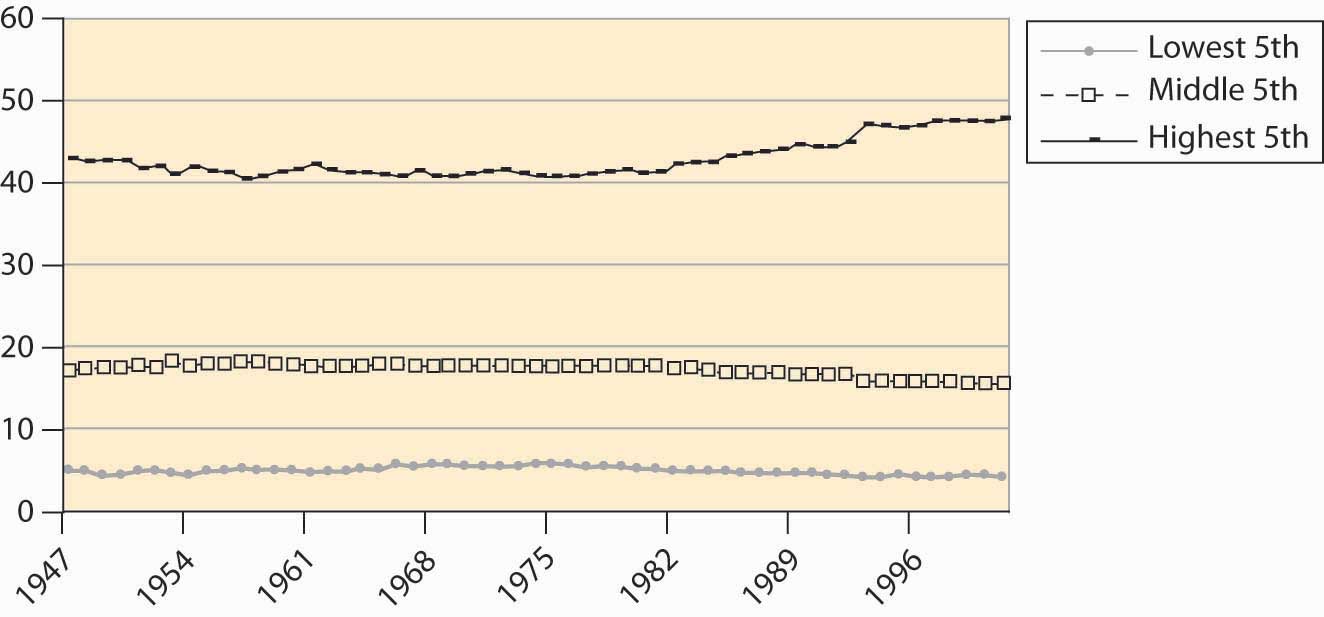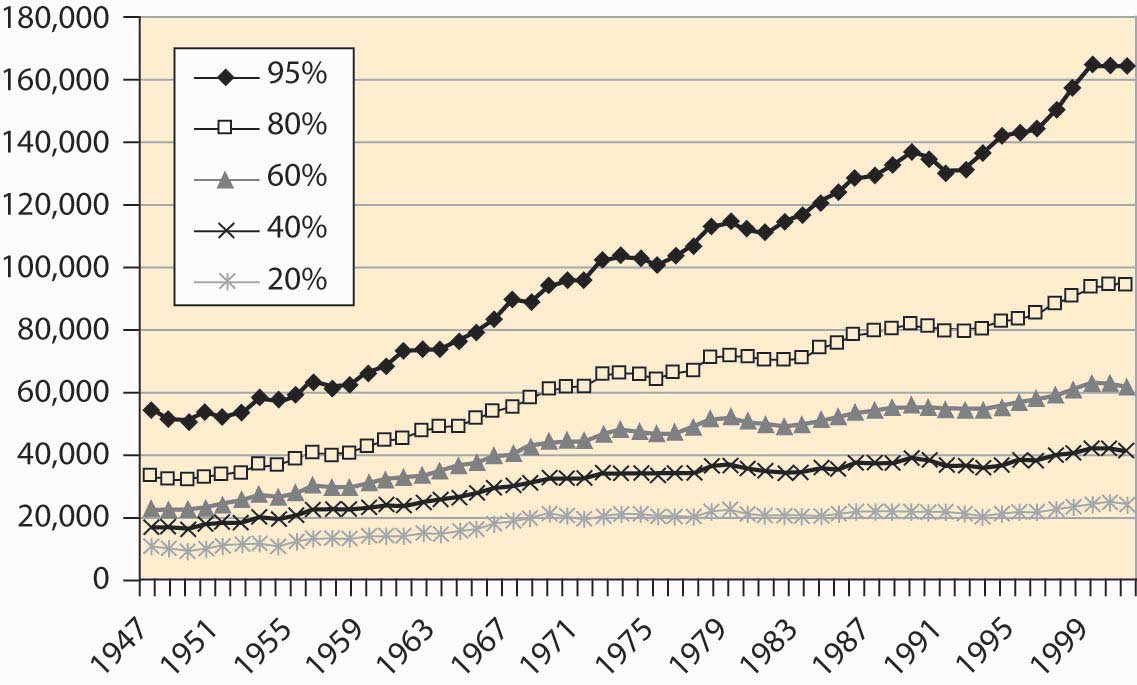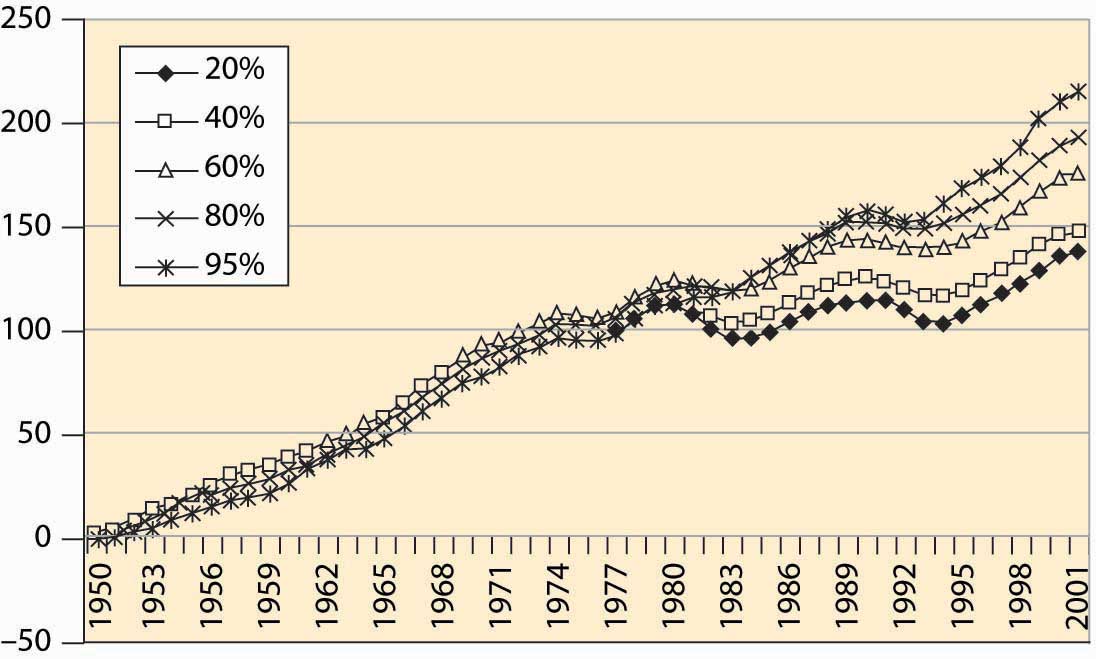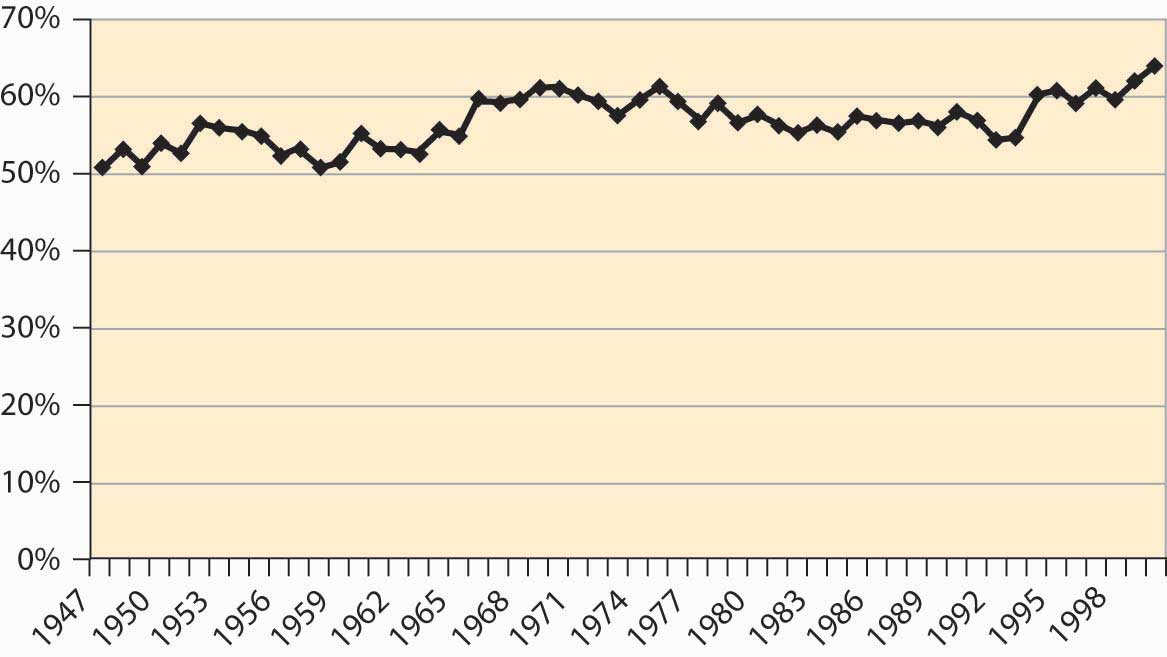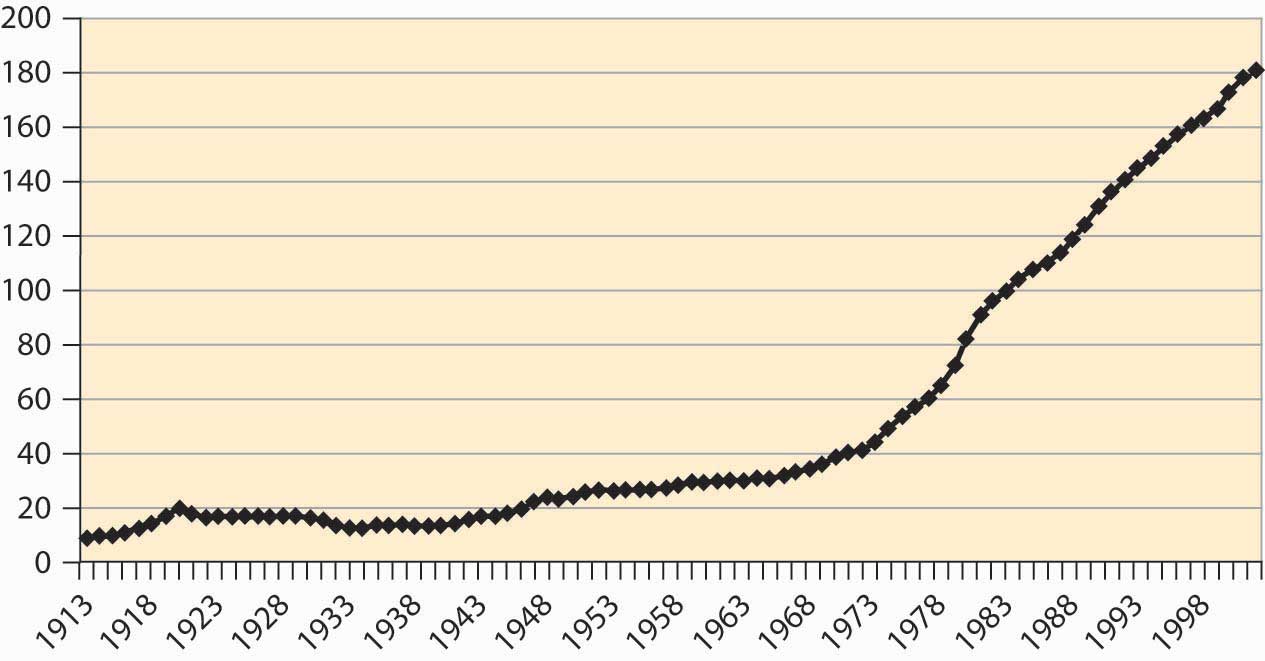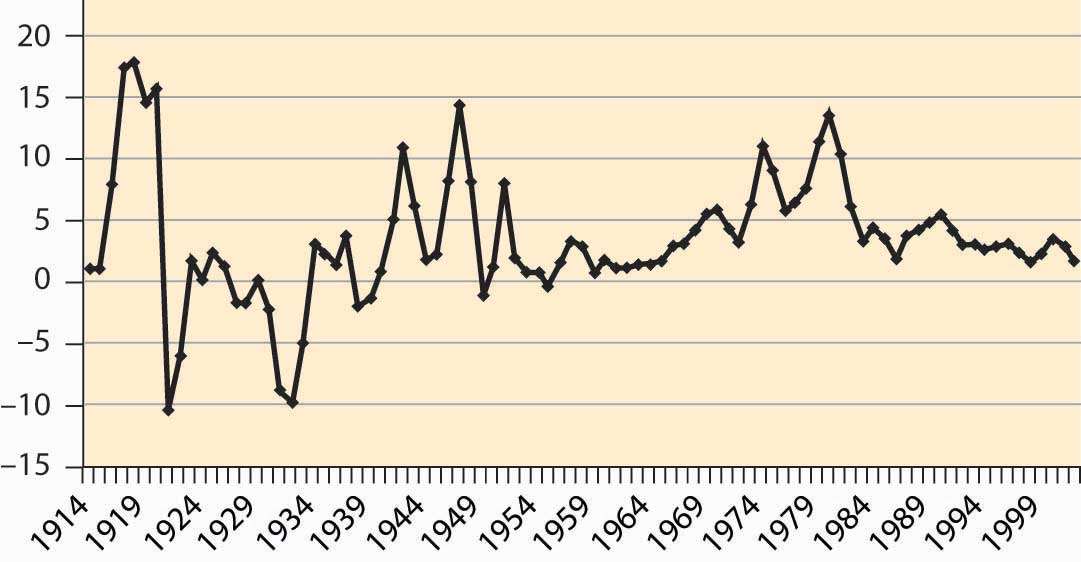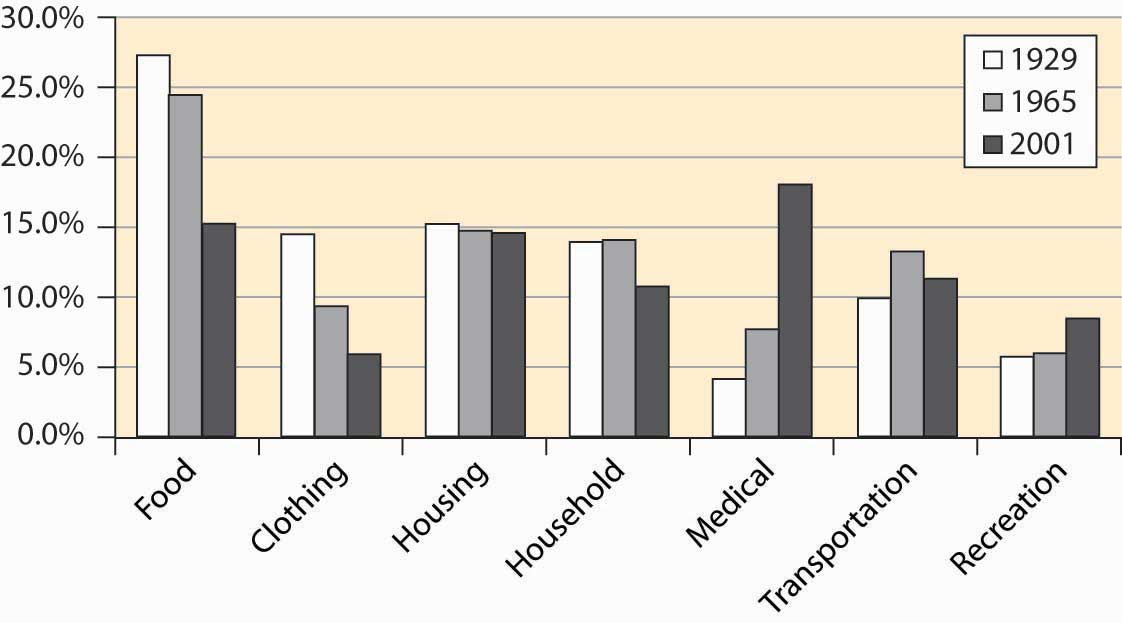 Key Takeaways
There are approximately 100 million households in the United States.
The number of residents per household has shrunk, from over four to under three, over the past 100 years.
About 60% of households live in single-family detached homes.
Slightly less than 0.5% of the population is incarcerated in state and federal prisons. This represents a four-fold increase over 1925 to 1975.
Ten percent of households do not have an automobile, and 97.6% have a telephone.
Just under 99% of households have complete plumbing facilities (running water, bath or shower, flush toilet), up from 55% in 1940.
A quintile (or fifth) is a group of size 20%.
The earnings of the top quintile fell slightly until the late 1960s, when it began to rise. All other quintiles lost income share to the top quintile starting in the mid-1980s. Figures like these suggest that families are getting poorer, except for an elite few. However, families are getting richer, just not as fast as the top quintile.
Just after World War II, African American families earned about 50% of white family income. This ratio has risen gradually, noticeably in the 1960s after the 1964 Civil Rights Act.
The consumer price index (CPI), which adjusts for what it costs to buy a "standard" bundle of food, clothing, housing, electricity, and other items, is the most common price index.
There have been three major inflations in the past century, associated with World War I, World War II, and the 1970s. The price level fell during the Great Depression (1929–1939).
The cost of food has fallen quite dramatically over the past century.
EXERCISES
Have prices actually risen? Economists generally agree that the meaning of "prices have risen" is that you would prefer past prices to current prices. What makes this challenging is that the set of available products change over time. Cars have gone up significantly in price but are also more reliable. Would you be better off with your current income in 1913 than today? You would be very rich with current average income in 1913 but would not have access to modern medicine, television, electronics, refrigeration, highways, and many other technologies. If you made $40,000 annually in 1913, how would you live and what would you buy? (Do some research.)
Compare a $40,000 income in 1980 to the present. What differences are there in available products? In the quality of products? How rich does $40,000 make you in each time period? In which period would you choose to live, and why?