4.4: Production
Last updated
Page ID

43762
\( \newcommand{\vecs}[1]{\overset { \scriptstyle \rightharpoonup} {\mathbf{#1}} } \) \( \newcommand{\vecd}[1]{\overset{-\!-\!\rightharpoonup}{\vphantom{a}\smash {#1}}} \)\(\newcommand{\id}{\mathrm{id}}\) \( \newcommand{\Span}{\mathrm{span}}\) \( \newcommand{\kernel}{\mathrm{null}\,}\) \( \newcommand{\range}{\mathrm{range}\,}\) \( \newcommand{\RealPart}{\mathrm{Re}}\) \( \newcommand{\ImaginaryPart}{\mathrm{Im}}\) \( \newcommand{\Argument}{\mathrm{Arg}}\) \( \newcommand{\norm}[1]{\| #1 \|}\) \( \newcommand{\inner}[2]{\langle #1, #2 \rangle}\) \( \newcommand{\Span}{\mathrm{span}}\) \(\newcommand{\id}{\mathrm{id}}\) \( \newcommand{\Span}{\mathrm{span}}\) \( \newcommand{\kernel}{\mathrm{null}\,}\) \( \newcommand{\range}{\mathrm{range}\,}\) \( \newcommand{\RealPart}{\mathrm{Re}}\) \( \newcommand{\ImaginaryPart}{\mathrm{Im}}\) \( \newcommand{\Argument}{\mathrm{Arg}}\) \( \newcommand{\norm}[1]{\| #1 \|}\) \( \newcommand{\inner}[2]{\langle #1, #2 \rangle}\) \( \newcommand{\Span}{\mathrm{span}}\)\(\newcommand{\AA}{\unicode[.8,0]{x212B}}\)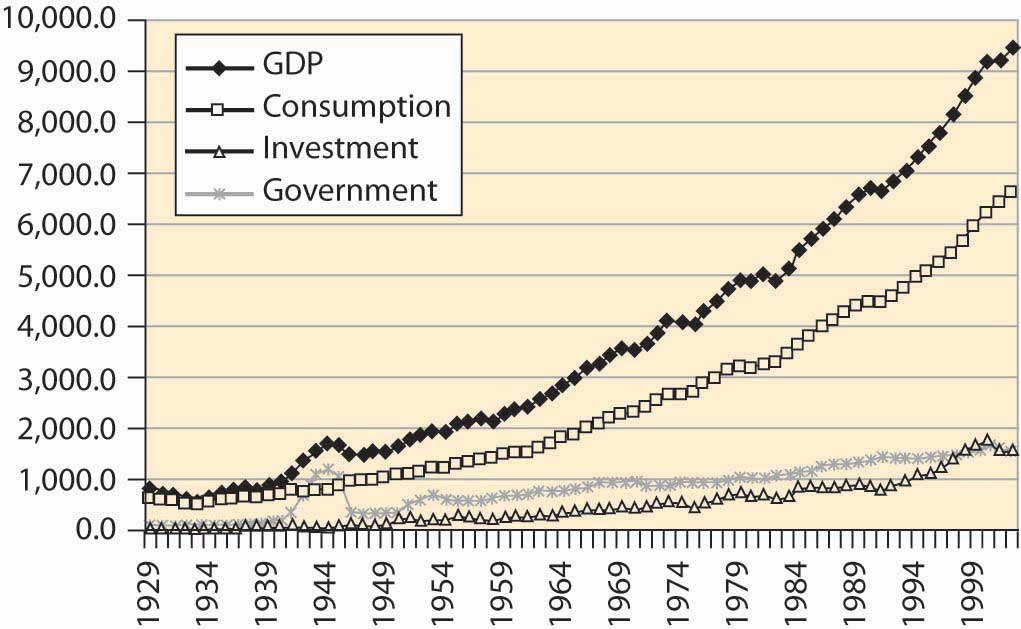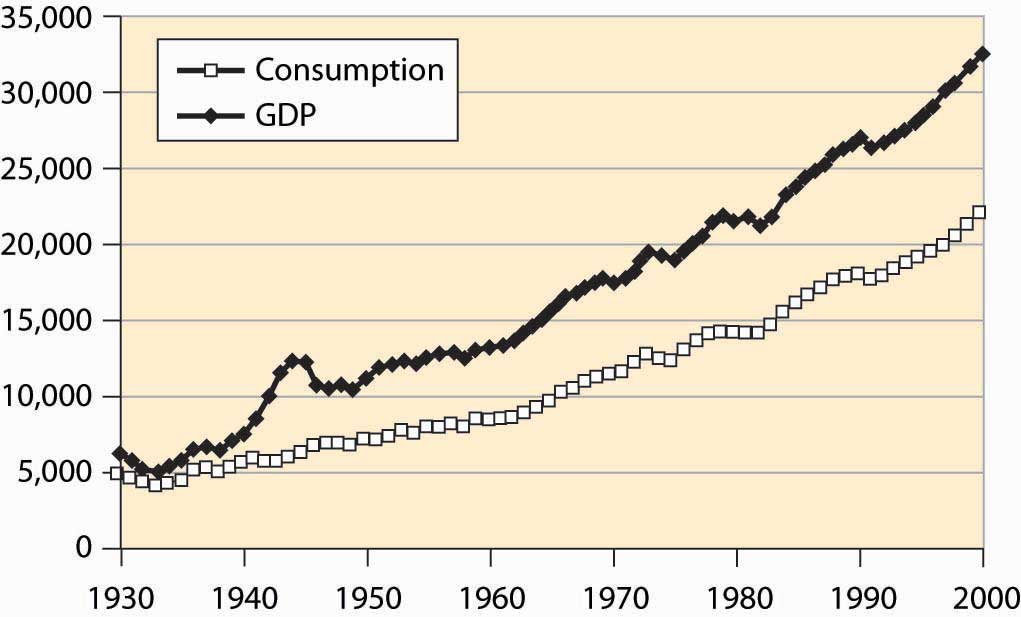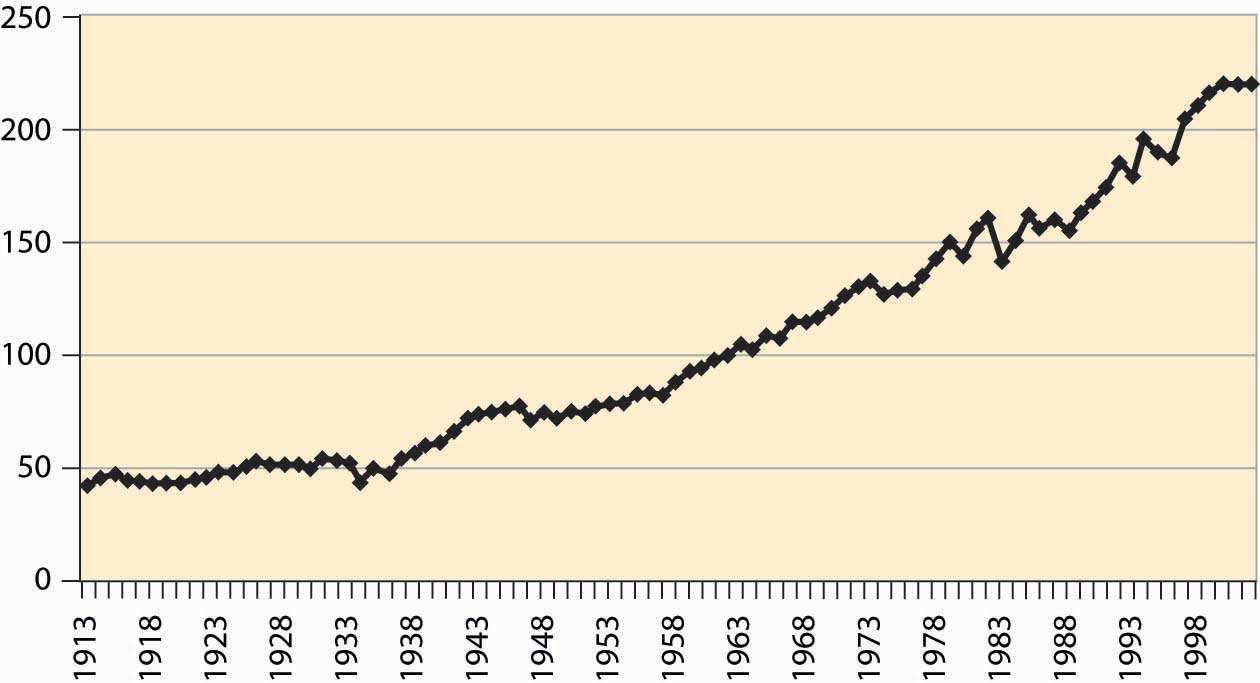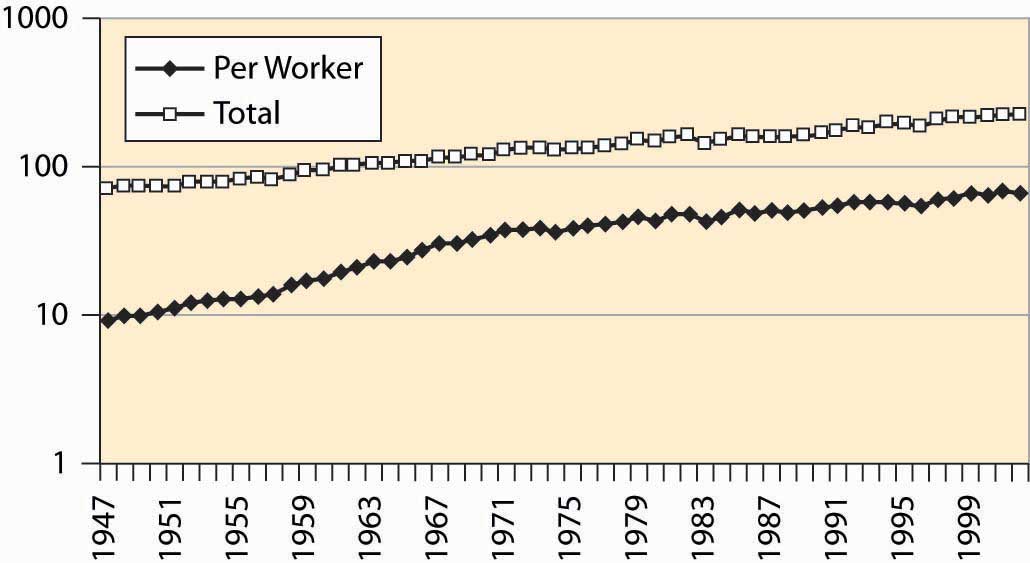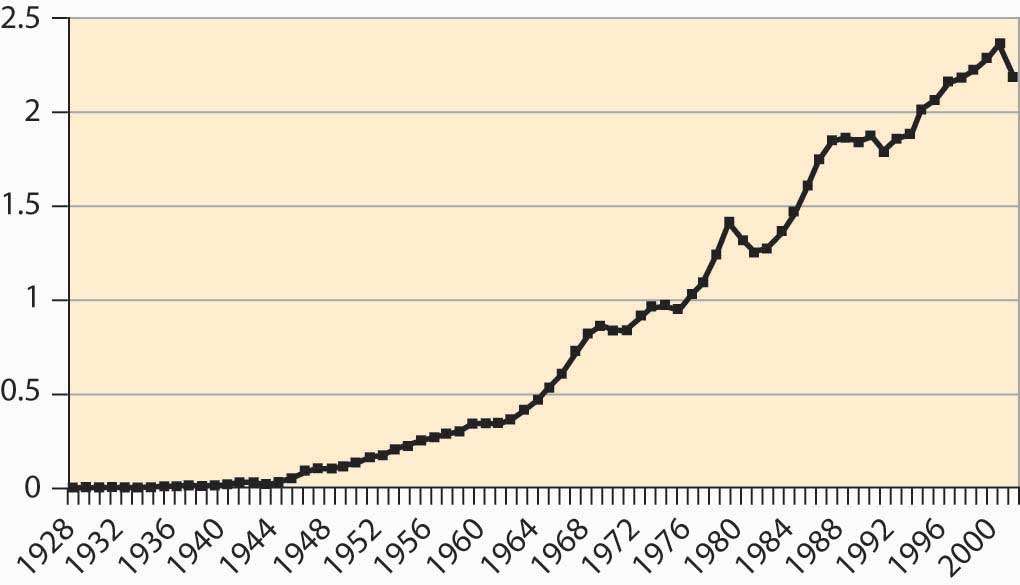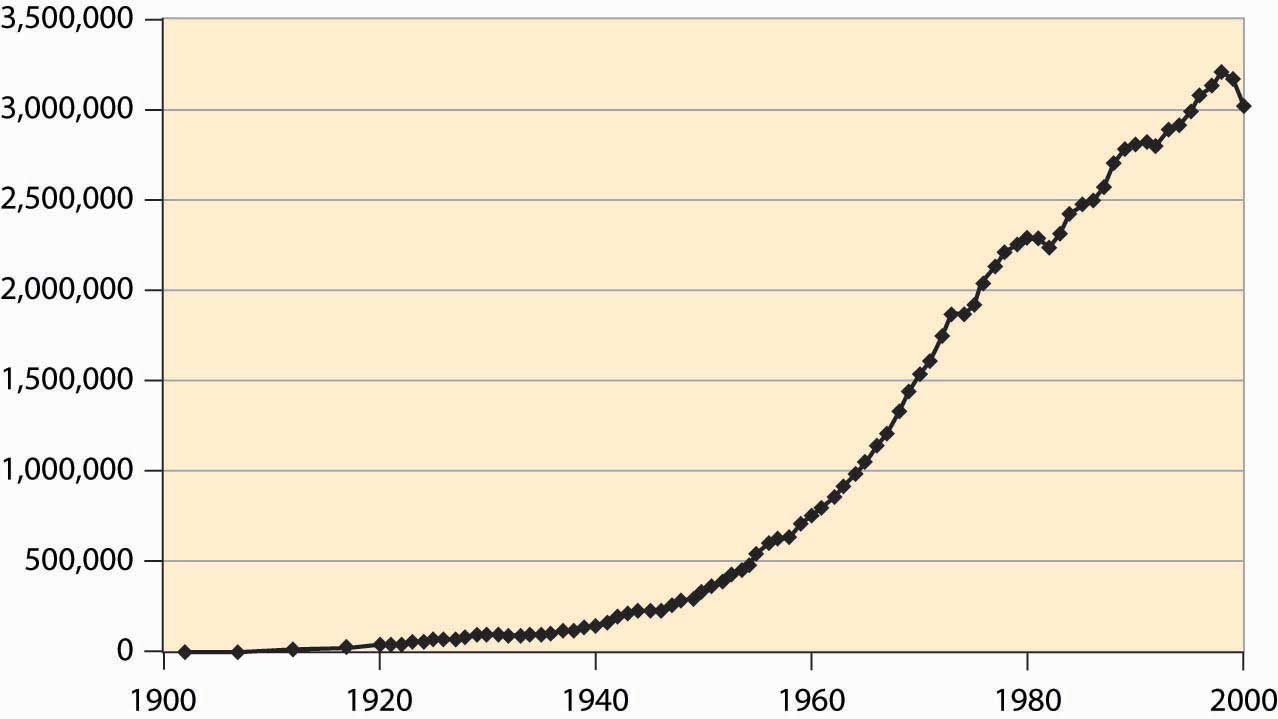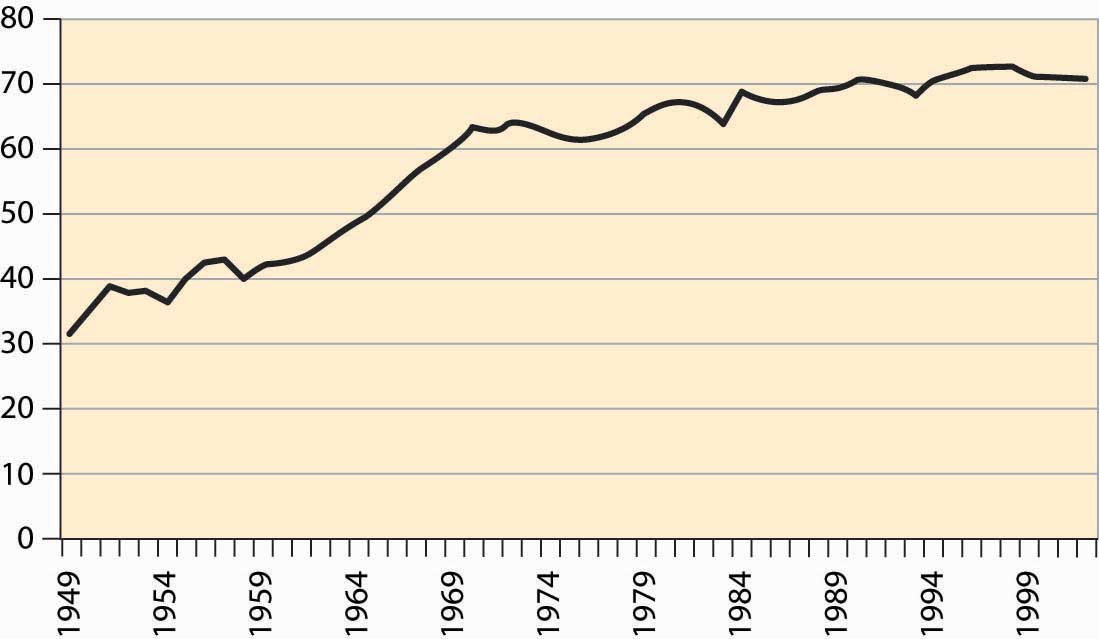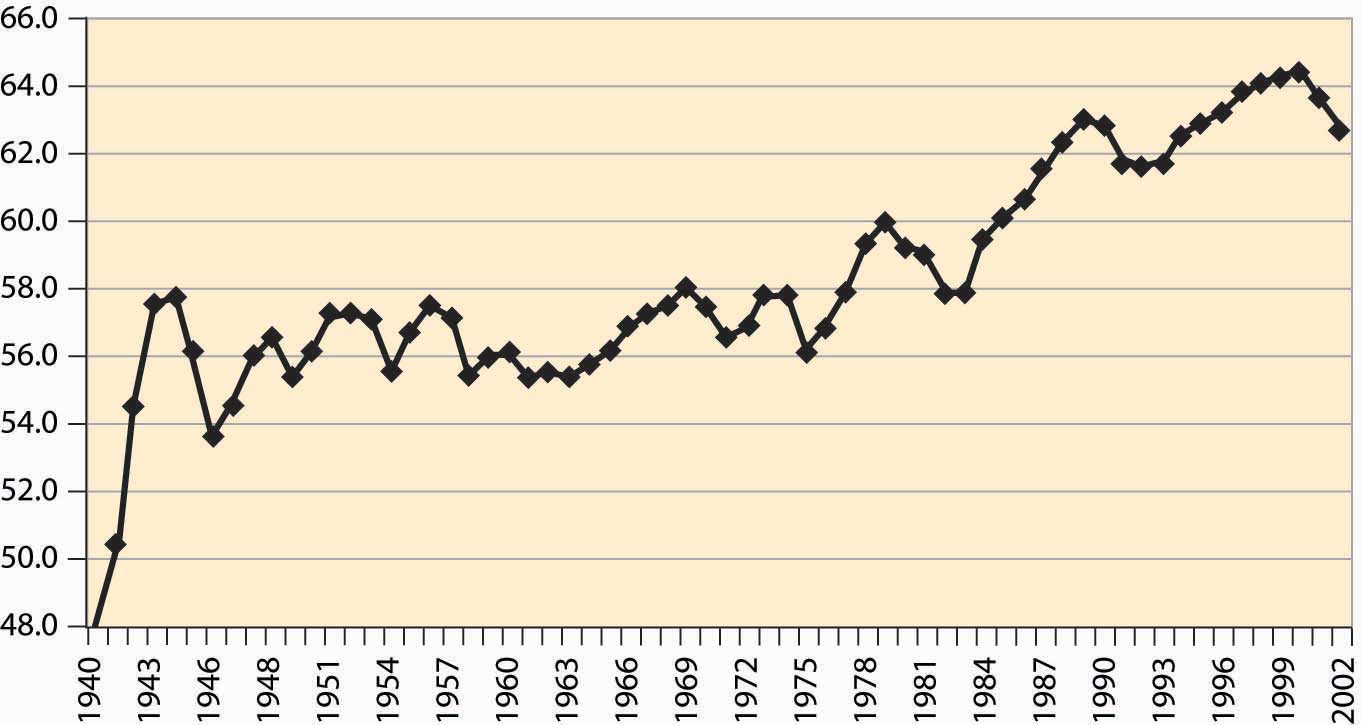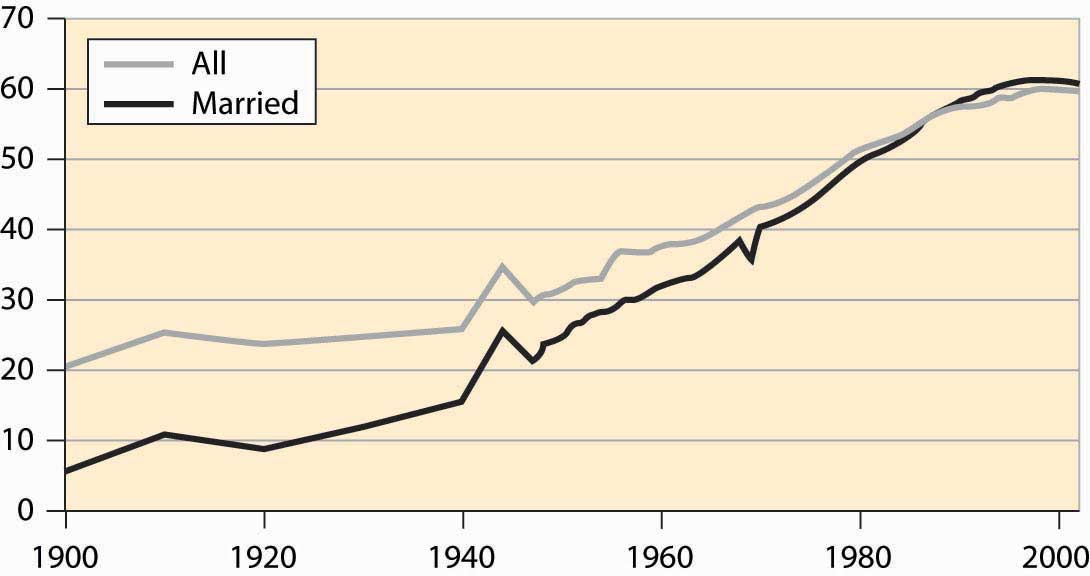 Key Takeaways
Economists measure output with the gross domestic product (GDP), which is the value of traded goods and services produced within the borders of the United States.
Importantly, GDP excludes nontraded goods and services. Thus, GDP is not a perfect measure of the production of our society. It is just the best measure we have.
Economists often use a logarithmic scale rather than a dollar scale. On a logarithmic scale, a straight line gives constant percentage growth.
Economists divide production into goods and services. Goods are historically divided into mining, construction, and manufacturing.
The prices of raw materials have fallen even as output and population have grown.
Manufacturing has become less important for several reasons. Many manufactured goods cost less, pulling down the overall value. In addition, we import more manufactured goods than in the past. We produce more services.
Electricity production has risen dramatically.
The number of automobiles per capita in the United States peaked in the early 1980s, but we still drive more than ever, suggesting the change is actually an increase in the reliability of automobiles.
The cost of selling goods—wholesale and retail costs—remains relatively stable, as does "FIRE" (finance, insurance, and real estate costs). Other services have grown substantially.
A bit more than 60% of the population works.
Female participation in the labor force has risen quite dramatically in the United States.
Military expenditures peaked during World War II, when about 50% of GDP was spent by the government, and 37% of GDP went to the armed forces. During the Korean War, we spent about 15% of GDP on the military and less than 10% of GDP during the Vietnam War. The military buildup during Ronald Reagan's presidency (1980–1988) increased our military expenditures from about 5.5% to 6.5% of GDP—a large percentage change in military expenditures, but a small diversion of GDP.